I like to think that the vegetarian comfort food I make is a direct mashup of my midwestern upbringing and my current California state of mind. They are meals that are (or feel) rich and are rooted in many recipes I knew as a kid. However, the recipes are heavy on fresh produce. The result is a list of vegetarian comfort food recipes that can please an entire family but pack a good amount of nutrients. Below is just the beginning of what's in the archives. The good news? A lot of these are family favorites that even my little guy with eat.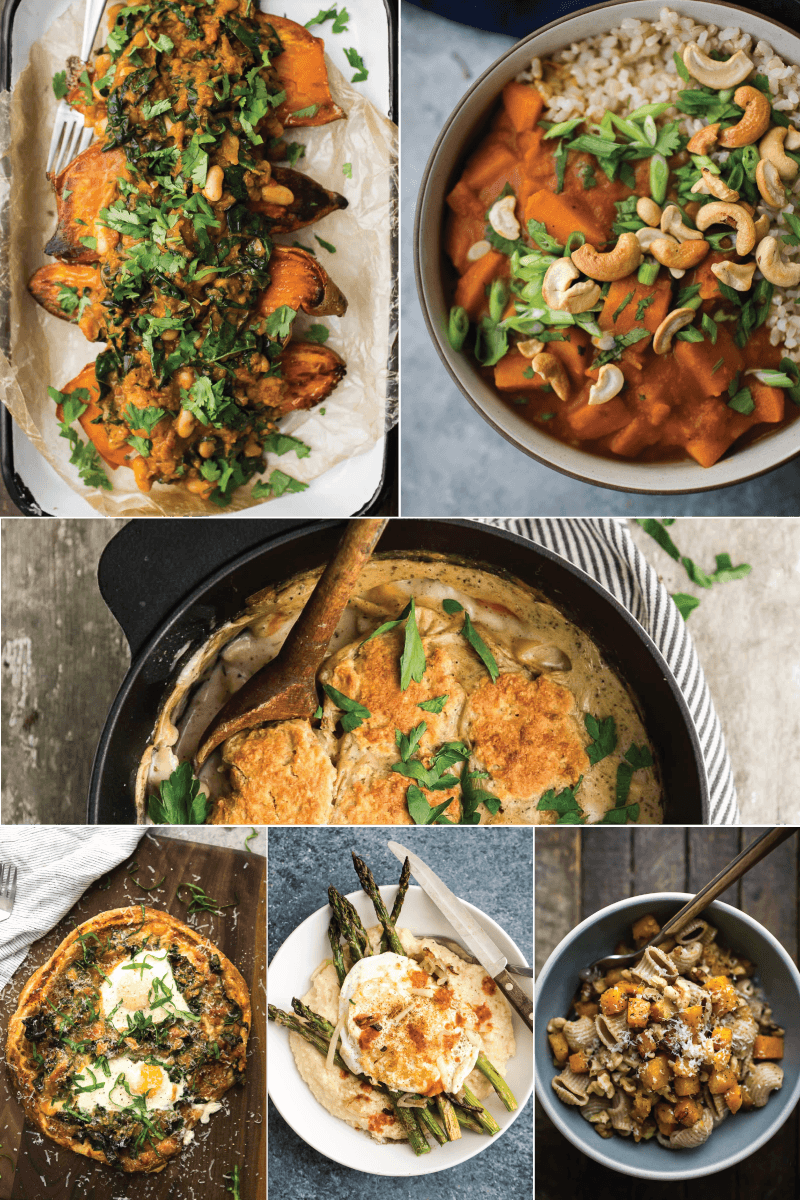 Vegetarian Comfort Food
Pasta
I have a major pet peeve when it comes to pasta served at restaurants. The bowl arrives only to see there's just a speckle of vegetables lost among a see of pasta. My equation for pasta is usually 1/2 vegetables, 1/2 noodles. If you have the time, I recommend trying your hand at homemade pasta. There's also a few companies making some lovely pasta from locally grown grains- look for these at your local Co-op or Whole Foods.
Polenta
I have a major weakness for a giant bowl of cheesy, creamy polenta. It's a perfect base for a pile of roasted vegetables and occasionally a fried or poached egg. Polenta comes in different grinds of coarseness and I typically like a medium or coarser grind. The result is a polenta that has a bit more texture. One of my favorites is the organic polenta from Bob's.
One-pot meals
These recipes are the epitome of comfort. They're hearty and ones that I find hit the spot when it's 0˚ outside and the snow is coming down. The one-pot dishes tend to be a bit longer in cook time but are well worth waiting.
Stews
I love a comforting bowl soup but when it comes to vegetarian comfort food, stews are what I make. They tend to be more filling and have that stick-to-your-ribs feeling. I also love leaving vegetables in larger chunks and being the star of the recipe.
Loaded Potatoes
Loaded potatoes are a weakness of mine. While it started with Russet potatoes, I now find myself using sweet potatoes more often. Potatoes serve as the perfect vessel for my favorite vegetarian protein: beans and lentils. I also like to cook potatoes on the weekend and use as a quick meal on a weeknight.
Pizza
We do pizza night every week. It usually coincides with a date-night in, complete with movie. I love experimenting with toppings and pizza feels like the ultimate comfort food. I keep crust in the freezer and as long as I remember to thaw the dough, pizza is ready in 30!
Risottos
There's nothing quite like a big bowl of hearty risotto. I always use alternative grains which results in a rich, warm flavor that happens to have nutrients. I especially like cracking whole grains- the pieces help keep the texture while the flour aids in creating a creamier texture.
My Favorites
These are the recipes that do not easily fit into a category but I really couldn't leave out of this list. They are packed full of flavor and also show my love of tomato-based meals.