When it comes to beans, people often feel like they need to be extra, paired with many ingredients, and fussed over—often feeling that beans have no flavor. However, when given just a bit of love (like in these brothy beans), the taste and texture of beans are unmatched.
THE MAGIC OF BROTHY BEANS
Cooking beans for me is a duel effort: cooked beans and the broth. Often, this is overlooked because canned beans are just that. But when cooking from dry, you can make something you could eat immediately.
Here are my instructions for cooking dried beans, and the best advice I can give you is to treat the beans' water as though you are making a broth. Sear your alliums in some oil before adding the water and beans. Use herbs, carrots, and plenty of salt; don't be shy. It will make this dish.
THE BEST BEANS FOR BROTHY BEANS
You can go wild with beans; really, any variety will work. My personal preference, however, is a creamy white bean. They soak up flavor while keeping their texture. For easy-to-find beans, start with navy or cannellini. For a meaty dish, try gigante or royal corona; for a bean with a bit more flavor, try a bayo bean (from Primary Beans) or Buckeye bean (from Rancho Gordo).
BUILD IT UP
I'll eat these beans with just a simple slice of toast, but you can easily add to bulk up the meal.
Add a grilled cheese or cheese toast: Make a grilled cheese for dipping or make cheese toast to put on top of the beans before serving.
Greens: Add shredded spinach or kale to the cooking beans or finish the dish with lightly dressed fresh greens.
Something Crunchy: fried grains, shallots, or garlic would be a nice finish to add right before serving.
Grains: You can always add leftover grains to serve for a bit of added texture and heft.
MAKE IT YOUR OWN
Use one of the variations with the roasted tomatoes to change the flavor. I adore using chile paste or ground chile in place of the black pepper to add a bit of heat to the beans. You can also load up on herbs, like dill or fresh basil.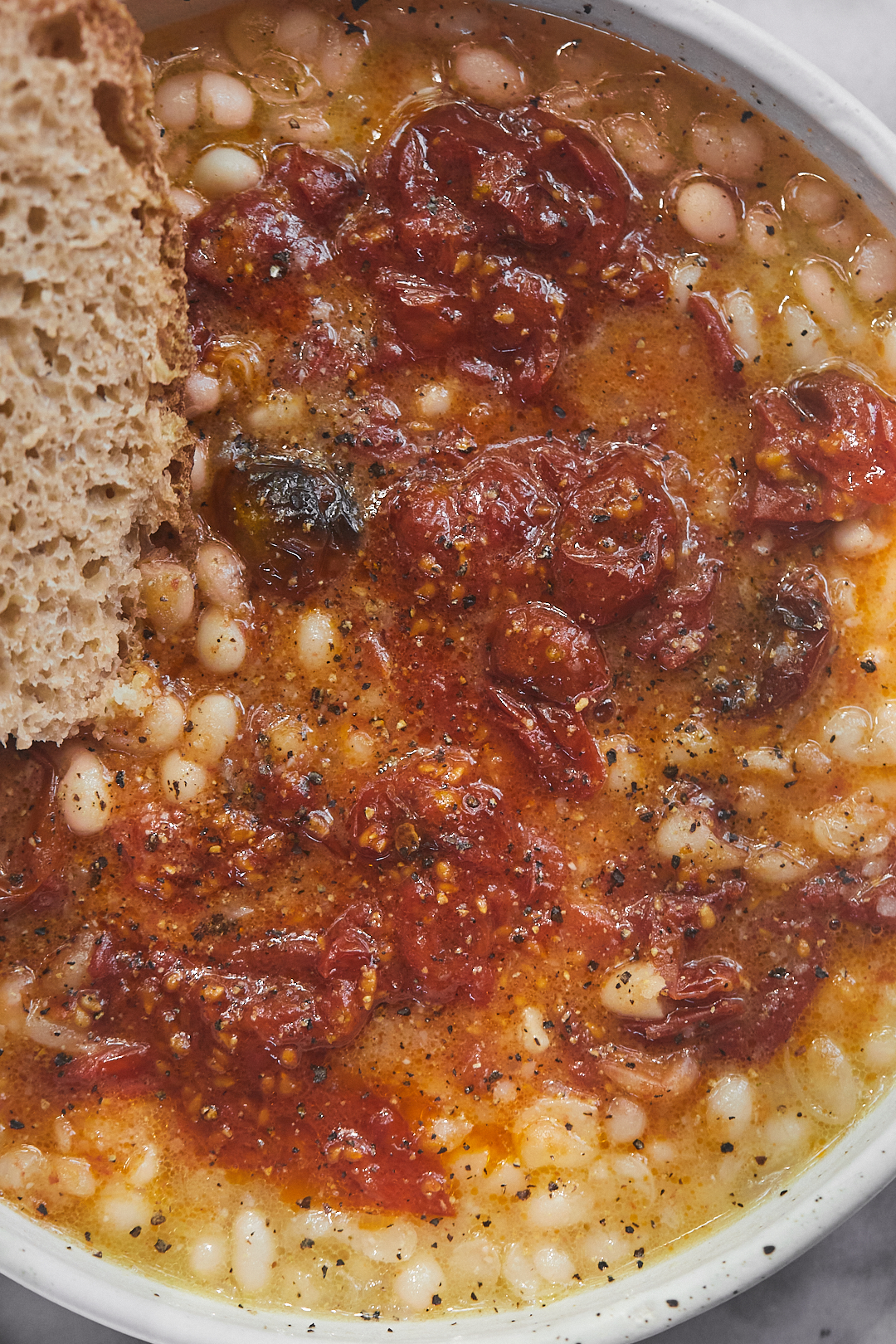 Print
BROTHY BEANS WITH ROASTED TOMATOES
An easy lunch featuring brothy beans dressed up with a bit of shallot, miso, and a roasted tomato component that helps this meal come together fast. 
Author:
Prep Time:

15

Cook Time:

20

Total Time:

35 minutes

Yield:

1

serving

1

x
1 tablespoon olive oil
½ small shallot (20g), minced
1 ½ cups beans with their broth
2 teaspoons mellow miso
1 teaspoon rice vinegar
½ cup or so roasted tomatoes
Black pepper for serving
Instructions
In a small skillet or pot, heat the olive oil over medium heat and add the minced shallots. Cook until the shallots have softened, 8-10 minutes. Add in the beans with the liquid, bring to a boil, reduce to a simmer, and cook until the beans are hot and the liquid has evaporated a bit.
Remove from the heat and stir in the miso and rice vinegar. Place in a bowl, swirl in the tomatoes, and finish with a sprinkle of black pepper before serving.
Notes
TIP: You can easily use canned beans for this but I recommend draining the liquid and using vegetable broth in place of the bean liquid to have a bit more flavor building capabilities.