Mayo is a newer condiment to my repertoire, but I can't seem to get enough now. Mayo helps create creamy dressings, spreads, and dips. And while I'll usually make a homemade version, I also adore just gussying up a bit of premade mayonnaise. The easiest way to do this is to add a bit of flavor. And there's no better flavor during the summer months than using fresh basil to make a simple basil mayo.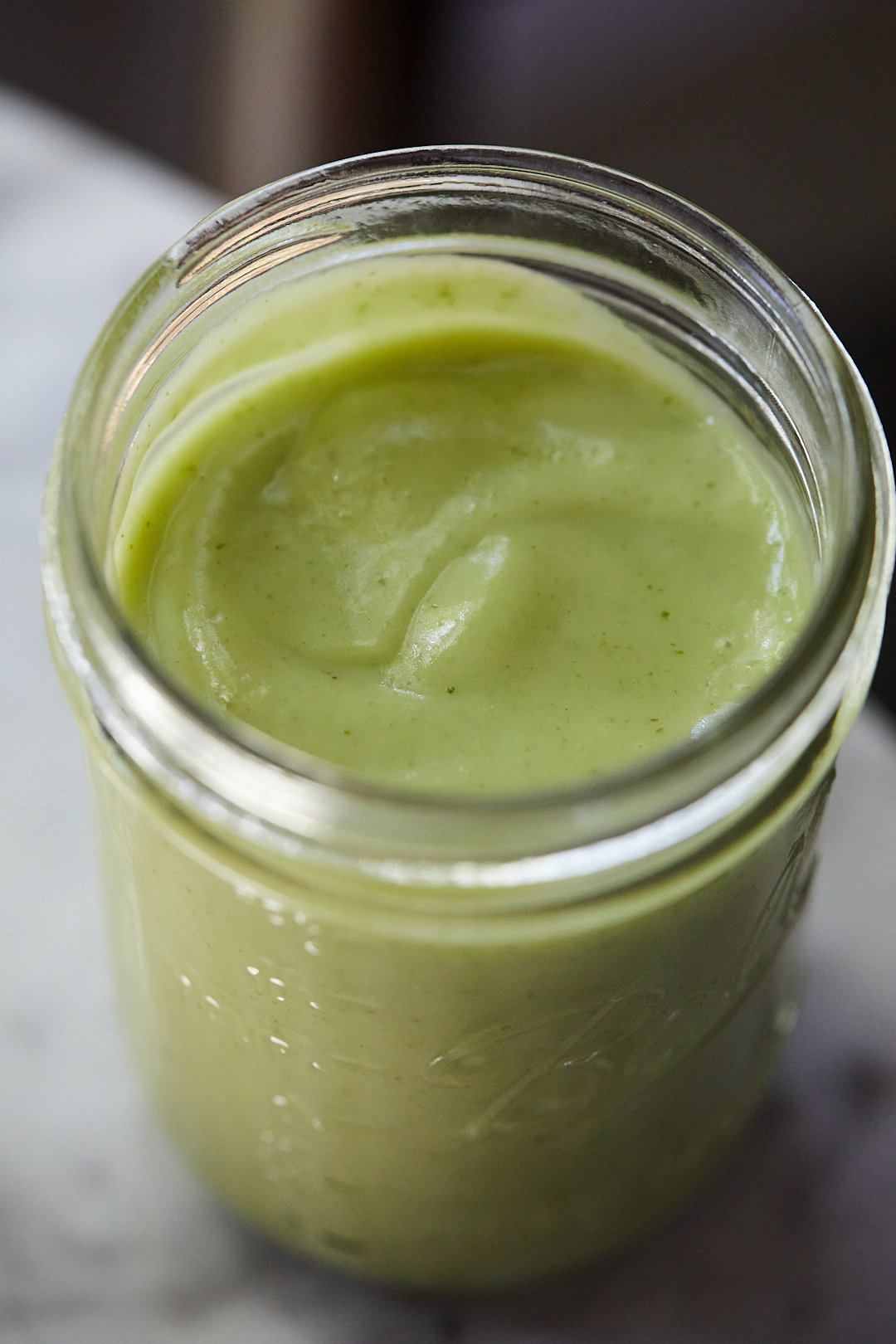 MIX IT UP
Herbs: Beyond basil, tender herbs are your friends. Add or swap chives, parsley, cilantro, fennel fronds, or even tomato leaves.
Heat: A bit of chipotle or ground chile pepper can add a bit of kick to the mayo. Or find a chile paste you like, such as harissa, to make an herbal chile mayo.
Alliums: While the recipe calls for a bit of garlic, you can swap that out for some black garlic, charred scallions, caramelized onions, or pickled green garlic.
WAYS TO USE THE BASIL MAYO
This basil mayo can easily be used in most ways one would use traditional mayo (no surprise there!) However, here are a few of my tried and true ways:
Salad dressing: Make a creamy herb-forward dressing with which you can dress greens. Add some toasted nuts and sliced radishes, and you have a delightful salad.
Dip: My favorite dinner consists of fried foods and a beverage. Use this basil mayo for french fries, fried cauliflower, or just some salty roasted potato wedges. 
Spread: A great way to flavor a veggie sandwich! Smear it on bread and layer on thinly sliced vegetables (cucumbers! Tomatoes! greens!) and maybe some fried halloumi.
COMPONENT COMPANION: ROASTED TOMATOES
Grilled Cheese: Use these roasted tomatoes with the basil mayo to make a delicious grilled cheese sandwich. 
Grain Bowl: The basil mayo can be used as a swoosh in the bottom of the grain bowl topped with the roasted tomatoes.
Wraps: Swoosh in a wrap with the roasted tomatoes, a bit of tofu, and some greens.
Print
Basil Mayo |Cooking Component
A quick and easy way to flavor mayo and use the basil mayo as a spread or dip. 
1 cup

fresh basil

1 cup

regular or vegan mayo

¼ teaspoon

kosher salt

1

small garlic clove, minced
Instructions
Bring a small pot of water to a boil and have a bowl of ice water nearby. Add the basil, stems, and all, and blanch until the basil has wilted but retained a bright green color. Immediately transfer to the bowl of ice and cool. Once the basil is cool, remove it from the water, squeeze as much water from the basil as you can, and basil it in a small food processor or blender jar. 
Add the mayo, salt, and garlic. Puree until it is as smooth as can go. Transfer to an airtight container and store in the refrigerator for up to a week.