One of my major weaknesses in gardening is over-planting cherry tomatoes. I let my fear of not having enough cherry tomatoes take over, and before I know it, I'm overwhelmed with tomatoes. What's a girl to do? Well, one thing to be done is cook this lovely roasted tomato component that can be used as a sauce, spread, dip, or flavor boost to other meals.
WHY DRY ROASTED TOMATOES
For a standard tomato confit, the tomatoes are roasted in the oil. However, this recipe calls for dry roasting. I find the tomato juices combine better with the olive oil, creating a bit more of a cohesive blend of olive oil and tomatoes.
Also, I can get away with using a bit less olive oil. And, you're not heating the olive oil, which means you can pair the roasted tomatoes with a robust finishing olive oil–which usually has a bit more oomph in flavor, elevating the entire recipe.
ROASTED TOMATO FLAVOR
Beyond the ease of use with the dry roasted tomatoes, I mainly go this route for flavor. Dry roasting the tomatoes encapsulates the tomato flavor a bit more since some of the liquid does evaporate. Then, when the tomatoes are mixed with the oil, the tomato flavor is still quite present.
MIX IT UP
I love component cooking because it's a base-level idea meant to be built upon either through uses or flavors. The tomatoes are the foundation, and everything beyond is play.
Heat: a chile paste (like harissa), curry paste, or flaked/ground chile
Alliums: Roast garlic, shallots, and/or sliced leeks with the roasted tomatoes. You could also heat/cook the alliums in the olive oil before tossing them with roasted tomatoes.
Herbs: Fresh herbs can be tossed in at the end with the olive oil, or you could use heartier herbs, such as rosemary or thyme, and heat in the olive oil.
Oils: You can play around with the oil flavors because you're not limiting yourself to cooking oils. Add a bit of sesame, walnut, or even a flavored herb oil instead of some or all of the olive oil.
Seeds/Spices: Add a splash of sesame oil to the mix. Don't stop there and stir in some toasted sesame seeds. Add toasted and whole (or ground) cumin, coriander, and fennel seeds.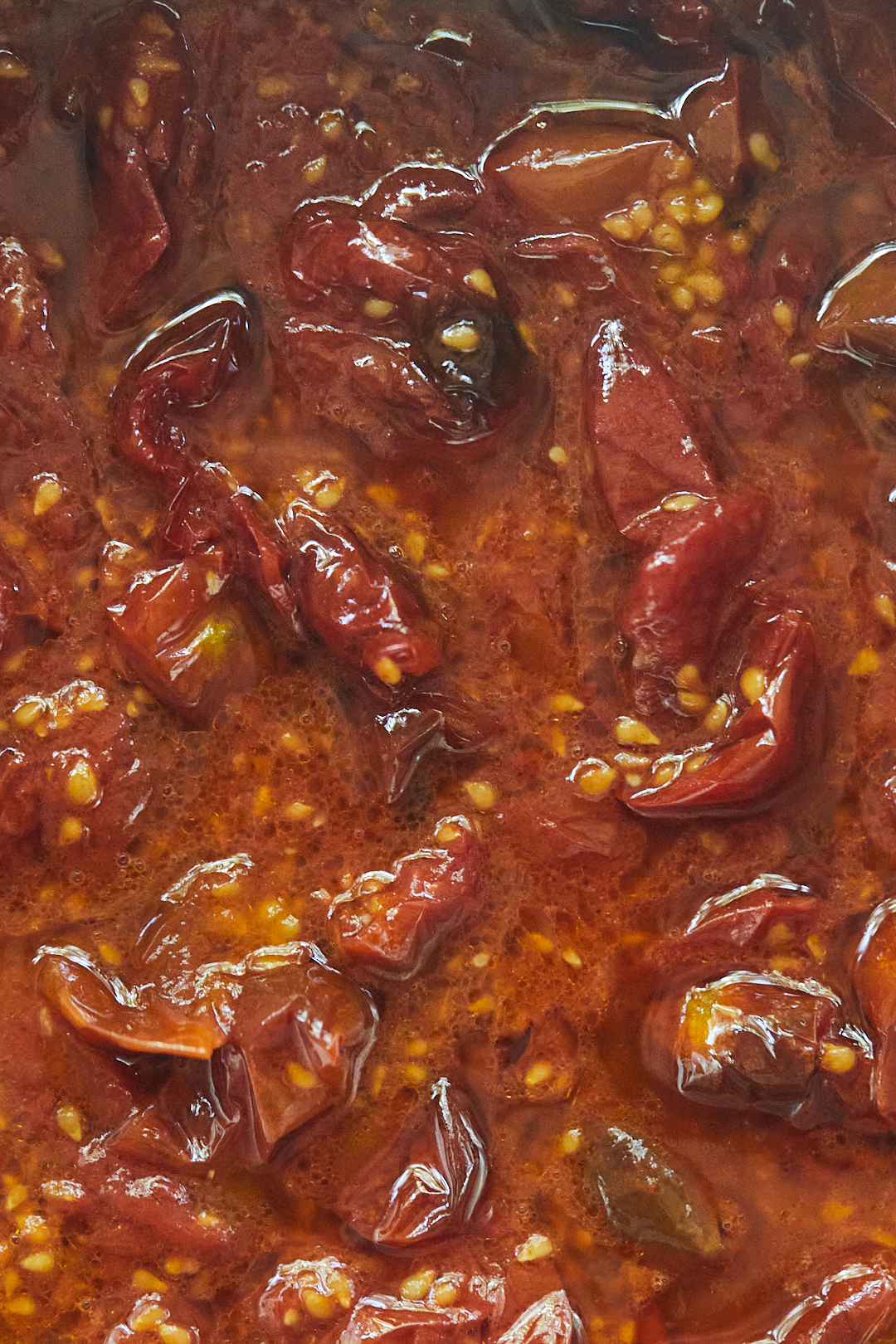 WAYS TO USE ROASTED TOMATOES
Beans: Use one of the featured recipes from this week! These Brothy Beans are an easy base that is upgraded with the help of this recipe. You can also toss drained beans with these tomatoes and serve over roasted cauliflower or eggplant.
Toast: Pan fry a slice of thick bread in oil, rub with a cut garlic clove, and finish with a spoonful of these tomatoes, or spread a whipped goat cheese or ricotta and use a tomato topping.
Dips: Finish hummus with a few spoonfuls of these tomatoes and your favorite spice or herb sprinkle, such as za'atar, ground chile, or fresh basil. Spread room temperature labneh on a plate and smother with these roasted tomatoes.
Risotto: Swirl in a few spoonfuls of the tomatoes at the end of cooking the risotto.
Eggs: Fry eggs and finish with a spoonful of the roasted tomatoes or even fry the eggs in the tomato mixture.
Pasta: cook your pasta and toss with these tomatoes and some parmesan cheese (or any cheese). Turn it into a summer meal with corn or peppers.
COMPONENT COMPANION: Basil Mayo
Grilled Cheese: Use these roasted tomatoes with the basil mayo to make a delicious grilled cheese sandwich.
Grain Bowl: The basil mayo can be used as a swoosh in the bottom of the grain bowl topped with the roasted tomatoes.
Wraps: Swoosh in a wrap with the roasted tomatoes, a bit of tofu, and some greens.
Print
ROASTED TOMATOES IN OLIVE OIL | Component Cooking
These dry roasted tomatoes in olive oil are a great way to use up an abundance of summer cherry tomatoes will creating a perfect component to use in a few meals throughout the week. 
Author:
Yield: Yields

1 ½

or so cups

1

x
1 ½

-

2

pounds cherry tomatoes

1 teaspoon

or so kosher salt

½ cup

or so olive oil
Instructions
Preheat your oven to 425˚F. Wash and pat dry the cherry tomatoes, then place them on a sheet tray covered with parchment paper. Place in the oven and roast until the tomatoes have charred slightly and softened, anywhere from 35 to 50 minutes.
Remove from the oven and immediately transfer to a heat-safe bowl. Stir in the salt and add enough oil to coat and begin to pool, pressing the tomatoes slightly to expel more juice. Taste and adjust the salt as desired.
Let cool and store in an airtight container in the refrigerator for up to a week.