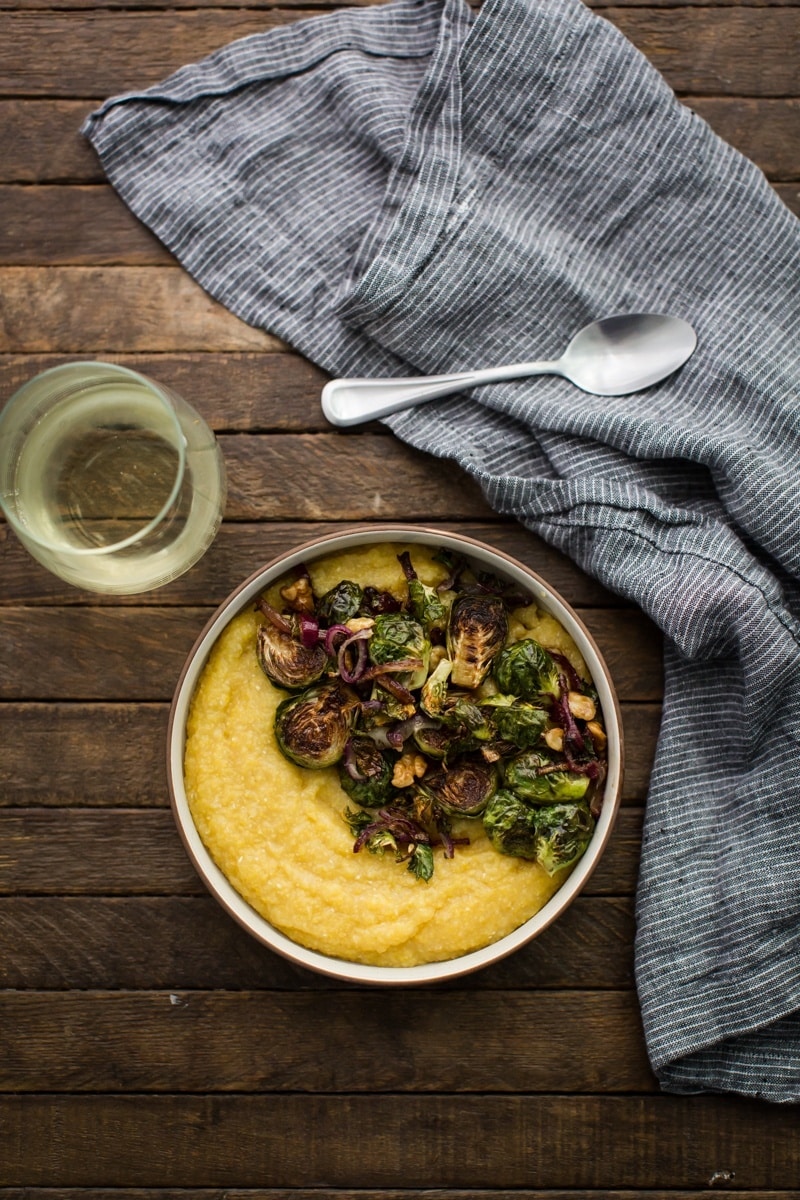 One of the things I enjoy most about Sacramento is the cool evenings. No matter how warm the days get, the evenings cool off and most days we're able to open the windows (minus a the few weeks of summer when it's just hot.) Recently, these cooler evenings have pushed me more into heartier cooking. Mac and cheese, stews, and polenta. I actually prefer polenta to most things, primarily because it's minimal ingredients and while I do cook it for some time, it's mainly hands-off.
Variations for the Balsamic Roasted Brussels Sprouts
Of course with fall comes my abundance of eating Brussels sprouts. There are a myriad of ways to prepare these gems but I have a hard time pulling away from roasting. The flavor mellows slightly and the nice char is a favorite of mine. Add to that onions and balsamic reduction, it's a trio of flavors that screams fall.
Balsamic Reduction: Two things here. One, you can make this ahead of time and use it for dressings and other roasted vegetables. Two, you can toss the vegetables in the balsamic reduction before you roast. I prefer to toss them after to keep a bit of the liquid for the polenta.
Ditch the polenta: The roasted Brussels sprouts make for a lovely addition to grain salads. Toss with greens and your favorite grain for an on-the-go meal.
Cheese up the polenta: I normally add cheese to my polenta and I stopped myself from adding a hefty amount of goat cheese so that this recipe would easily be adaptable for vegans. However, if you are a cheese fiend like myself, add in goat cheese or your favorite melty cheese with the butter.
Print
Balsamic Roasted Brussels Sprouts with Polenta
Author:
Prep Time:

10 mins

Cook Time:

30 mins

Total Time:

40 mins

Yield:

2

servings

1

x
1 cup

water

1 cup

low-sodium vegetable broth

½ cup

medium-grind polenta

1 tablespoon

butter
salt and pepper, to taste

½

pound Brussels sprouts

¼

medium red onion, thinly sliced

2 teaspoons

olive Oil
Pinch of salt
Pinch of black pepper

½ cup

balsamic vinegar

2 tablespoons

chopped toasted walnut pieces
Instructions
Bring the vegetable broth and water to a boil in a medium pot. Add in the polenta, whisking quite a bit, until the mixture begins to thicken. Reduce the heat to a simmer, cover, and let cook for 25 to 30 minutes, stirring every once in awhile (full technique can be found here- it's the only way I make polenta). Once done, stir in butter and salt/pepper as desired.
Preheat oven to 400˚. Trim the ends from the Brussels sprouts and cut each brussels sprout in half, keeping any leaves that fall off. Toss the brussels sprouts, loose leaves, and onions with olive oil, salt and pepper. Spread out into a single layer on a roasting pan and bake for 15 to 20 minutes, stirring once halfway through. Brussels sprouts should be browning.
While the brussels sprouts are roasting, place the balsamic vinegar in a small sauce pan. Bring to a boil, reduce heat to medium-low, and let cook until mixture has reduced down to ¼ cup and has thickened slightly, 8 to 10 minutes.
Once Brussels sprouts are finished, toss with 1 to 2 tablespoons of the balsamic mixture and walnut pieces.
Divide polenta into two bowls and top with Brussels sprout mixture.
Featured Ingredient