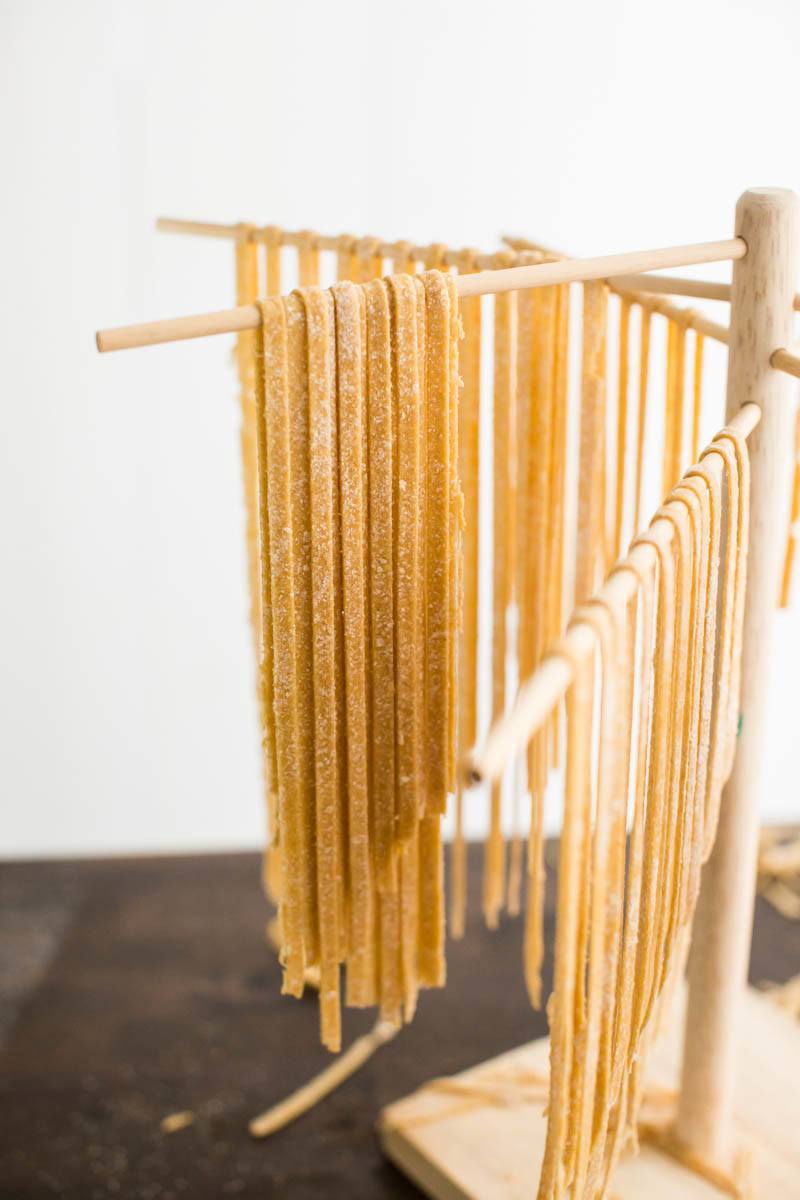 This recipe has been on the site for years. And for about the same amount of time, I've felt like I needed to give it better photos. Making pasta at home doesn't have to be hard. In fact, I believe it's one of those items that after you make it a few times, it becomes easy. It might take a few tries to get the feel of the dough right. But once you do, it's fresh pasta whenever you want. And trust me, the flavor is so much better (or I should say, there is a flavor!).
You don't really need fancy tools to make pasta. But I love having an attachment for my stand mixer and a pasta drying rack. Or, if you don't have a stand mixer, you can always try out a pasta machine.
Print
Homemade whole wheat pasta
Step away from buying store-bought pasta with this easy homemade whole wheat pasta. This pasta can be made with or without a pasta maker and is ready in about 45 minutes!
Author:
Prep Time:

30 mins

Cook Time:

10 mins

Total Time:

40 minutes

Yield:

4

servings

1

x
1 ¼

to

1 ¾

cups  white whole wheat flour or spelt flour (see note)

½ teaspoon

sea salt

3

large eggs
Instructions
Combine the 1 ¼ cup whole wheat flour and salt on a clean, flat surface. Make a well in the middle, crack the eggs into the well. Using a fork, whisk eggs and slowly begin to incorporate the flour. Keep mixing and once the dough starts to form, switch to your hands and knead the dough until the dough is smooth and no longer sticky (but not stiff). Add more flour as needed to reach this feeling. The dough should spring back when pressed. Form into a disk , cover with a damp towel, and let rest for 30 minutes. This is really a process about feel- don't add all the flour at once, work a little in at a time.
Divide the dough into 8 pieces. Working with one piece at a time, flatten the dough with your hands. Making sure the dough is covered with flour, use an electric or hand crank (see note) and roll the dough into thin sheets. If using a machine, check instructions for desired thickness.
Continue to make the noodles by using the fettuccine attachment or cut into ¼-inch wide strips with a knife or pizza cutter. Hang noodles for drying if desired and repeat with remaining dough.
Bring a large pot of salted water to a boil and add noodles. Cook until the noodles float to the top and are tender, 4 to 5 minutes. Drain noodles, transfer to a bowl, and toss with a drizzle of olive oil.
Notes
Tips & Tricks:
You can make pasta without an attachment, use a rolling pin to flatten into thin sheets. You want a dough that is not sticky but also not too stiff.
The more I make this dough, the more I realized I needed to add more flour. If you're hand rolling, you can do without the extra flour but for machines, the dough cannot have any stick to it. This is especially true if you're using an attachment to make macaroni or rigatoni. I've had to go up to 2 ½ cup of flour to insure the right pasta consistency. Go by feel, test a bit of dough and if it sticks, add more flour.
Nutrition: See the information
Whole Wheat Pasta
variations
This whole wheat pasta recipe is really my one and only. In fact, any time I make pasta, it's this recipe. From there, I can doctor it up as I desire. I usually find myself adding black pepper but you can really play with the flavors. However, this pasta is great as is, just the simple whole wheat pasta has a nice flavor. You can also try your hand at a Semolina (vegan) version or a gluten-free version as well.
Add-ins: This recipe serves as a great base. However, I love to add fresh herbs into the pasta, a hefty scoop of black pepper, or even cooked spinach.
Flours: I usually stick with white whole wheat flour but einkorn, spelt, or farro flour work as well (einkorn makes wonderful pasta). Also, regular whole wheat flour will work as well- I just find the white whole wheat a bit easier to work with.
Play with shapes: this pasta is perfect for ravioli, long noodles, and even short noodles. You don't need special tools because ravioli, long noodles, and even some short noodles are easily made by hand.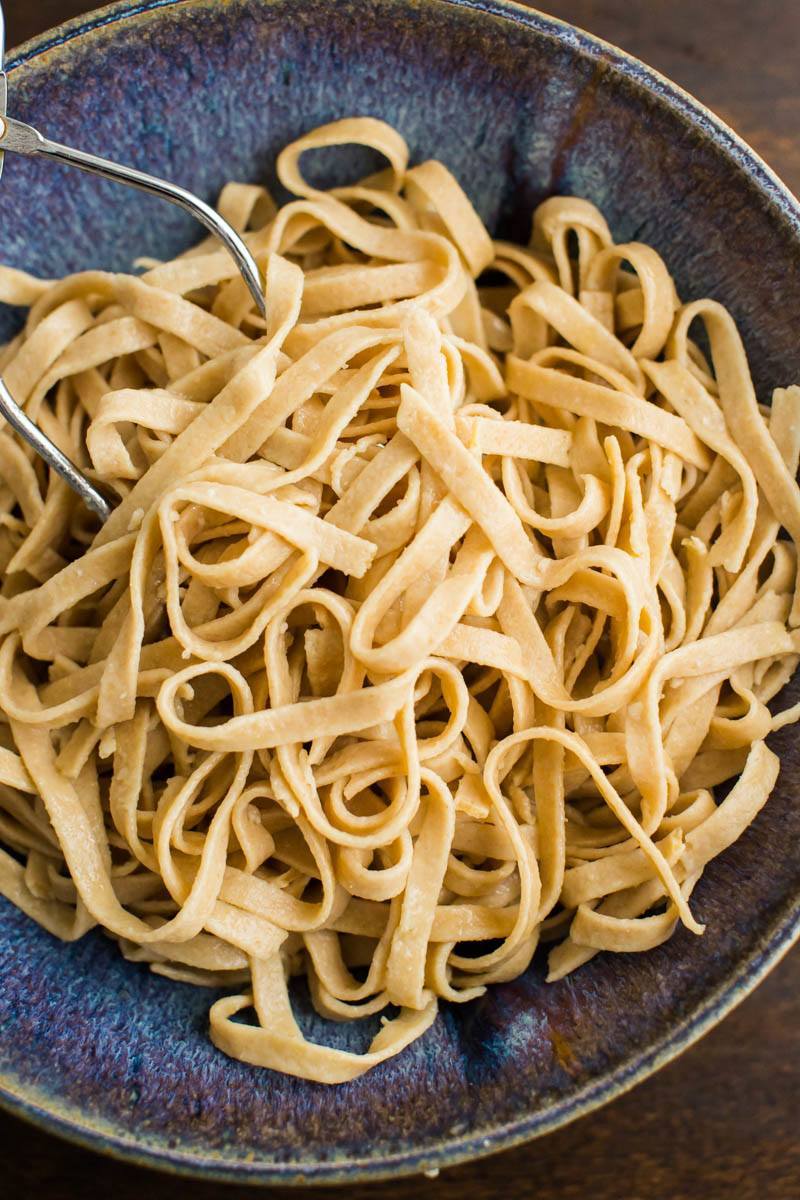 Recipe originally published on April 26th, 2010. Last updated on November 8th, 2015.