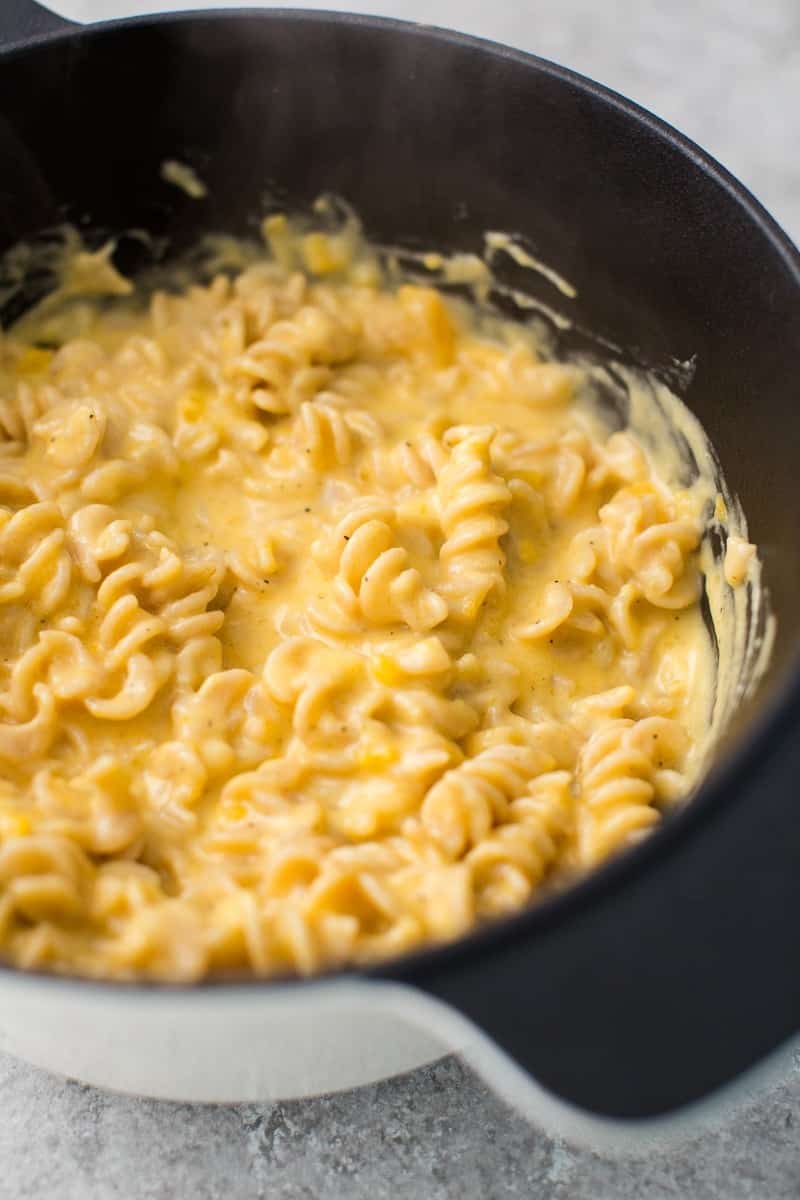 I am not a meticulous person. I'm moving too fast, have too much on my mind, or just too many ideas swirling around. My attention to detail is mediocre at best and I'm okay with stopping at things that are good enough. With recipes, I know many could be even better if I took a lot of time/years to craft each ingredient and while some recipes organically do this, some I've been making the same way for a decade. If a recipe tastes good (even if it could taste better), I call it and if I really like it, I don't think twice about improving it again. However, there are times that improvement, tweaking, and change are good.
Variations for Butternut Squash Mac and Cheese
This butternut squash mac and cheese came from an older version on this site that I've left up (it's still a good recipe but the way I prepare it has changed.) I love this method from White on Rice Couple that cooks the pasta in a water/milk combination. The end result is a creamy, one-pot dish and with the addition of butternut squash, it's extra creamy!
The Squash: Sweet potato, pumpkin, or kabocha squash puree all make great substitutions for butternut squash.
Add Greens: During the fall, I'm looking for every way I can stash greens in meals and Mac and Cheese makes a good candidate. Towards the end of cooking, stir in shredded spinach, chard, kale, or collards.
The Pasta: I found that whole wheat pasta worked really well because it was less likely to congeal while cooking. Use a smaller pasta like elbow, shells, penne, or fusilli.
Print
Stove Top Butternut Squash Mac and Cheese
In this case, I prefer steaming the squash- no need to turn the oven on and you can use the same pot you are going to cook the mac and cheese in. However, the flavor of roasting can be a nice addition, so use the cooking technique you prefer.
Author:
Prep Time:

15 mins

Cook Time:

45 mins

Total Time:

1 hour

Yield:

4

servings

1

x
3 cups

butternut squash, ¼" to ½" cubed

1 tablespoon

olive oil, for roasting

¼ cup

steaming water or vegetable broth

10 ounces

pasta (any type of smaller pasta like elbow, fusilli, penne, etc)

1 ½ cups

water

1 ½ cups

whole milk

½ teaspoon

salt

½ teaspoon

black pepper

½ teaspoon

garlic powder

¼ teaspoons

smoked paprika

4 ounces

shredded sharp cheddar
Instructions
Start by cooking the squash by either steaming or roasting. To roast, preheat oven to 425˚. Toss cubed squash with olive oil and place in a roasting pan. Roast until squash is tender and starting to caramelize, 25 to 45 minutes (depends on how big of cubes you cut the squash). To steam the squash instead, heat a large pot with ½" of water and a steaming basket. Add squash to the basket and cook until squash is tender.
Once squash is cooked, place in a food processor and puree with enough water or broth until the squash is a smooth puree. Set aside.
To make pasta, add the water and pasta to a medium sauce pan over medium-low heat. Bring to a simmer, stirring frequently so to separate the pasta. Stir in the milk and turn the burner to low. Continue to stir the pasta until the pasta is tender and most of the milk has been absorbed (but still some left), 10 to 12 minutes (I cooked my pasta extremely low and slow, so it was upwards of 15 minutes.) Add more milk if your pasta isn't cooked through.
Once pasta is cooked, stir in the butternut squash puree, salt, pepper, and garlic powder. Continue to heat mixture over low heat (it helps if the squash is still a bit warm). Once mixture is hot, remove from heat, stir in the cheese, and taste to adjust seasonings as desired.
Featured Ingredient