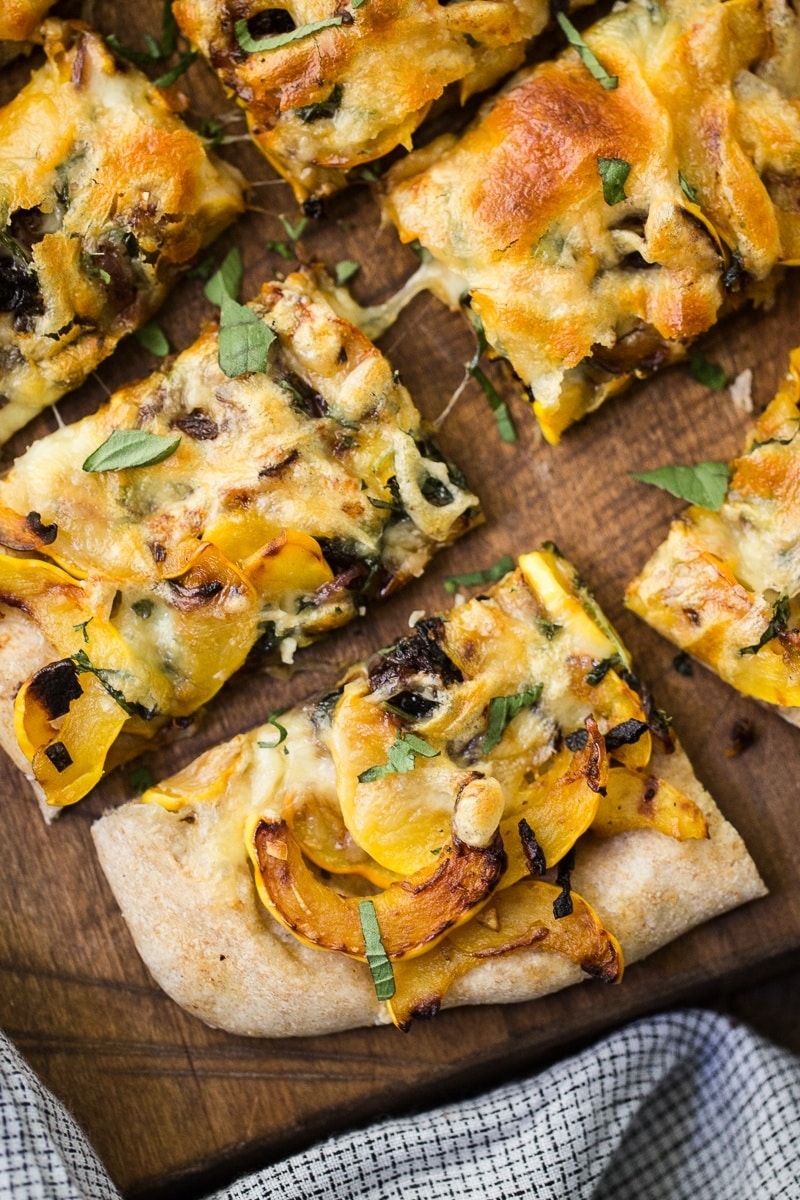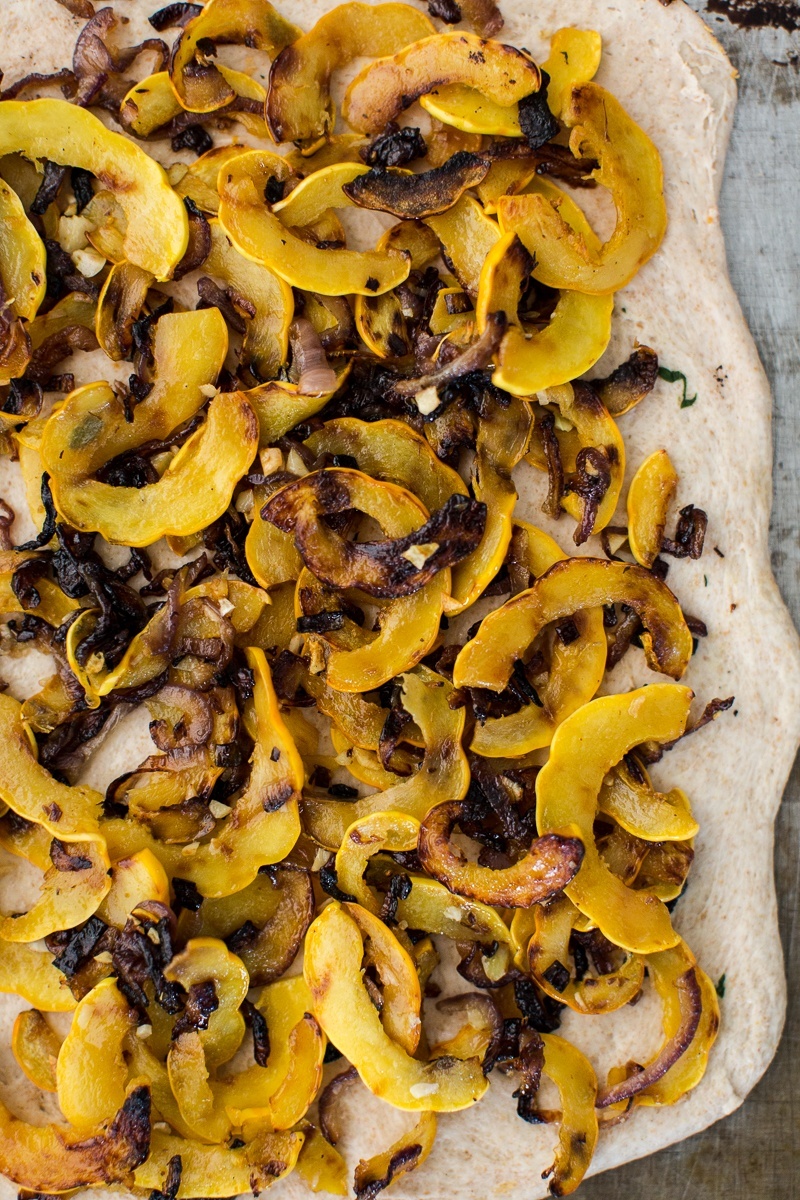 Between M and I, we have very few repetitious patterns. On any given day, we fly by the seat of our pants. I think part of this is because neither of us have set times to be some place during the day, we work until we feel like we can wrap up the day, and now with Mack, no day ever looks the same. However, there is one thing we can both agree on (and I think Mack will love when he gets older), each week we have a pizza night. For us, pizza making is a communal activity- it's such a great way to catch up from our days and spend time together.
Variations for Delicata Squash Pizza
After making this pizza for the first time, I had a desire to add more. I thought this pizza felt too simple and that it had to be missing something. But as I made it again and again, I realized it wasn't missing anything- it was delicious as is. The secret and what makes this pizza, is the cooking of the squash and onions together then tossing with garlic. When cooking, I tend to shy away from the well cooked items because there's no coming back from burnt (you can, however, always cook something more). However, you want a nice caramelization on the squash so push towards the well cooked.
The Squash: I'm officially out of delicata squash now but I can easily see myself making this pizza with any other type of squash or even Brussels Sprouts- it's easy enough to mix up the main topping.
The Cheese: I used whole milk mozzarella nearly every time because the flavor the squash/onions/garlic is so good. However, a couple times I had some smoked mozzarella and that was really good. You can use any of your favorite pizza cheese but I might caution against cheddar- I find the flavor to compete with the squash.
The Dough: Save time! You can make pizza dough ahead of time and store in the refrigerator or a few stores (like Trader Joe's and Whole Foods) have pre-made dough in their refrigerated section. This has been a bit of a lifesaver since Mack was born- I realize it's 6pm and I haven't even thought about starting the dough!
Print
Delicata Squash Pizza
Author:
Prep Time:

20 mins

Cook Time:

15 mins

Total Time:

35 mins

Yield:

2

servings

1

x
1

delicata squash

½

medium red onion

2 tablespoons

olive oil, divided

2

cloves garlic, minced

2 tablespoons

shredded basil, plus extra for topping.

3

to

4

ounces shredded mozzarella or smoked mozzarella

½

ball whole wheat pizza dough (homemade or store-bought)
Instructions
Cut the squash and onions into thin slices, about ⅛" thick. Heat a large skillet over medium-low heat and add 1 tablespoon olive oil. Add in the squash and onion slices, stirring occasionally. Let cook until mixture starts to brown, 8 to 10 minutes. Add in garlic, cook for one more minute. Remove from heat and stir in the basil.
Preheat oven to 450˚. Roll the pizza dough out in a rectangle that is roughly 8" by 12". Transfer to a sheet tray.
Brush the crust with olive oil then sprinkle the delicata squash mixture evenly over the dough. Sprinkle with 3 ounces of shredded cheese and add more as desired. Bake for 12 to 15 minutes until crust has browned and cheese has melted. Sprinkle with extra basil and serve.
Featured Ingredient