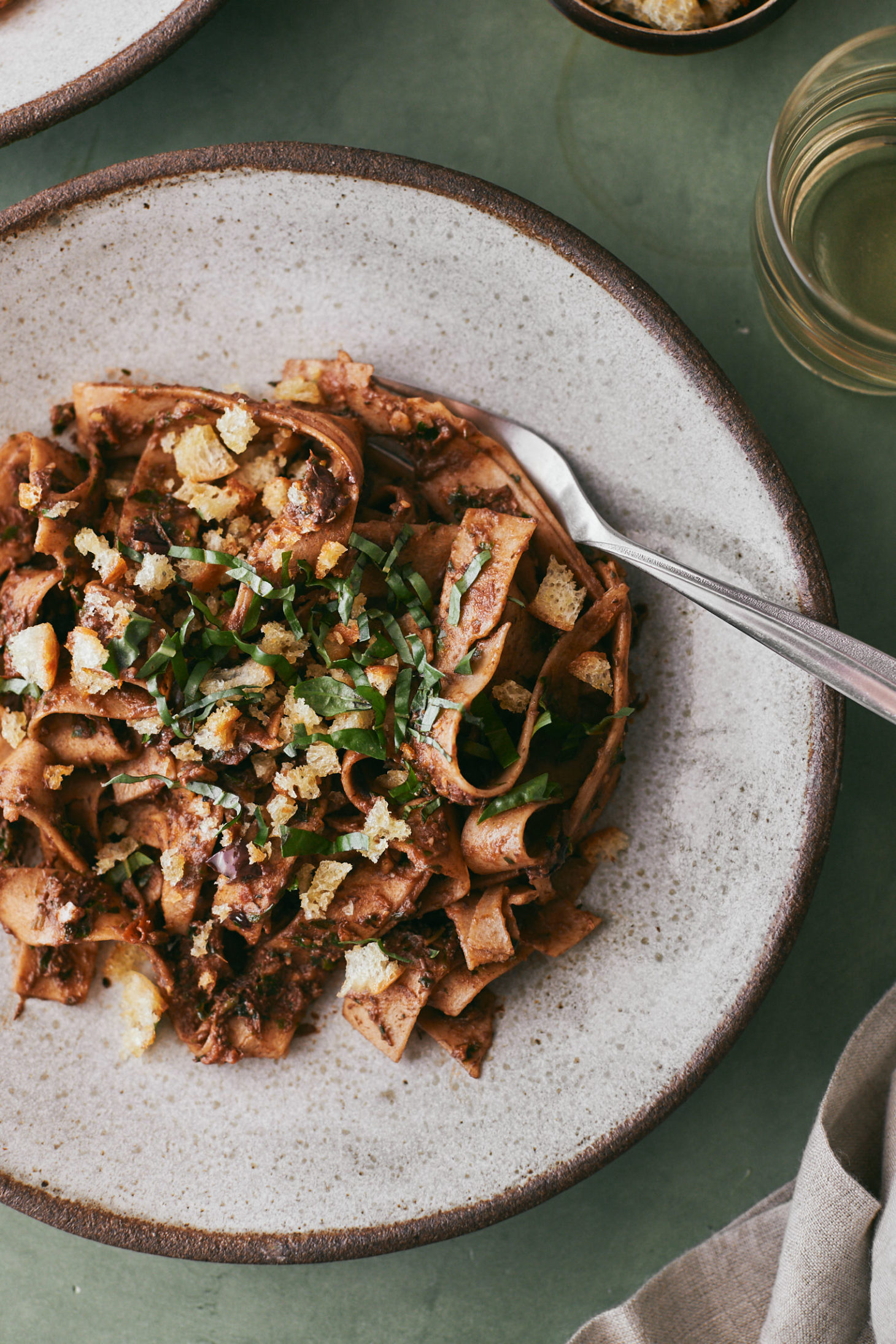 As the site ages, I'm attempting to go through and update/retest some of the recipes I believe should have some staying power. These are the recipes I've love. This olive pesto pasta came about as a fluke, a dinner desperation. Ever since then, this pasta has become a staple, primarily for how easy and quick it comes together!
The Olives
When it comes to olives, I'm buying a small container from the olive bar on a weekly basis. We use olives on pizza, in salads, as a snack, and in pasta dishes, like this olive pesto pasta. It's a lovely, salty recipe for this time of year.
As you can see in the recipe, I typically reach for kalamata but green/black ones would work just as well. Use what you might already have on hand (or is the easiest for you pick-up!)
The Pesto
I'm using the idea of 'pesto' here a bit loosely. It's as if my base tapenade recipe mixed with a pesto and created this delightful spread. This recipe makes quite a bit so be prepared to use it in a few different ways. Use it as a spread on sandwiches, top a bit of hummus, or add it to a morning omelette.
Pasta for Days
I'm not usually particular about the shape of pasta but when it comes to this olive pesto pasta, I love it with long, thick noodles. Fettuccine or something similar works wonderfully. The olive pesto, with the help of just a splash of pasta water, clings to the noodles. Of course, you can use what you already have on hand- there's no wrong pasta answer.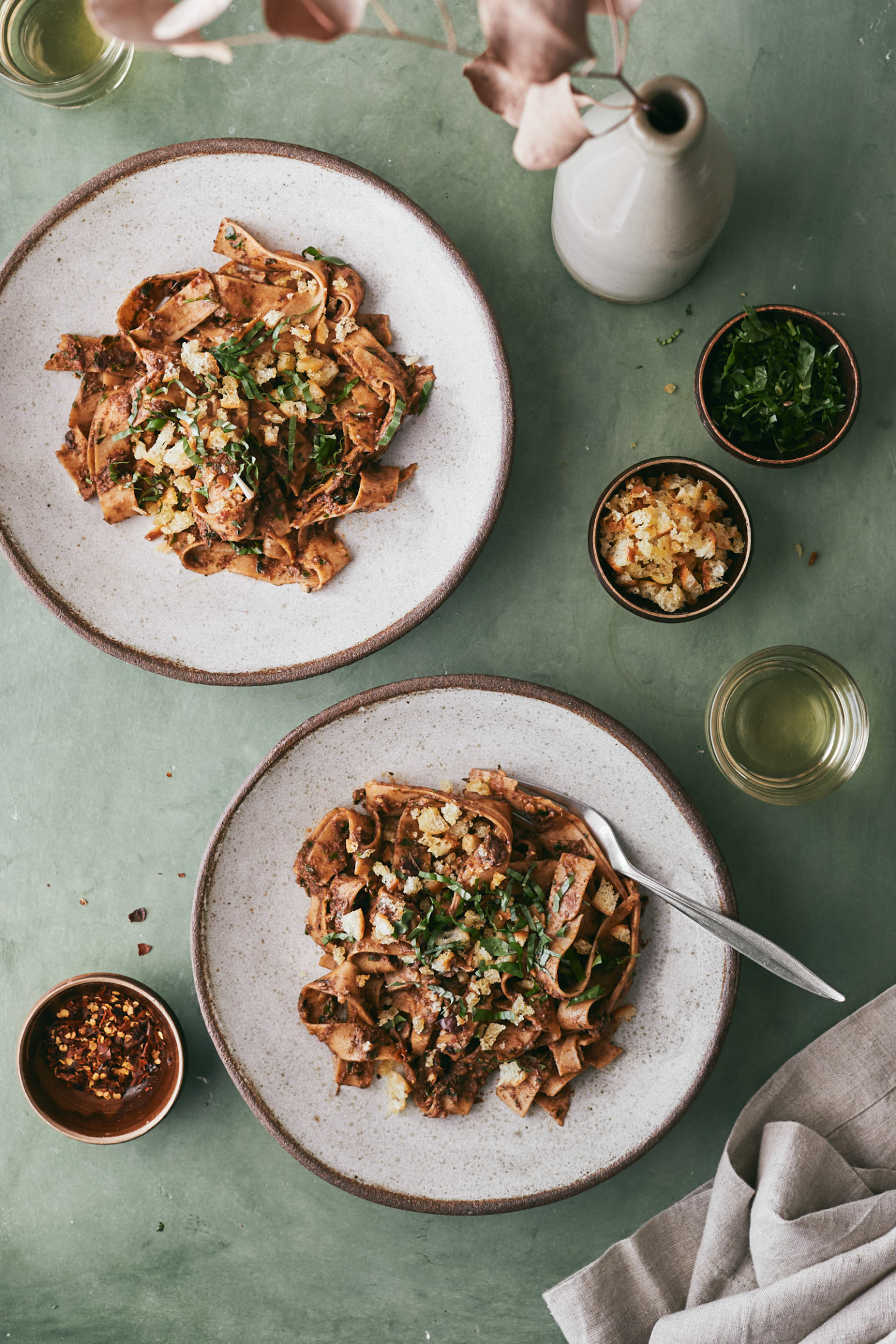 Carbs on carbs
Finally, I realize the breadcrumbs on pasta might seem a bit much but I promise- it's delightful. The crispy, golden breadcrumbs lend just enough texture to make the pasta really shine. You don't need them but I highly recommend them. You could also use toasted/chopped nuts.
Variations
Really the star of this recipe is the pesto. It's a rough variation from an olive tapenade but can function in a similar way. If you want to make a big batch of this pesto, it's great not only on this pasta but also as a spread on sandwiches or pizza.
Pasta: If you're looking to ditch the pasta, try cooked spaghetti squash or if you're a fan of the spiralizer, sweet potato noodles.
Cheese: I like having cheese as an option to add rather than take away. However, this pasta dish is great with a bit of cheese sprinkle on top, like feta.
Print
Olive Pesto Pasta
Author:
Prep Time:

5 mins

Cook Time:

10 mins

Total Time:

15 mins

Yield:

3

to 4

1

x
8 ounces dried store bought or homemade pasta
2 teaspoons olive oil
¼ cup breadcrumbs
Olive Pesto
½ cup packed fresh basil
½ cup packed fresh flat leaf parsley
1 clove garlic
¼ cup pitted kalamata olives
¼ cup sun-dried tomatoes (see note)
3 tablespoons lemon juice
¼ cup olive oil
2 tablespoons chopped or sliced almonds
Instructions
Prepare pasta according to directions. Drain, reserving some of the pasta water, and place pasta in a bowl or return to pot.
While pasta is cooking, pulse the basil, parsley, and garlic in a food processor until minced. Add in the olives, tomatoes, lemon juice, olive oil, and almonds. Continue to until pesto is well combined, adding a bit more olive oil (or pasta water) if needed to pulse everything together.
Add to pasta and toss, adding a splash or two of pasta water until the pasta is coated.
In a dry skillet over medium heat, toast breadcrumbs in olive oil until lightly browning. Sprinkle on top of pasta and serve with extra herbs for garnish.
Notes
+ I used sun-dried tomatoes packed in olive but you could also use non-oil packed sun-dried tomatoes but you might need to add a splash more olive oil or lemon juice.