Drop the flavorless, store-bought breadcrumbs and learn how to make breadcrumbs at home! This easy, pantry staple can even help you use up old bread. All it takes is a bit of time in the oven on a baking sheet and a few pulses in your food processor.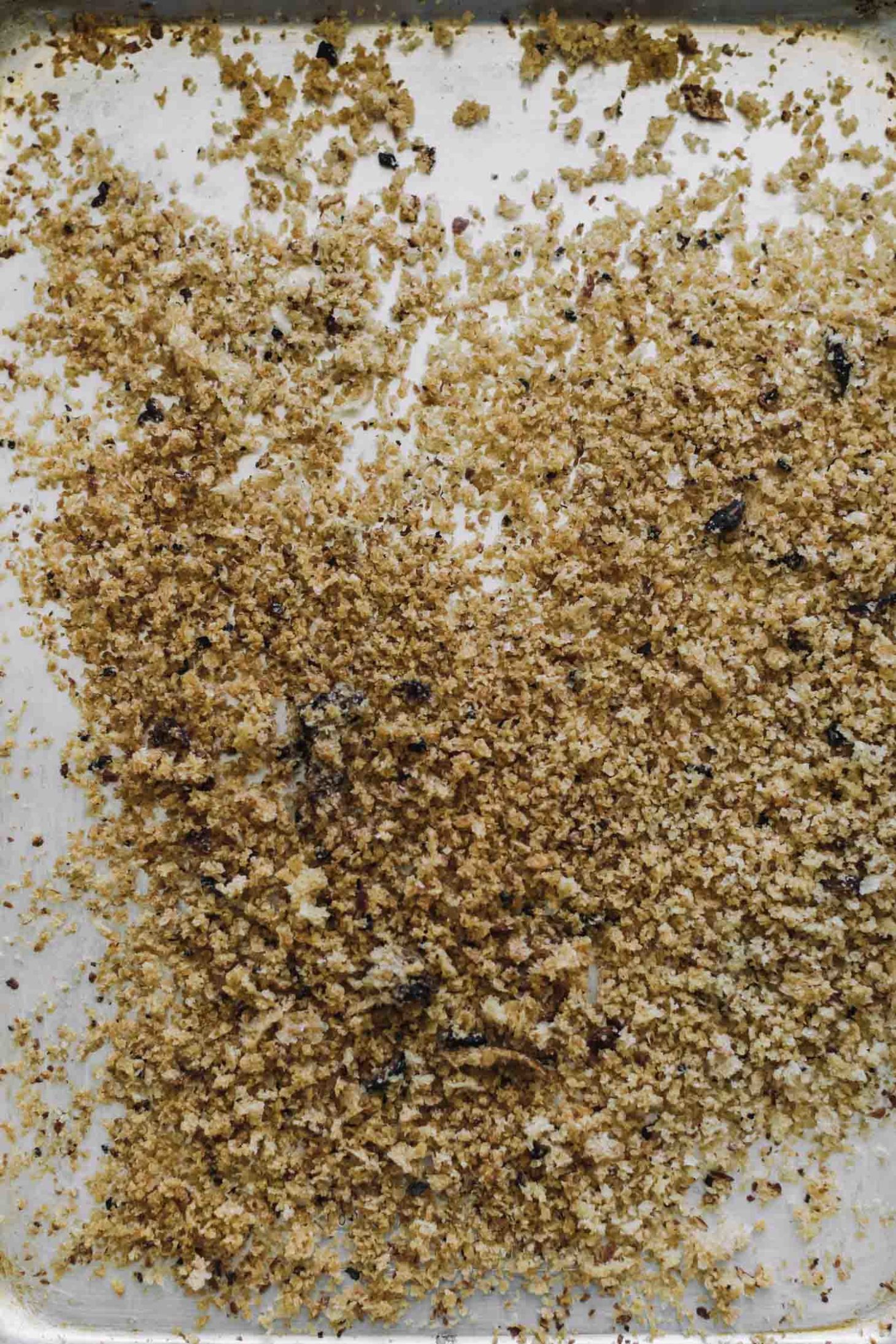 I realize that of all the recipes I could share, homemade breadcrumbs may seem silly. They are easy! Plus, do a search on the internet and there are thousands of different ways to make your own. Yet, I'm sharing anyway. Primarily because it's less important how you make them. It's more important that you do it. And, that you have a few ways in your repertoire to use them.
I'm really the only bread-eater in our house. While I try and freeze bread, I still end up with a stale, end-of-loaf piece. Of course, they don't have to wait until you have old bread. Make them with fresh bread- it's just as good! You can also experiment around with different types of breads. Gluten-free breads make some of the best breadcrumbs!
I think if I could stress one thing, it's that this is just handy information to have in your back pocket. This rings especially true if you go looking for your breadcrumbs, only to realize you're fresh out. I find knowing small cooking tricks like this really help to empower more in the kitchen.
1: As a Topping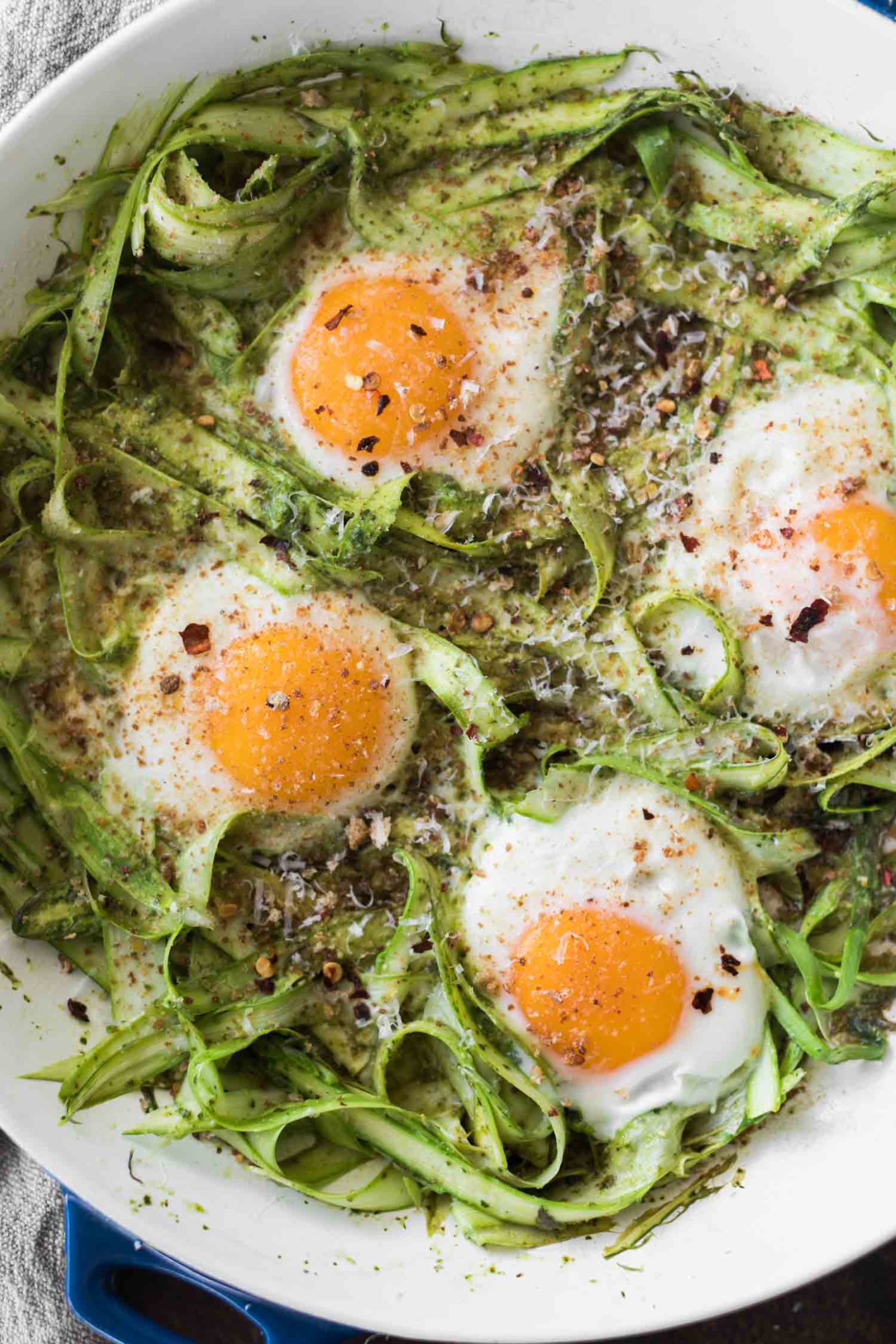 I'm leading with breadcrumbs as a topping because I've been rather obsessed with this as of late. This homemade version can have such a wonderful flavor. They go perfectly with eggs, salads, and soups. I keep a container on the counter to sprinkle on my breakfast egg skillets and use in place of croutons in homemade salads. Also, this crispy topping can add a nice bit of texture and flavor without being too much.
One note, sometimes when I'm using as a topping, I'll pulse a few times less than I normally would. I like leaving a bit more crunch to the mix.
Try them in:
Pan-Fried Turnips
Grilled Celeriac with White Bean Puree
Pesto Asparagus Egg Skillet
2. As a 'Soaking' Agent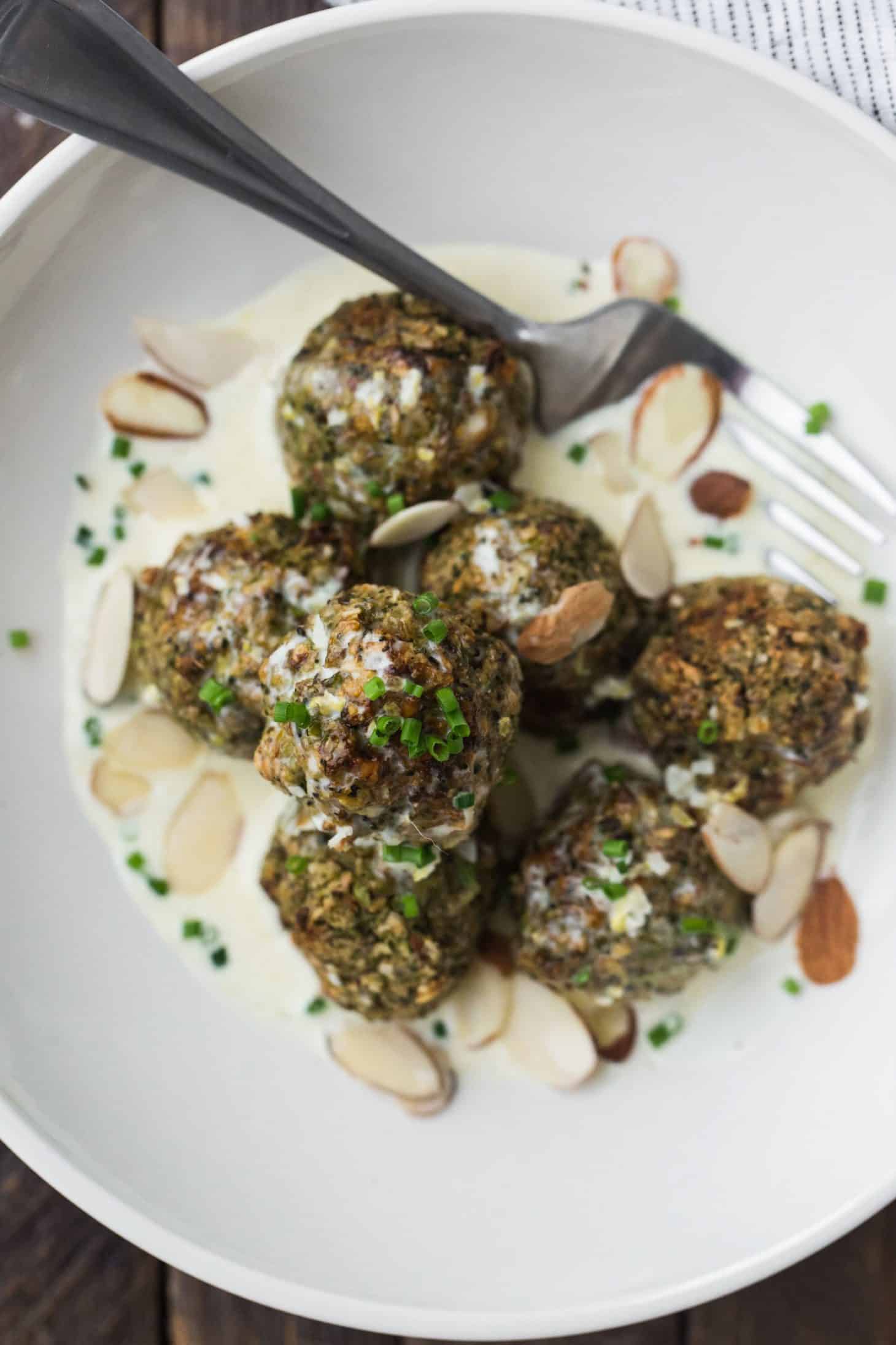 I've always heard breadcrumbs work as a binding agent. I could see how that could be correlated but they actually soak up liquid, which is especially helpful in vegetarian cooking. Think of you favorite vegetable cakes or lentil bites. The breadcrumbs help 'beef' up the texture and work with the eggs to be the foundation of most of those recipes.
Try them in:
Chickpea Fritters
Curry Chickpea Burgers with Coconut Cabbage Slaw
Lentil Bites
3. As a Crust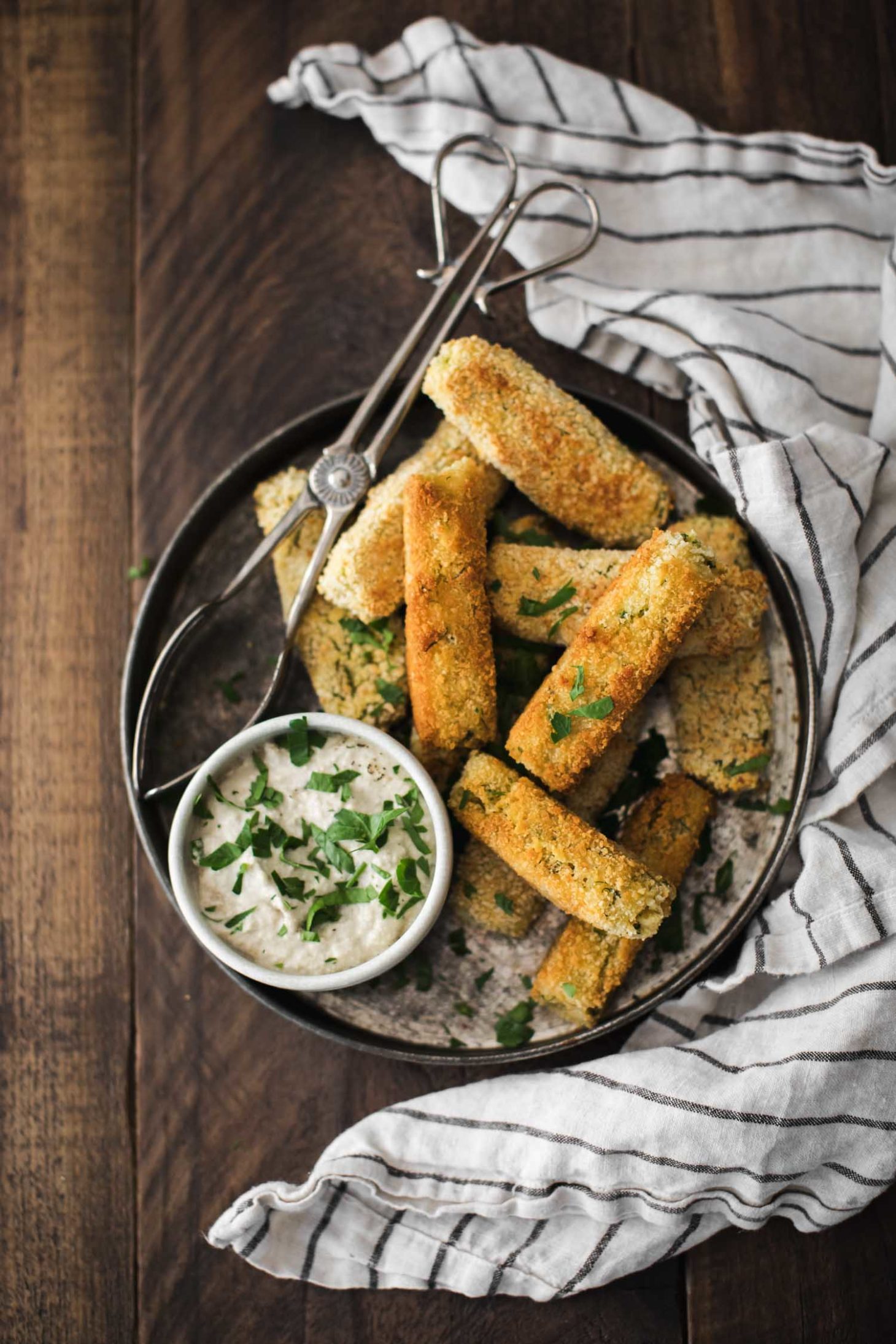 Finally, breadcrumbs make for a wonderful coating. While this technique is mostly used in meat, vegetables can benefit from a lovely coating. In fact, I've been making baked/breaded cauliflower for years as an easy/healthy snack. Also, they work well as a crust/topping like in casseroles and cassoulets. Anything that needs a nice crispy coating can benefit from breadcrumbs!
Try them in:
Root Vegetable Cassoulet
White Bean Chard Bake
Baked Cauliflower Bites
Homemade Breadcrumbs variations
Trying out different variations is one of the best things about making your own at home. Depending on what you are going to use them for, adding herbs or different flavor elements can really boost taste. Good-bye bland store-bought breadcrumbs. Hello delicious, flavorful ones.
Herbs:This homemade version is the perfect place to use dried herbs. Try adding dried thyme, rosemary, parsley, tarragon, and/or sage. I like to pulse in a small bit of herbs when breaking the bread down in the food processor. Herbs go along way, so I usually use about 1 to 2 teaspoons of dried herbs for the recipe below.
Gluten-Free: Pick up a loaf of your favorite gluten-free bread and use the same recipe. When making gluten-free versions, I tend not to wait until the bread is stale.
Ghee: Instead of the olive oil, use melted ghee for a nice flavor-boost. I love using ghee-made seasoned breadcrumbs on salads.
Print
Homemade Breadcrumbs + 3 Ways to Use Them
Easy homemade breadcrumbs. Perfect for making if you are trying to use up leftover/old bread.
Author:
Prep Time:

10 minutes

Cook Time:

10 minutes

Total Time:

20 minutes

Yield:

2 cups

1

x
Category:

cooking component

Method:

Oven

Cuisine:

American
2 large fist-sized chunks of whole grain/sourdough bread (ends work great for this), about 3 cups
2 tablespoons olive oil
¼ teaspoon sea salt
Instructions
Heat your oven to 325˚F. Take the chunks of bread and grate them using a cheese grater. Alternatively, place smaller pieces in a food processor and pulse until the bread is in small pieces.
Place the breadcrumbs on a sheet tray and toss with the olive oil and salt.
Bake the breadcrumbs until browning and any larger pieces are crisp, 8 or so minutes. Take will all depend on how large your breadcrumb pieces are- starting checking around 5 minutes. Shake the tray occasionally during the baking process.
Let the breadcrumbs cool and store in an airtight jar at room temperature for up to two weeks (just make sure the breadcrumbs are completely dried).
Notes
Tips + Tricks: You can make breadcrumbs without the oil, I just prefer the flavor and texture of the breadcrumbs toasted with oil and salt.
Nutrition
Serving Size:

2 tablespoons

Calories:

59

Sugar:

.6

Sodium:

127

Fat:

3.8

Saturated Fat:

.6

Carbohydrates:

5.2

Fiber:

.4

Protein:

1.1

Cholesterol:

0
Keywords: homemade breadcrumbs, leftover bread uses