I love a solid garnish to use as something to draw your eye to a dish. And, while some say I over garnish, it is an easy way to not only visually dress up a meal but add a bit of flavor that doesn't get lost in the cooking process. This can be as simple as a swirl of olive oil or a sprinkle of parsley. Still, I like to take it a bit further and make this peanut-basil sprinkle (which sounds like a ridiculous word, but honestly, nothing else quite encapsulates this type of garnish on a generic scale).
What do I classify as a sprinkle? Any garnish that's a combination of ingredients chopped together into a fine mix. Think gremolata (a mix of parsley, garlic, and zest) or dukkah (a blend of nuts, seeds, and spices). The combinations are endless, and all are worth exploring!
I have a handful of combinations I turn to often, usually incorporating nuts and herbs (a favorite of mine). This peanut-basil sprinkle is a favorite of mine during the late summer and early fall months when the basil is still abundant. Add the crispy shallots; I could eat this mix as a snack (and have been known to while making dinner)!
The best ways to sprinkle a peanut-basil sprinkle
Salad Finish: One of my biggest pet peeves with salads and salad-adjacent meals revolves around size, specifically tossing in whole nuts. They fall off the fork and don't feel a part of the salad, so I'll often turn to this sprinkle to finish it. The smaller pieces stick to the greens and make for a stellar presentation.
Grain Bowl Finish: Similar to salads, this peanut-basil sprinkle is an excellent flare for grain bowls, especially those with grilled cheese, tofu, or roasted vegetables.
Added to rice paper rolls: I often make rice paper rolls stacked full of vegetables and tofu for on-the-go meals. However, I only sometimes want to bring along a sauce. This sprinkle is a great way to boost flavor and roll it in with the vegetables and tofu.
Mix-it Up
We can take some inspiration from the well-known items like dukkah and gremolata to mix up this peanut-basil sprinkle:
Spices: Toast and add some crushed spices to the mix. A few of my favorites include cumin, coriander, and fennel.
Nut alternatives: I've also used walnuts, hazelnuts, and sesame seeds with or in place of the peanuts. Experiment with what you have on hand!
Herbs: dill, fennel fronds, parsley, cilantro, or a combination. Making a sprinkle is also a great way to use up herbs that might not have their original fresh-looking quality. Also, remember to use the stems! They have great flavor and blend right in when minced with the other ingredients.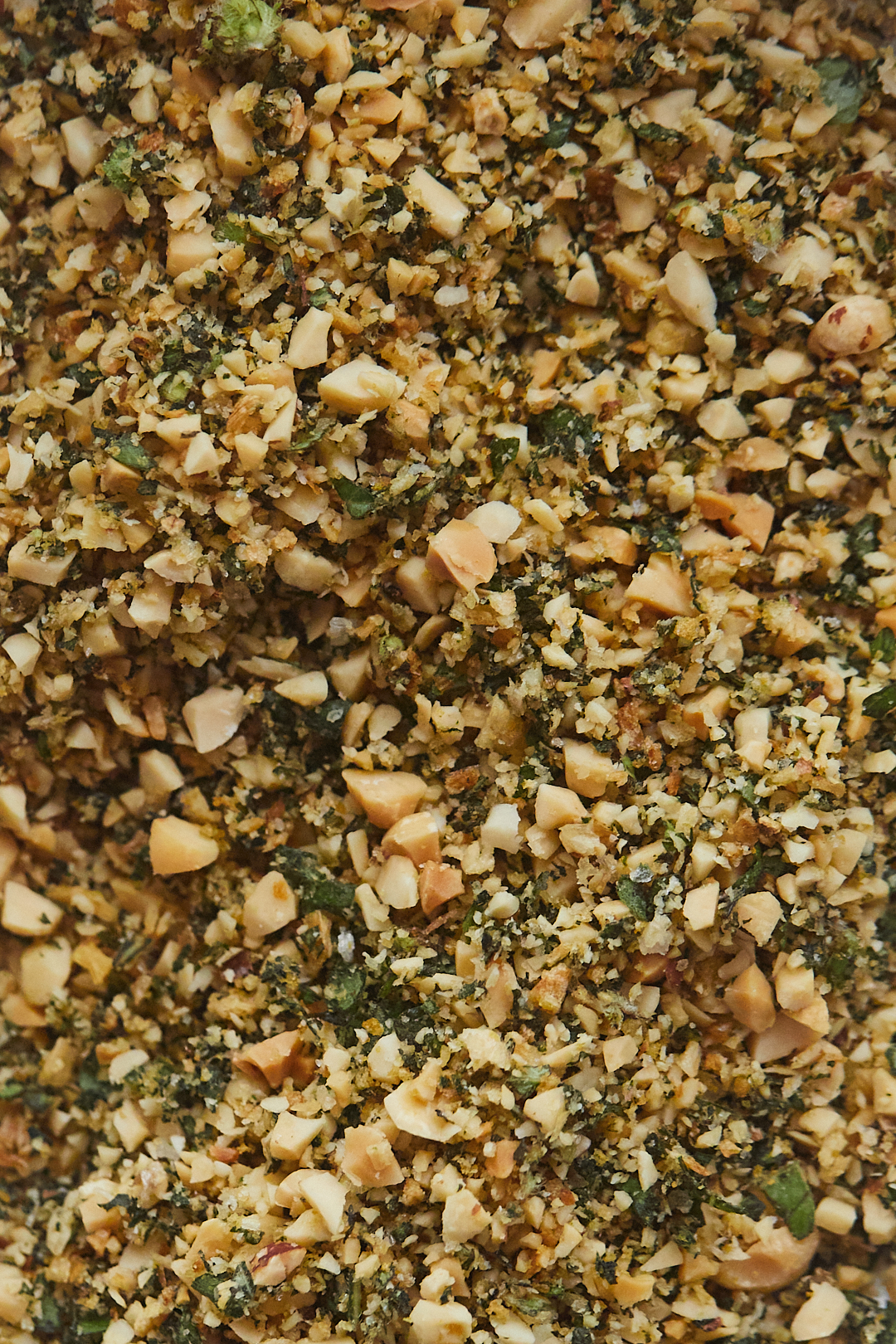 Shallot Frying, a skill well learned
I like the fried onions from my local Asian grocery store, but you can also make crispy onions at home by thinly and evenly slicing onions and frying them in hot oil. I use this technique. The key is to pull them before any turn brown, as they will continue to cook even once removed from the oil. Once they are cool, you can use them for anything including this peanut-basil sprinkle.
Print
Peanut-Basil Sprinkle
This peanut-basil sprinkle is a hearty garnish that combines roasted peanuts, fresh basil, and crispy shallots to add a bit of flavor at the end of the recipe. 
Author:
Yield: scant

¼ cup

or so

1

x
2-3 tablespoons (15g) raw peanuts
1 teaspoon nutritional yeast
⅓ cup loosely packed basil leaves
2 tablespoons (4g) Fried Shallots or Onion
1 teaspoon finishing salt
Instructions
To make the sprinkle: Preheat the oven to 300˚F. Place the peanuts on a baking sheet and roast until golden, 8-10 minutes. Remove from the oven, sprinkle the nutritional yeast on top, then continue roasting for another 3-4 minutes until the peanuts and nutritional yeast are deeply golden.
Transfer the mixture to a cutting board and add the basil, fried shallots, and salt. Roughly chop everything together until the peanuts, basil, and shallots are mostly uniform.