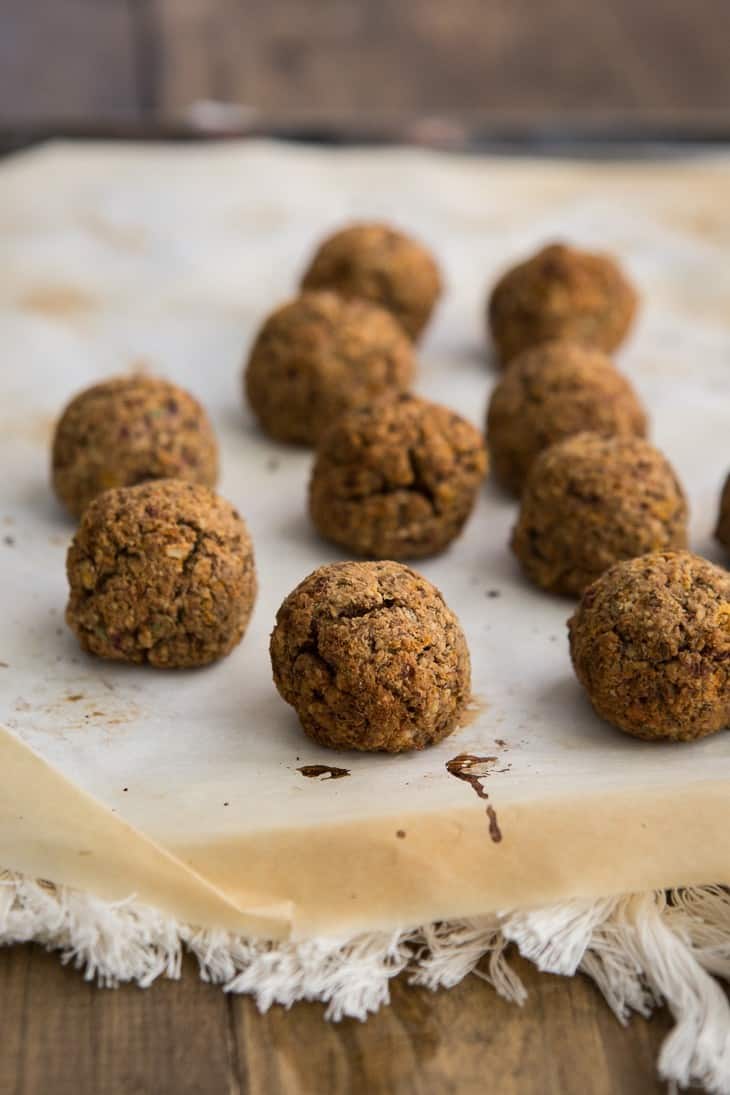 I feel there is no greater go-to recipe for a vegetarian kitchen than a fritter, cake, or bite. Legumes, nuts, and/or grains combined with vegetables in some arrangement that can be baked or fried; it's easily the star of a recipe.
These lentil bites have been around on the site for a couple years now but I felt it worthwhile to share, in one spot, all the ways I use these. I stopped calling them meatballs some time ago, because for the obvious reason: there's no meat. But also, these bites are so much more versatile than the term 'meatball' lets on. I keep all these ingredients in my pantry and more often than not, I have a batch of uncooked bites in the freezer. These are also toddler friendly (a big plus in my house!)
Print
Nut Lentil Bites
A wonderful vegetarian lentil bite that can be made from ingredients I recommend keeping in your pantry at all times. Perfect for topping pasta, adding to sandwiches, or crumbling in salads.
Author:
Prep Time:

10 minutes

Cook Time:

50 minutes

Total Time:

1 hour

Yield:

1

dozen bites

1

x
½ cup

brown or green lentils

1 ¼ cup

water

1 tablespoon

olive oil, plus more for brushing

⅓ cup

minced white onion

1

clove garlic, minced

½ cup

shredded carrots

1 tablespoon

tomato paste

¼ cup

crushed pecans

¼ cup

crushed walnuts

¼ cup

whole wheat panko

½ teaspoon

dried oregano

½ teaspoon

dried basil

½ teaspoon

salt

¼ teaspoon

black pepper

1

large egg
Instructions
Combine lentils and water in a medium pot. Bring to a boil, reduce to a simmer, and cook until lentils are tender, 23 to 25 minutes. If lentils are not tender and water has been absorbed, add more water and continue to cook. Drain off any excess water.
Heat olive oil in a skillet over medium-low heat and add the onion. Cook until onion is translucent and fragrant, 6 to 8 minutes. Stir in the garlic and carrots, cooking for another 2 to 3 minutes. Add in the tomato paste and cook for another minute or two.
In a food processor, combine the cooked lentils, onion mixture, nuts, panko, herbs, salt, and pepper. Pulse a few times to start combining the mixture. Crack in the egg and pulse a few more times until the mixture is combined but about half the lentils are still holding shape. Set aside and let rest while the oven preheats to 425˚.
Take the lentil mixture and roll into 12 balls, roughly the size of a golfball. Place on a baking tray covered with parchment paper and brush with olive oil. Bake meatballs until browning and crisp, 25 to 30 minutes.
Notes
Tips & Tricks:  I always get asked if you can use other types of lentils. The short answer? No. Red lentils are split and cook quickly/lose their texture. Black/Beluga and Le Puy/French lentils have too much texture (which makes them perfect for salads, not for these lentil bites.)
I also made these on facebook live. If you want a visual guide, check out the video.
Finally, speed up the process by batch cooking the lentils for use throughout the week. Also, these lentil bites freeze well. Place on a sheet tray, as if you were about to bake. Place in the freezer for 30 minutes then transfer the bites to a freezer-safe container for up to three months.
Stock up: get the pantry ingredients you will need: Lentils, Walnuts/Pecans, Egg
Nutrition: see the information.
Nutrition
Calories:

215

Sugar:

2.7

Sodium:

361

Fat:

10.6

Carbohydrates:

23

Fiber:

4.4

Protein:

9.2

Cholesterol:

46.5
Nut Lentil Bite
variations
Vegan: These work really well with a chia or flax egg. I don't always have those items on hand so I stick with the egg but know these are easily vegan.
Gluten-Free: The only swap to do is to use gluten-free breadcrumbs. The other option, one I've been playing with recently, is using popped amaranth that has been slightly ground (this adds another layer of nutty flavor!) You can also use oats that have been pulsed a few times.
Nuts: I love the flavor of the walnut/pecan mix but you could also use sunflower seeds, almonds, pepitas, and/or hazelnuts.
Vegetable Add-ins: Like these broccoli bites, you can add your favorite vegetables to these bites. Adding about 1 cup ground vegetable works well. My favorites: roasted broccoli, cauliflower, kale, chard, spinach, parsnips, shredded sweet potato, or sweet corn.
Herbs/Spices: Use a handful of fresh minced herbs in place of the dry or add a few teaspoons of your favorite spice blends. A few of my favorite: curry, jerk, ras el hanout, or adobo seasoning.
Pasta: One of the most obvious uses but still delicious: use these lentil bites to top pasta recipes with marinara or cream sauce.
Grain Bowls: I like to make up a batch of these lentil bites to add to big grain bowls filled with roasted vegetables and a dressing or sauce. These pair well with romesco sauce, harissa-yogurt sauce, ginger-carrot dressing, or a simple balsamic vinaigrette.
Sandwiches: There are two ways I eat these on sandwiches: in a traditional meatball sandwich-type recipe or flatten and stuffed in a pita. These lentil bites work well tossed in buffalo, bbq sauce, or marinara for a sub sandwich. Or, flatten and bake to a crisp for sandwiches or pita sandwiches loaded with greens and hummus.
Salads: These lentil bites are great whole or crumbled on top of a salad. A perfect protein punch that's not just a sprinkle of legumes or nuts.
Tacos: Add different spices (coriander, cumin, smoked paprika) and crumble into a taco that is loaded with greens, salsa, and/or guacamole.
Curries: Smother in your favorite curry sauce and serve on a big pile of grains.
Snacks: This is more the toddler-friendly route but my little guy likes these to dip in hummus, pea dips, or a pesto-yogurt dip.
Recipes that use Lentil Bites