When it comes to flavorful finishes for vegetables, nothing quite compares to compound butter. This little bit of fat, which can also be a vessel for salt, heat, spices, alliums, or acid, can take an average dish and make it unique within 60 seconds—my current obsession: this chile-lemon butter.
Compound butter, two ways
Typically, compound butter is made by combining your chosen ingredients with room-temperature butter and whipping them together. However, there are occasions when I like to take it a step further and use heat to infuse the butter or cook the ingredients. In return, the flavor feels even and doesn't have an underlying raw taste.
For this chile-lemon butter, sweet paprika and crushed red chiles are heated in the melted butter until fragrant, then removed from the heat to add a bit of citrus zest. The play between the earthy chiles, bright citrus, and creamy butter makes for a well-rounded finishing touch.
Chile-Lemon Butter Usages
Soup Finish: Once the soup is finished and ladles into bowls, add a small spoonful of the butter, and as it melts, gently swirl it into the soup. I adore it with the coriander sweet potato soup.
Roasted or grilled vegetables: this chile-lemon butter allows you to quickly dress up roasted or grilled vegetables. Grilled cabbage wedges, roasted cauliflower, or whole roasted sweet potatoes are all solid options.
Pilaf: Make a pot of grains and finish with a bit of this chile-lemon butter. You can also reheat leftover grains (or multiple grains!) and add some of this butter once heated.
Paneer Skewers: Thread paneer onto skewers with a bit of onion and your choice of vegetables then, once off the grill, spread and melt the butter over the skewers before serving.
Dressing: Melt this butter and add a splash of vinegar to the mix, then toss with your chosen lettuces. To take the sauce a step further, you could also mix in a bit of miso.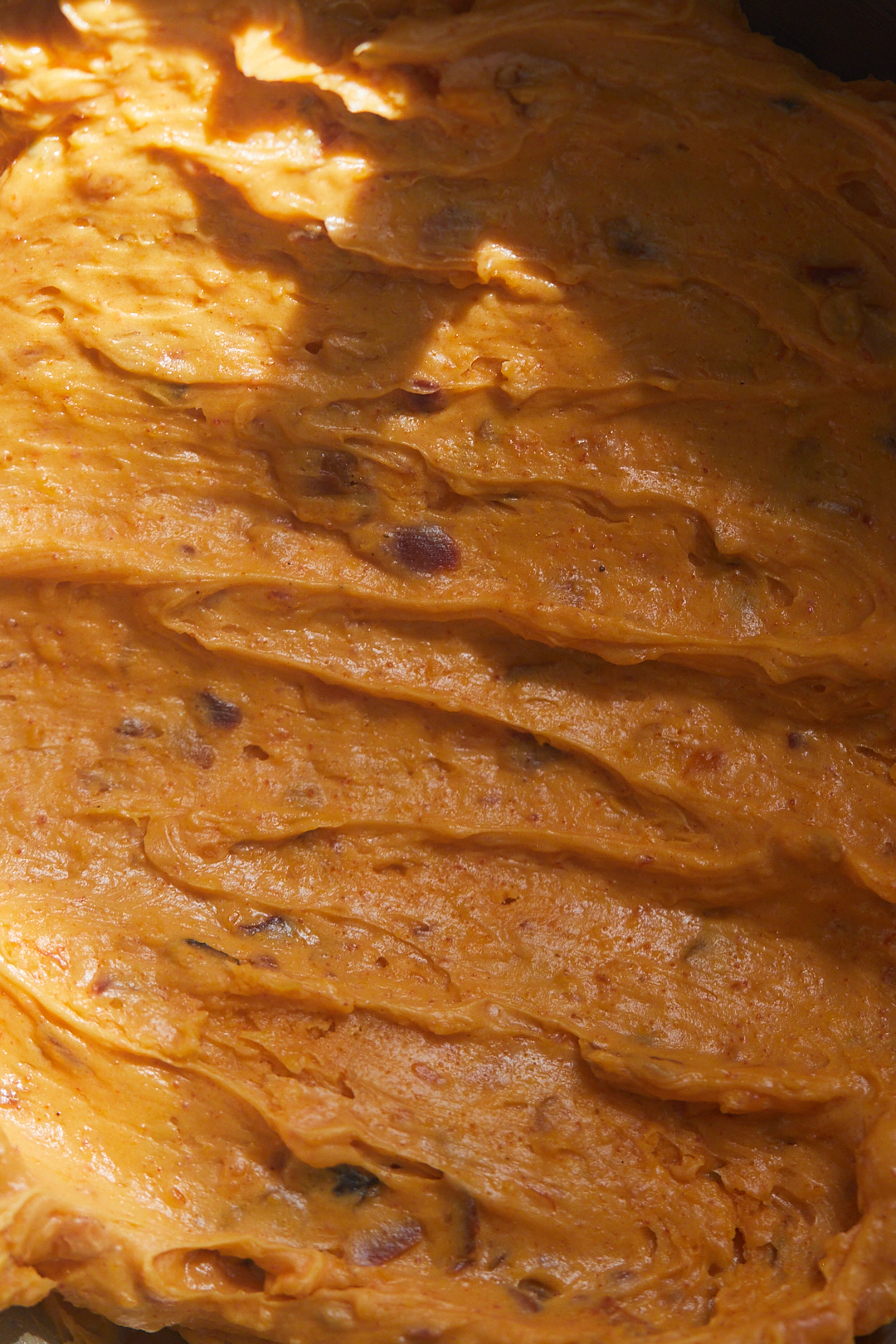 Mix-it Up
Chile types: I often make this chile-lemon butter with different chiles to vary the heat level. I used crushed Calabrian flakes with sweet paprika for this version, but the world of chiles is vast–play around to find combinations you like! For a smokey flavor, you could also swap the sweet paprika for smoked paprika.
Citrus: lime or orange is also lovely, depending on the overall flavor you're looking for. And, as mentioned in the recipe, you can swap the zest for preserved lemons or limes to add a bit of salty funk–a favorite of mine!
Alliums: While I prefer alliums in the meal, you could easily add them to the butter. Black garlic, charred scallions, caramelized onions, or crispy shallots would all be great.
Make it vegan: Use Miyoko's vegan butter-works great as a 1:1 swap.
Print
Chile-Lemon Butter | Component Cooking
This chile-lemon butter comes together quickly, be made from various ground and crushed chiles, and helps add a lovely flare to all kinds of dishes.
Author:
Yield:

½ cup

of butter

1

x
½ cup unsalted butter
1 teaspoon sweet paprika
1-2 teaspoons crushed red chiles (your choice heat-wise)
2 teaspoons lemon zest or 1 tablespoon minced preserved lemon
1 teaspoon finishing salt
Instructions
Melt the butter in a small pan over medium-low heat. Once the butter has melted, stir in the sweet paprika and crushed red chiles. Let cook until the flavor of chiles is noticeable, then remove the butter from the heat and stir in the lemon and salt.

Fill a bowl with ice that can fit a smaller bowl inside. Nestle the smaller bowl on the ice and add the butter to that bowl. Using a spoon or wooden spatula, stir the butter until it returns to room temperature and has solidified into a soft butter.
Transfer to a storage container and keep in the refrigerator for up to a week.