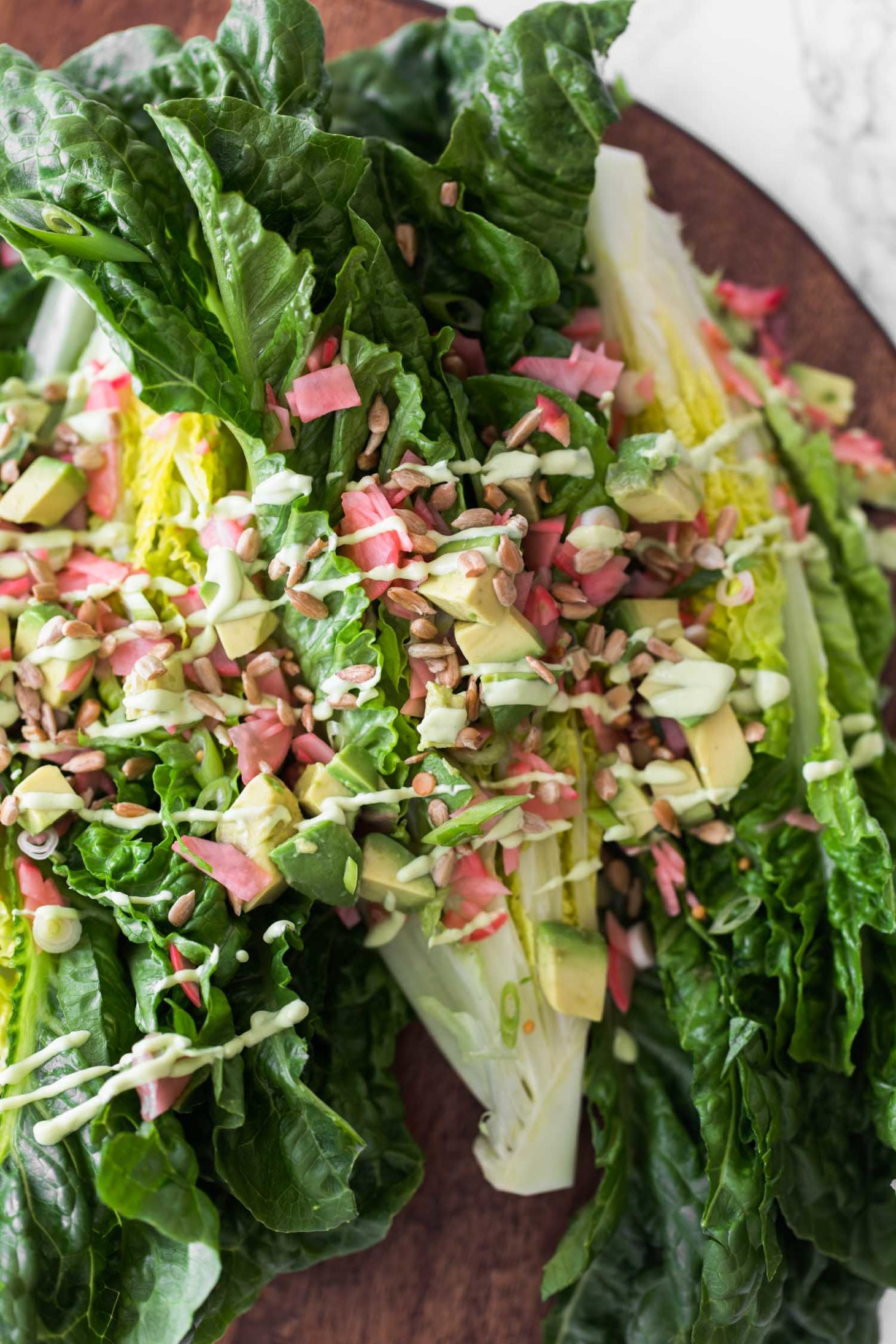 Post sponsored by California Avocado. See below for more details.
There are certain thins I didn't learn about food until I moved to California. Looking back, I lived a rather sheltered food life in the Midwest. Citrus, pineapple, and avocados were magical year-round food that all was shipped long distances. I never questioned it because to me, an avocado in December was the same as one in July. Boy was I wrong.
March kicks off the California Avocado season and I'm excited to partner with the California Avocado Commission again (because fresh avocado cannot be beat!) Plus, avocados and spring produce are an amazing match together and this salad proves it. I recently had a romaine wedge salad that was overloaded with blue cheese. It was delicious and while it inspired this recipe, this avocado romaine wedge salad is a bit lighter (think of it as a California wedge!) The avocado dressing is also a heavy-rotation dressing/grain bowl topping.
Print
Avocado Romaine Wedge Salad with Pickled Radish
A fresh spring wedge salad featuring romaine lettuce topped with pickled radish, avocado, and an easy avocado dressing.
Author:
Prep Time:

15 minutes

Cook Time:

10 minutes

Total Time:

25 minutes

Yield:

4

servings

1

x
Ingredients
Pickled Radishes
1 bunch radish
1 teaspoon mustard seeds
¾ cup apple cider vinegar or white vinegar
¼ cups water
2 tablespoons cane sugar
1 teaspoon salt
Dressing
½ ripe, California Avocado
¼ cup whole milk plain yogurt (or cashew cream)
2 tablespoons lemon juice
2 tablespoons minced scallions
2 tablespoons olive oil
Salt, to taste
Water, as needed
Avocado Salad
1 head of romaine lettuce
¼ cup chopped pickled radishes
3 tablespoons minced scallions
½ ripe, California Avocado, cubed
3 to 4 tablespoons toasted sunflower seeds
Instructions
Trim the ends from the radish and thinly slice either with a mandoline or a knife. Place in a jar along with the mustard seeds. Combine the vinegar with the water, cane sugar, and salt in a pot. Bring to a boil and pour over the radish. Let sit for at least an hour before using.

Right before assembling the salad, combine the avocado, yogurt, lemon juice, scallion, olive oil, and salt in a blender. Puree until smooth, adding a bit of water as needed to thin the dressing.
When ready to assemble the salad, cut the head of romaine lettuce into quarters. Measure about ¼ cup of the pickled radish and roughly chop into small pieces (see note). Combine wit the mince scallion and cubed avocado. Sprinkle over the lettuce along with the sunflower seeds. Drizzle with dressing and serve with a side of the extra dressing.
Notes
Tips + Tricks: I like to use thinly sliced radish for sandwiches and grain bowls but if you're just using the radish for this recipe, you could cut the radish into small cubes (so you wouldn't have to chop after pickling!)
Use up leftover ingredients: radish, yogurt, sunflower seeds
Avocado Romaine Wedge Salad
variations
Carrots: Add carrots to the radish mix for a variation of the pickled vegetable.
Grains: Add 1 cup cooked quinoa or bulgur to the scallion/pickled radish mix before topping the salad. You could also serve this salad as a chopped salad instead- which would help showcase the grains.
Cheese: This salad would be delicious with a sprinkle of crumbled feta.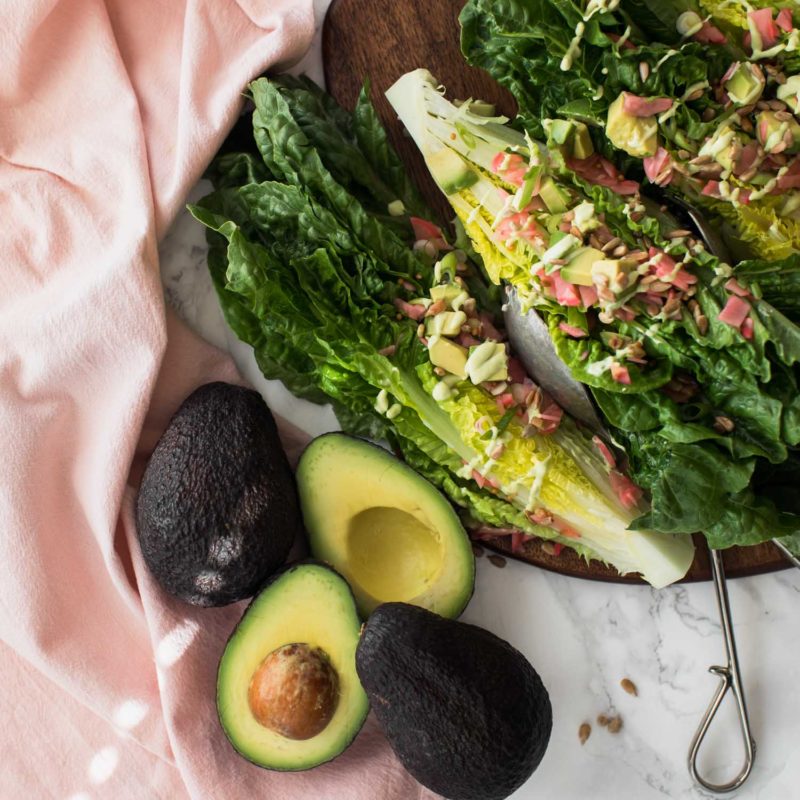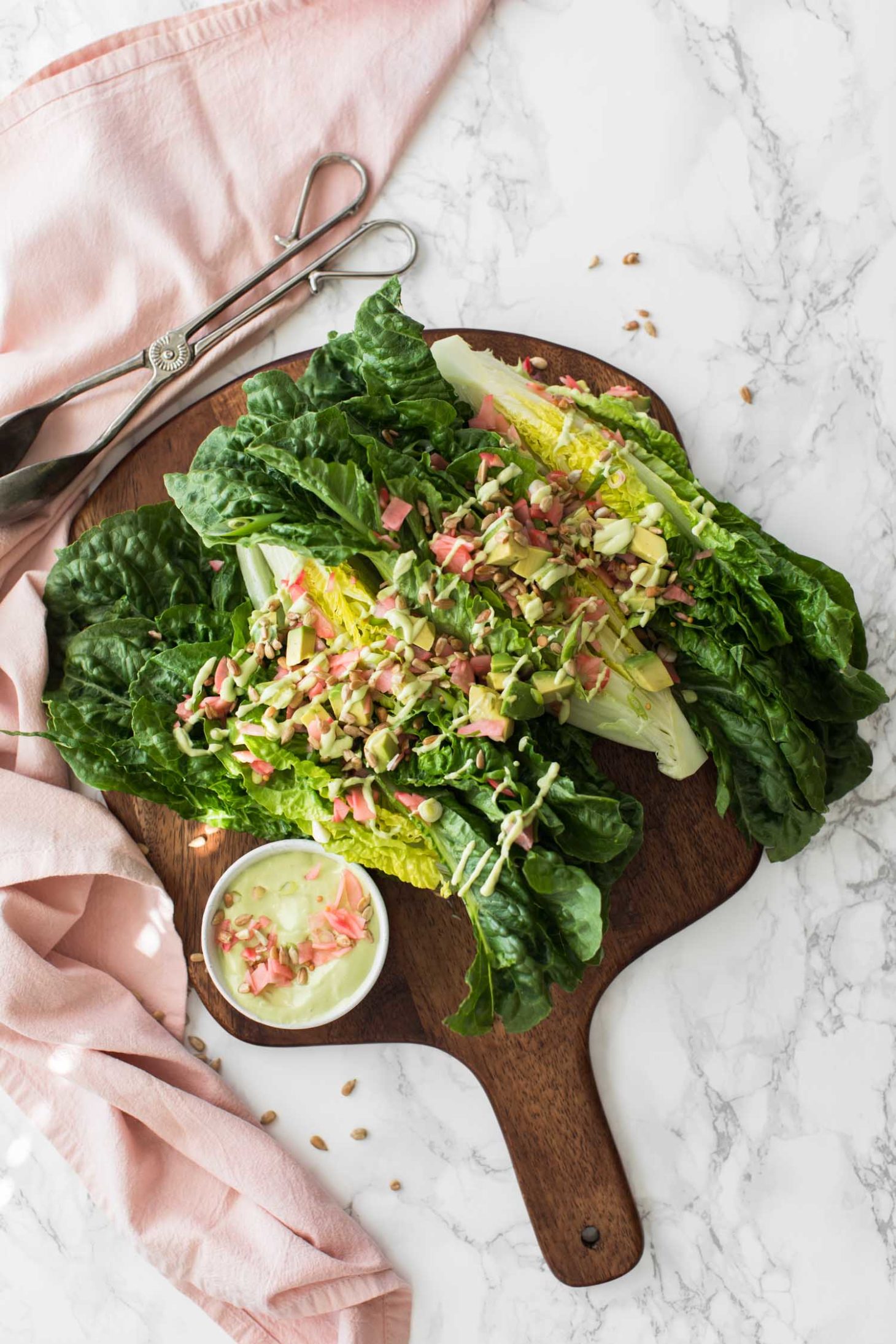 Disclosure: This recipe was created in partnership with California Avocado. All thoughts and opinions are my own. It's content like this that helps me keep this site running to provide the vegetarian recipes you see every week.