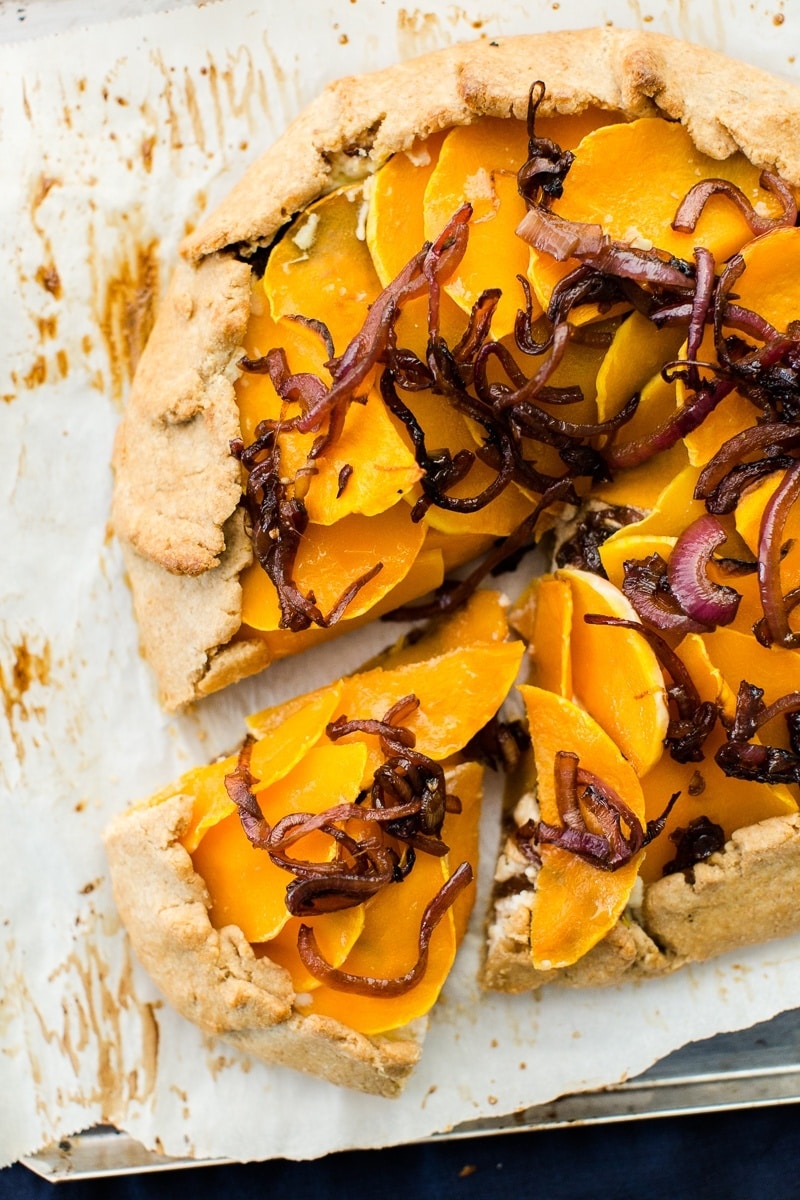 If you're still looking for a showstopper vegetarian main dish for your holiday meal, you've come to the right place. My family started off with quiche as an integral vegetarian holiday dish but I've since moved beyond to galettes. They're beautifully rustic, easily filled with hearty vegetables, and in my mind, the perfect addition to any holiday table. I've made a lot of galettes over the years but this squash galette is by far my favorite. It's one of the more labor/time intensive meals but most of it can be made ahead of time. In fact, I've gone so far to assemble it the day before and then bake it before serving. Also, in need of more holiday inspiration? I have a few more holiday meals up my sleeve.
Print
Balsamic Onions, Ricotta, and Butternut Squash Galette
Author:
Prep Time:

20 mins

Cook Time:

60 mins

Total Time:

1 hour 20 mins

Yield:

6

-8

1

x
Crust

1 ½ cup

whole wheat pastry flour

¼ teaspoon

salt

8 tablespoons

butter, chilled

2 oz

cream cheese, chilled

¼

-

½

cup of ice water
Filling

1 ½

pounds butternut squash

2

medium red onions

1 tablespoon

olive oil

2 tablespoons

balsamic vinegar

1

-

15

oz container of ricotta cheese

1 tablespoon

honey

1

egg white

1 tablespoon

fresh rosemary, minced

¼ cup

grated parmesan (see note)

½ cup

grated mozzarella
Egg Wash

1

egg yolk

1 teaspoon

water
Topping:

1 tablespoon

olive oil
Instructions
Preheat oven to 400˚.
In a food processor(or a medium bowl, combine flour (1) and salt for crust. Pulse or cut in butter. Once butter is mostly into small chunks, pulse (or cut) in cream cheese. Once butter and cream cheese are in pea size pieces, pulse in ¼ cup of water (2) until dough begins to come together, adding a 1 tablespoon of water extra as needed(3). Remove from food processor and shape into a disc without handling the dough too much (4). Wrap in plastic and place in refrigerator.
While dough chills, peel butternut squash and cut in ¼" thick slices (5). Place on a baking tray (covered with parchment you want) and roast until tender, roughly 20-25 minutes.
To make onions, cut into ⅛" half circles (6). Heat over low the olive oil in a skillet. Place sliced onions in skillet and begin to let onions cook- do not stir. Continue to cook onions until they begin to brown, 10-15 minutes. Once onions are cooked, stir in balsamic vinegar and continue to cook until vinegar reduces down, about 5-10 minutes (8).
Once dough is chilled, squash is roasted, and onions are ready, blend together the remaining filling ingredients (7).
On a lightly floured surface, roll the pie dough out to a 12-14″ circle (9) and transfer to a baking sheet covered in parchment paper. Spread the ricotta filling evenly over the pie crust, leaving a 2″ border around the edge (10). Next, evenly sprinkle ¾ of the balsamic onions over the ricotta mixture (11). Finally, start in the middle and overlap the butternut squash in a circle continuing until all the ricotta mixture is covered (12). Fold over the edges of the crust, pleating as needed to make and even circle (13).
Combine the egg yolk/water and brush the outer edge of the crust (14). Drizzle olive oil on top of the butternut squash and place in oven (15).
Bake galette until crust is golden brown and the cheese has puffed- somewhere between 35-45 minutes. Remove from oven and sprinkle with remaining balsamic onions. Cut into wedges and serve.
See corresponding step by step photos below.
Notes
+ Look for veg friendly parmesan as most parmesan is not made with vegetarian rennet. If you can't find it, skip.
+ For serving, this squash galette is great hot, room temp, or even straight from the refrigerator as leftovers.
Step by Step
[owl-carousel category="butternut-squash-galette" items="2" navigation="true" navigationText="<,>" pagination="false" scrollPerPage="false" itemsDesktop="1100,2"]
Variations for the Butternut Squash Galette
This is one of those recipes that I hesitate to give any variations because in my mind, it's spot on as is. So instead of giving you direct ingredient swaps (minus the squash), I wanted to give a few helpful hints for making this dish vegan or gluten-free. I've not tried either of these, but I think both would work (and if you've never tried almond ricotta- it's actually quite good).
Vegan: I tend to shy away from making items like this vegan, but the flavor from the butternut squash/onions is awesome, so no one should miss it. Ignore the eggs/honey (they aren't key ingredients) in the recipes and use vegan ricotta (I like almond ricotta- either homemade or store bought) and use this olive oil pie crust in place of the cream cheese crust.
Gluten Free: Swap out the crust for your favorite gluten-free pie crust or this is a beautiful all-butter pie crust.
Squash: I think delicata or any other time of squash that holds shape well work work.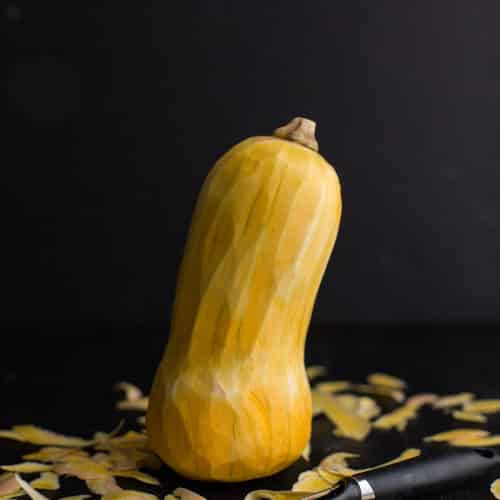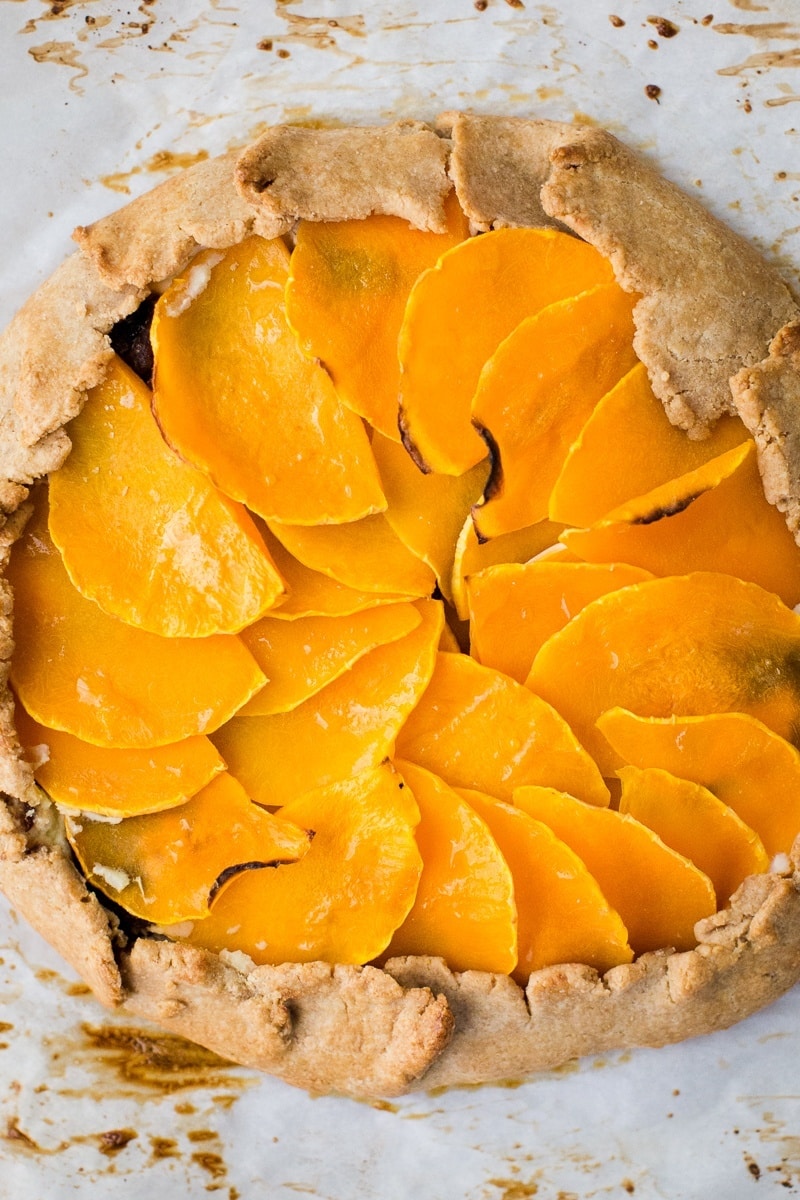 ||Originally Posted on October 27th, 2011. Last updated on November 14th, 2015.