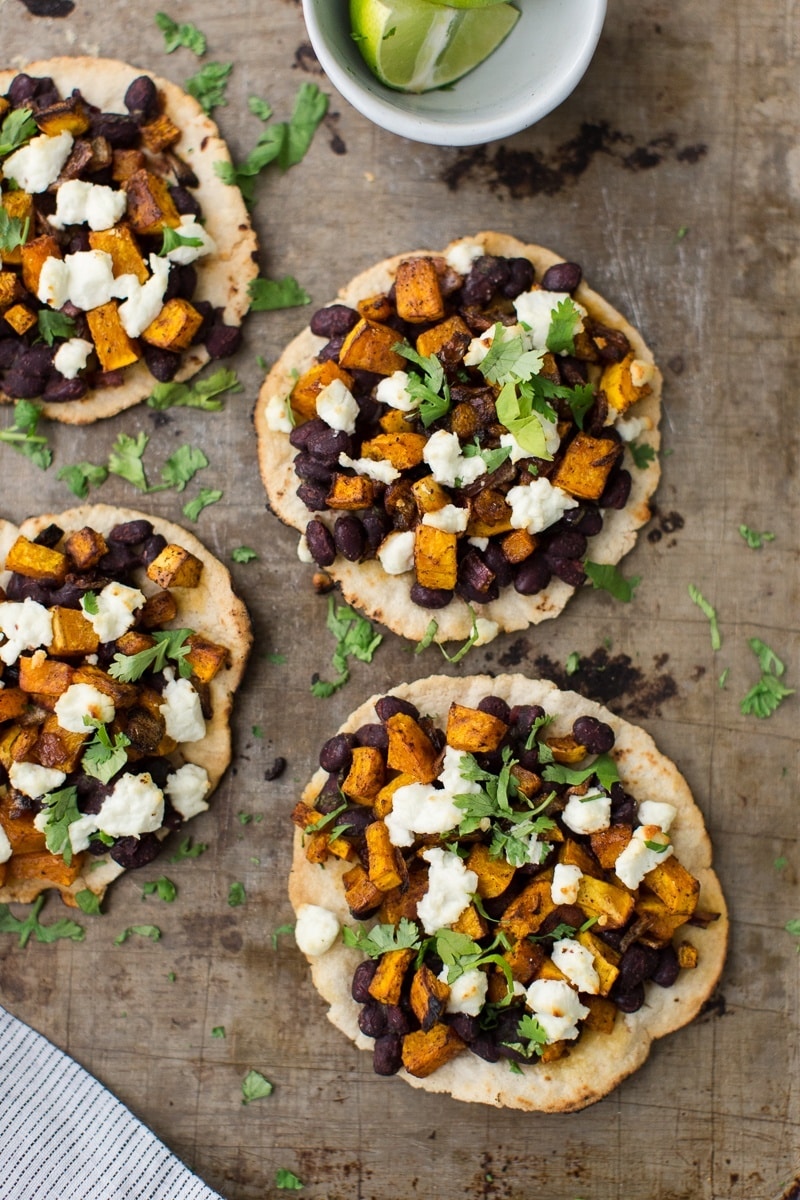 Recipe originally published on September 28th, 2012. Last updated on September 20th, 2015.
I am always fascinated by my changing taste. There are so many foods I love now but as a child, I wouldn't have touched with a ten foot pole. Looking back, I was an extremely picky eater. Then again, I was also a fast food junky at an early age. I was particularly fussy when it came to cheese. Mozzarella and cheddar, both highly processed single servings were what I was after in terms of cheese. Anything else seemed too far fetched. I think the day I realized Parmesan came in giant wheels and not plastic bottles was a game changer.
I have a very vivid memory when my family and I were at a local Mexican restaurant. For one reason or another, I had left my comfort zone of chicken strips and fries (believe it or not, there was a day when I wouldn't eat Mexican), and I had ordered tacos. The tacos arrived with this white cheese on top and I began to question my order, wondering if it was too late to turn back.
My father took one look at my tacos and managed to aid my paranoia with one sentence, "you know that cheese it actually goat cheese, right?"
I freaked out, even with my mom trying to reassure me that the cheese on my tacos was in fact shredded mozzarella (which it was, my dad liked to tease me). To my younger self, the thought of anything goat cheese related sent me running to the hills. For years after that experience I questioned every cheese on my plate. I wasn't going to be fooled again. Fast forward to now and you will find me adding goat cheese to almost everything. I find that goat cheese pairs well with a lot of the dishes I make and I often have to stop myself because I forget not everyone loves it like I do.
Variations for Black Bean Tostadas
I always tend to jump the gun a bit on when I start making butternut squash recipes given that summer produce is still alive and well. But, when I see squash at the market, I'm usually compelled to make a recipe or two. These black bean tostadas are a great way to start the season out. They are packed full of goodness and just a bit of kick from the chipotle
Sweet Potatoes: This recipe works just as well with diced sweet potatoes in place of the butternut squash. I often switch back and forth based on whatever I have on hand at the time.
Cotija: Not a fan of goat cheese? Try some cotija cheese instead. The flavor of the cheese is still pronounced but it doesn't have the distinct goat cheese flavor.
Avocado: Add chunks of avocado to the finished tostada or on occasion, I'll make the avocado cream sauce from these tacos or this cashew avocado cream.
Print
Roasted Chipotle Butternut Squash, Black Beans, and Goat Cheese Tostadas
Author:
Prep Time:

15 mins

Cook Time:

40 mins

Total Time:

55 mins

Yield:

2

1

x
Category:

Dinner
Butternut Squash

2 cups

¼" cubed butternut squash

½ cup

diced red onion

1 tablespoon

olive oil

1

-

2

teaspoon crushed dried chipotle peppers (see note)

¼ teaspoon

salt
Beans

¾ cup

black beans, with liquid

1 tablespoon

lime juice

2 teaspoons

honey

½ teaspoon

cumin

2 tablespoons

minced cilantro
Everything Else

4

to

6

, 6" corn tortillas

2

-

3

ounces crumbled goat cheese
Cilantro, for topping
Instructions
Preheat oven to 425˚.
Toss butternut squash with onion, olive oil, chipotle pepper, and salt. Spread in a single layer on a sheet tray covered with parchment paper. Roast for 20-25 minutes or until squash is tender and beginning to brown.
In a small sauce pan, combine black beans with liquid, lime juice, honey, and cumin. Cook over medium-low until the liquid has mostly evaporated, 4 to 5 minutes (may take less or more time depending on how much liquid there was). Remove from heat and stir in the cilantro.
Place the tortillas on a sheet tray and divide black bean mixture evenly. Top with butternut squash and finish with a sprinkle of goat cheese. Bake for 10 to 15 minutes until tortilla is crisp and goat cheese is browning. Serve with a sprinkle of cilantro.
Notes
+ For the ground chipotles, you can also use chipotle powder. Make sure you know whether or not the powder is hot and adjust measurements accordingly.
+ Fresh, homemade tortillas really do work best for these black bean tostadas.
Featured Ingredient