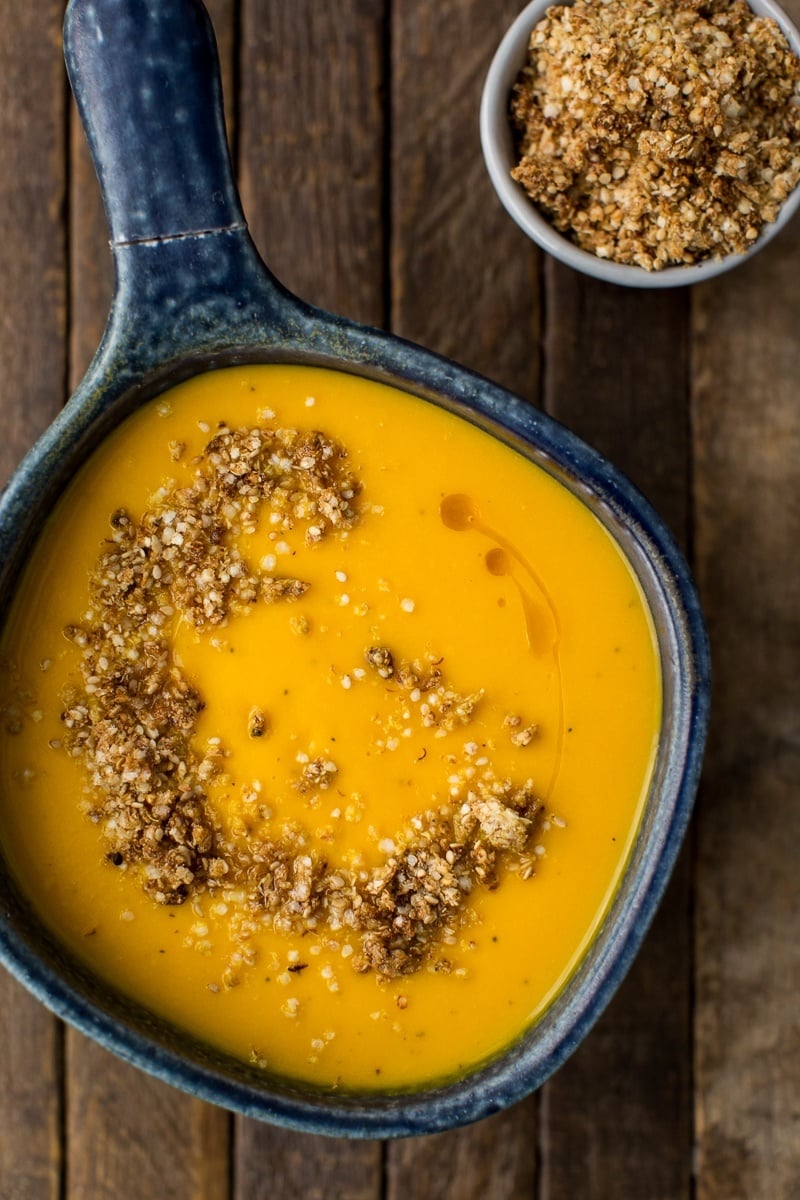 | Disclosure: This recipe was created for Ancient Harvest. See below for more details. |
In the super market or farmers' market, it might be easy to over look unfamiliar produce. It's easy to gravitate towards the knowns such as broccoli, sweet potatoes, and butternut squash. However, when dealing with winter squash, there is abundance of varieties, each with their own flavor profile and perfect uses. Kabocha squash is known for a slightly sweeter flavor and, like the delicata and red kuri squash, it's edible skin. However, because of the sweetness, my favorite way to prepare this squash is to roast then puree it into soup. The roasting plays on the already sweet squash and is the foundation for a wonderful soup without many ingredients.
Print
Sesame Kabocha Squash Soup
Author:
Prep Time:

20 mins

Cook Time:

45 mins

Total Time:

1 hour 5 mins

Yield:

2

servings

1

x
Soup
1

kabocha squash

1 tablespoon

olive oil

½

medium red onion, diced

2

cloves garlic, minced

2 teaspoons

fresh ginger, minced

2

to

3

cups vegetable broth
Sesame oil, for serving
Granola
½ cup

quinoa flakes

2 tablespoons

sesame seeds
pinch of salt

1 tablespoon

olive oil

1 tablespoon

honey
Instructions
Preheat oven to 400˚. Take the squash and slice in half (1). Cut into quarters, scoop out the seeds (2) and place in a roasting pan. Drizzle with olive oil (3) and roast until squash is tender, 35 to 45 minutes. Remove from oven and let cool enough to handle.
While squash is roasting, make granola. Combine the quinoa flakes with the sesame seeds and salt in a bowl (4). Add in the olive oil and honey, stirring until everything is combined and the quinoa flakes are well coated (5). If the honey is thick, heat slightly before using. Pour the granola onto a baking tray covered with parchment paper and pat down into a thin layer (6). Bake for 10 minutes; the granola should be lightly browning around the edges. Stir slightly and return to the oven for another 5 to 10 minutes or until the granola is golden. Remove from oven and let cool.
While the squash and granola is baking, heat a pot over medium heat. Add olive oil followed by onion. Cook until the onion is translucent, 6 to 8 minutes (7). Add in garlic and ginger, cooking for another minute. Add in 2 cups vegetable broth (8), bring to a boil, and turn off heat.
Once squash is done roasting and cool enough to handle, scoop out the insides into a blender (9). Add in the vegetable broth (10) and puree until the soup is smooth (11). If the soup looks too thick, add splash more vegetable broth.
Return the soup back to the pot (12) and heat over low until warm. Serve with a sprinkle of granola and a very light drizzle of sesame oil.
See corresponding step by step photos below.
Notes
If looking to reheat this soup throughout the week, you will most likely need to add additional broth during the reheating process. You can also use cream or coconut milk, depending on the flavors you would like.
For a quicker meal, roast the squash ahead of time, up to 3 days in advance, and save in the refrigerator.
Use caution with the sesame drizzle- it's easy for the oil to overpower the soup. I recommend pouring it into ¼ teaspoon and drizzling from there.
Variations for the Kabocha Squash Soup
I am hesitant to give you many variations on this soup because it is one that really works well as is. As mentioned above, I find the kabocha squash to be one of the better squashes for soup (maybe even better than butternut squash). However, there are a few swaps you can make if you're looking to make this in a pinch without a couple of the ingredients.
Squash: I know not all markets have the kabocha squash (a shame) but the sesame/ginger flavor does work well with butternut squash and to a lesser extent, acorn squash. If really in a pinch, sweet potatoes would even work.
Quinoa Flakes: I used Ancient Harvest's quinoa flakes as the base for this granola but you could go back to the traditional route and use oats (I've also been known to do a combination of quinoa, oats, and even rye flakes before).
Cream: With a high ratio of squash to vegetable broth, this soup turns out creamy without the aid of any additional ingredients. However, a couple times when I made this soup, I did add a splash of heavy cream at the end. It definitely doesn't need it but some days call for a bit of indulgence.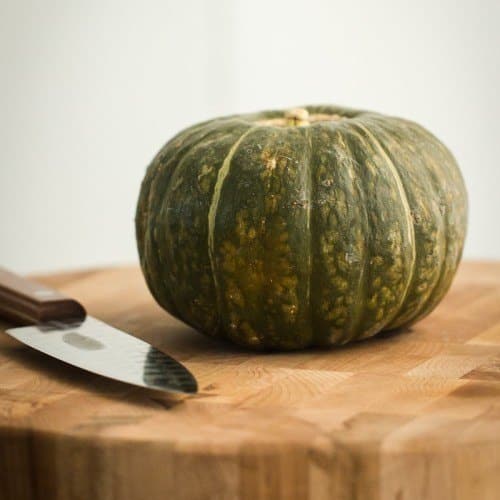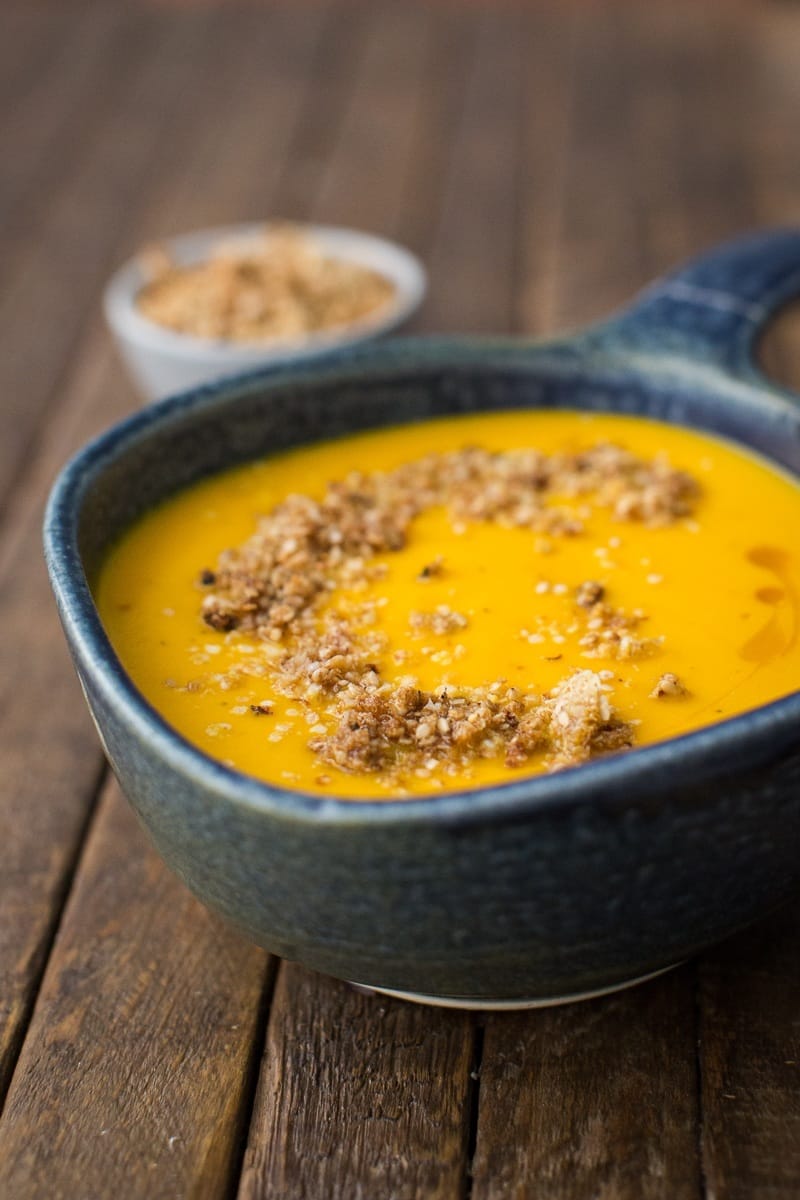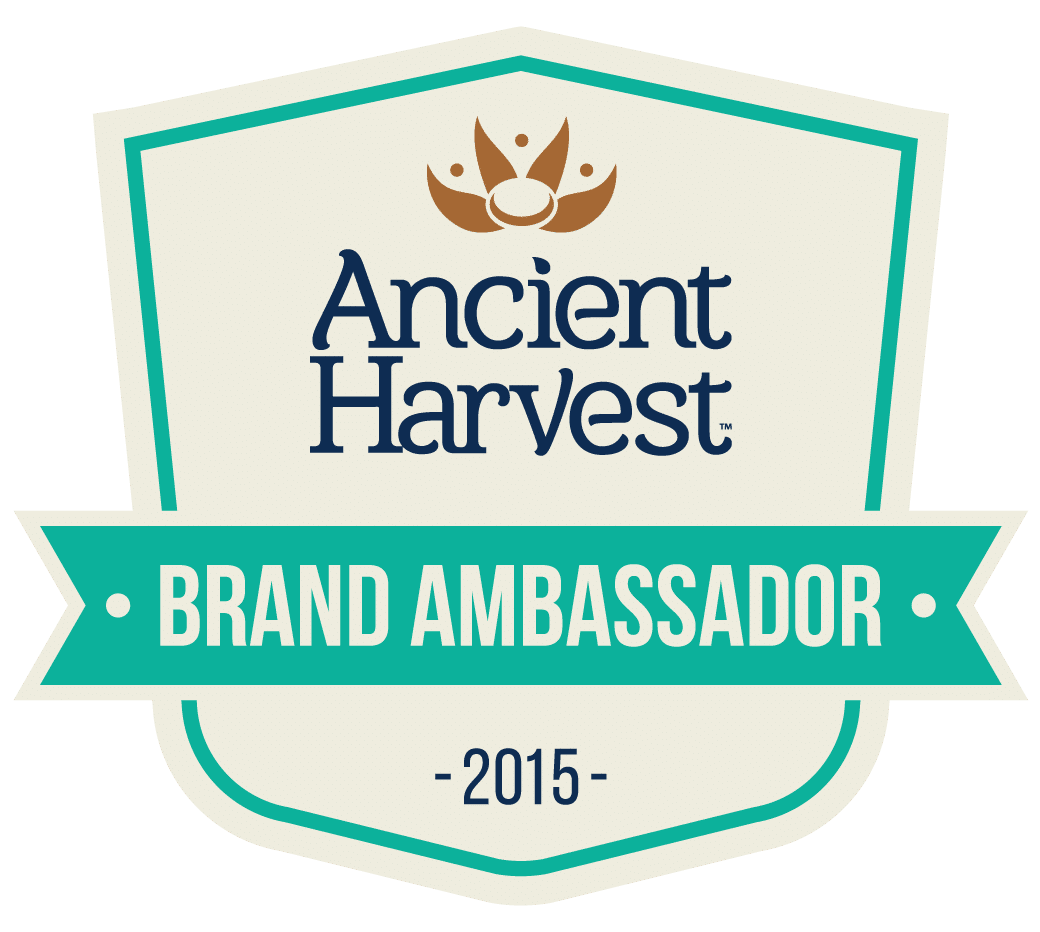 | Disclosure: This recipe was created for Ancient Harvest as part of their brand ambassadorship program. All thoughts and opinions are my own. It's content like this that helps me keep this site running to provide the vegetarian recipes you see every week. |