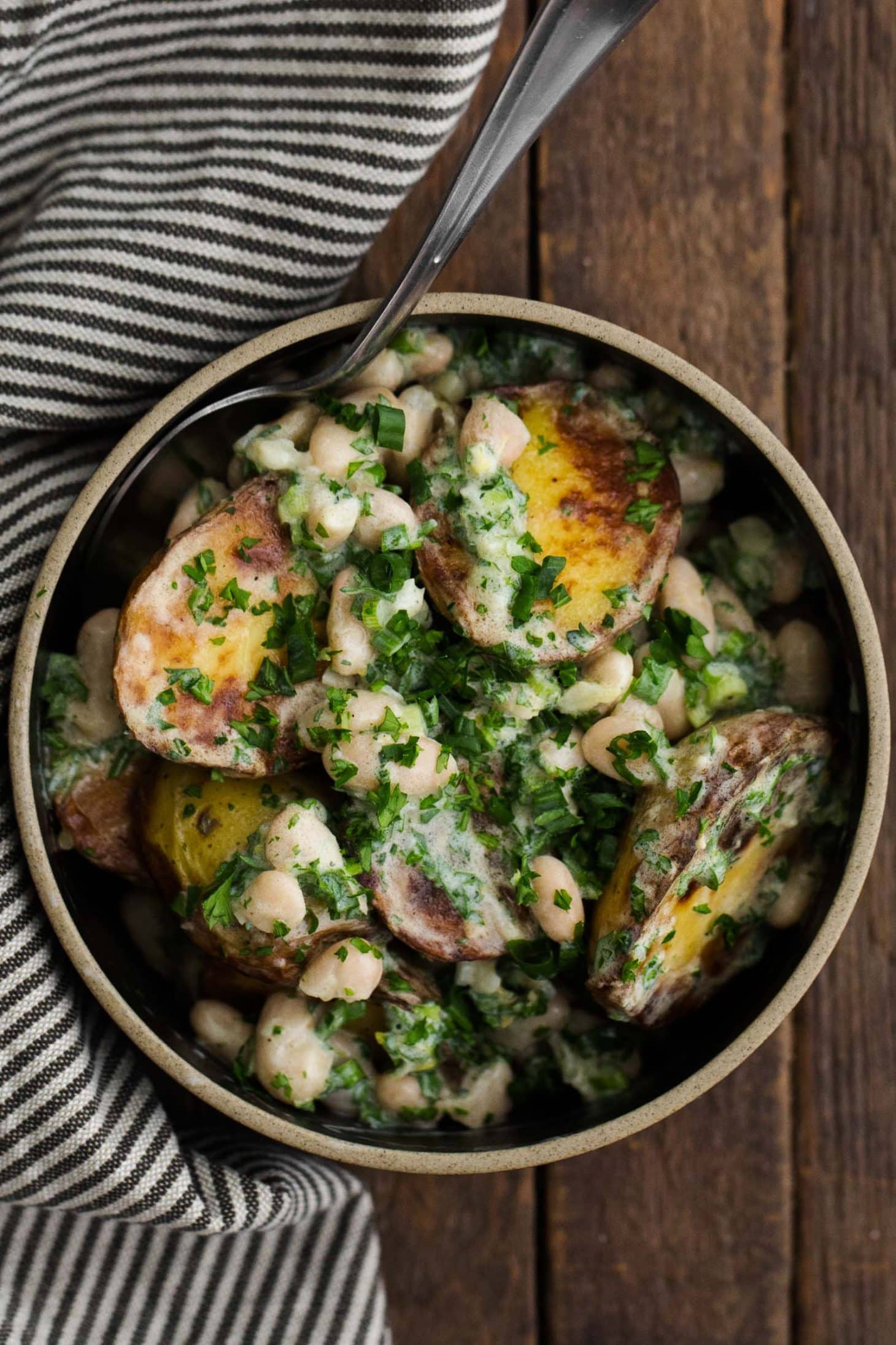 After being a vegetarian eater at numerous family picnics (that were not vegetarian friendly), I came to really care about side dishes. As in, if I had to eat a side dish, I kind of wanted it to feel like it could potentially be a meal. This potato salad is the result of those feelings. It's a perfectly wonderful side dish but I was also happy eating it for lunch (read, I ate it for quite a few lunches). The white beans add bulk/protein while the yogurt dressing helps it to feel lighter. And this braising method is my new favorite way to cook potatoes- soft, tender potatoes that hold together with a crisp crust on one side. I couldn't ask for a better potato.
Print
Braised Potato Salad with White Beans
Author:
Prep Time:

10 mins

Cook Time:

30 mins

Total Time:

40 mins

Yield:

2

servings

1

x
Potatoes
¾

lb yukon gold baby potatoes

1 cup

water

3

cloves garlic

2 tablespoons

butter

¼ teaspoon

salt
Dressing
¼ cup

whole-milk goat yogurt (or greek yogurt)

2 tablespoons

olive oil

1 tablespoon

lemon juice

1 teaspoon

zest

¼ cup

minced fresh flat-leaf parsley

¼ teaspoon

black pepper
Salt, as needed

¾ cup

cannellini beans, drained and rinsed if using canned

¼

minced cup scallions
Instructions
Cut the potatoes in half, lengthwise. Place cut side down in a non-stick skillet (I used a well-seasoned cast iron skillet). Add the water, garlic cloves, butter, and salt. Bring to a simmer over medium heat, cover, and let potatoes cook until just tender, 12 to 15 minutes.
Uncover, remove and save the garlic, turn up the heat to medium-high, and cook, swirling the pan often to keep the potatoes from sticking. Water should evaporate and butter should start to sizzle. Cook, checking the bottoms of the potatoes occasionally, until the potatoes have a golden crust on the cut side, 15 minutes or so. Transfer to a medium bowl.
In a small bowl, mash the cooked garlic into a paste. Add in the ingredients for the dressing and stir well.
Add the beans and scallions to the bowl with the potatoes. Stir in the dressing and toss until everything is well combined.
Notes
+ Braised potato method from America's Test Kitchen.
+ This dish is best served right away as the potatoes will not stay crisp. If looking to serve this later, plan on a more traditional potato salad where you allow the potatoes to cool, combine everything, and the potatoes have no crispness to them.
Potato Salad
variations
I don't have many wild and crazy variations for this recipe, primarily because I love it as it is. However, there are a few small tweaks you could make based on what you might have on hand or be able to find:
Potatoes: The original braising recipe calls for red potatoes but baby Yukon gold potatoes are one my favorite- either would work for this dish.
Herbs: I like to keep it simple with just the parsley but dill would be my next option.
Yogurt: I have a small stock-pile of creamy, delicious goat yogurt so a few of my recipes are geared around that. I love the taste the yogurt gives the overall dish (think something akin to goat cheese) but don't go out of your way to use it. A solid, whole-milk greek yogurt will also work.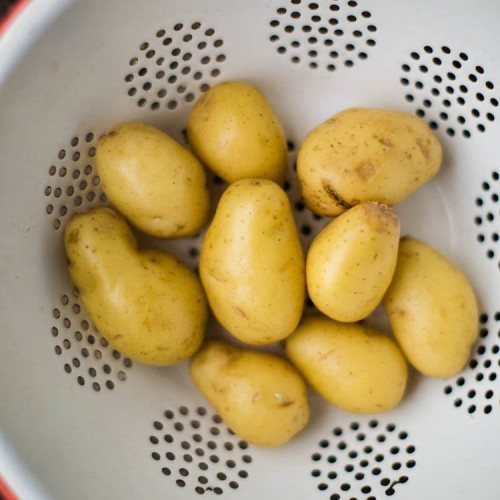 It's no secret that I have a love of potatoes (both regular and sweet). I could easily eat a potato-based meal every day and this potato salad is one of my newer favorites. Potatoes make a regular appearance in my salads and I especially love them in egg skillets. I typically keep a few yukon gold potatoes (regular and baby) and sweet potatoes on hand at all time.
Arugula Salad with Roasted Potatoes
Barley Bowl with Paprika Potatoes
Pesto Potato Skillet