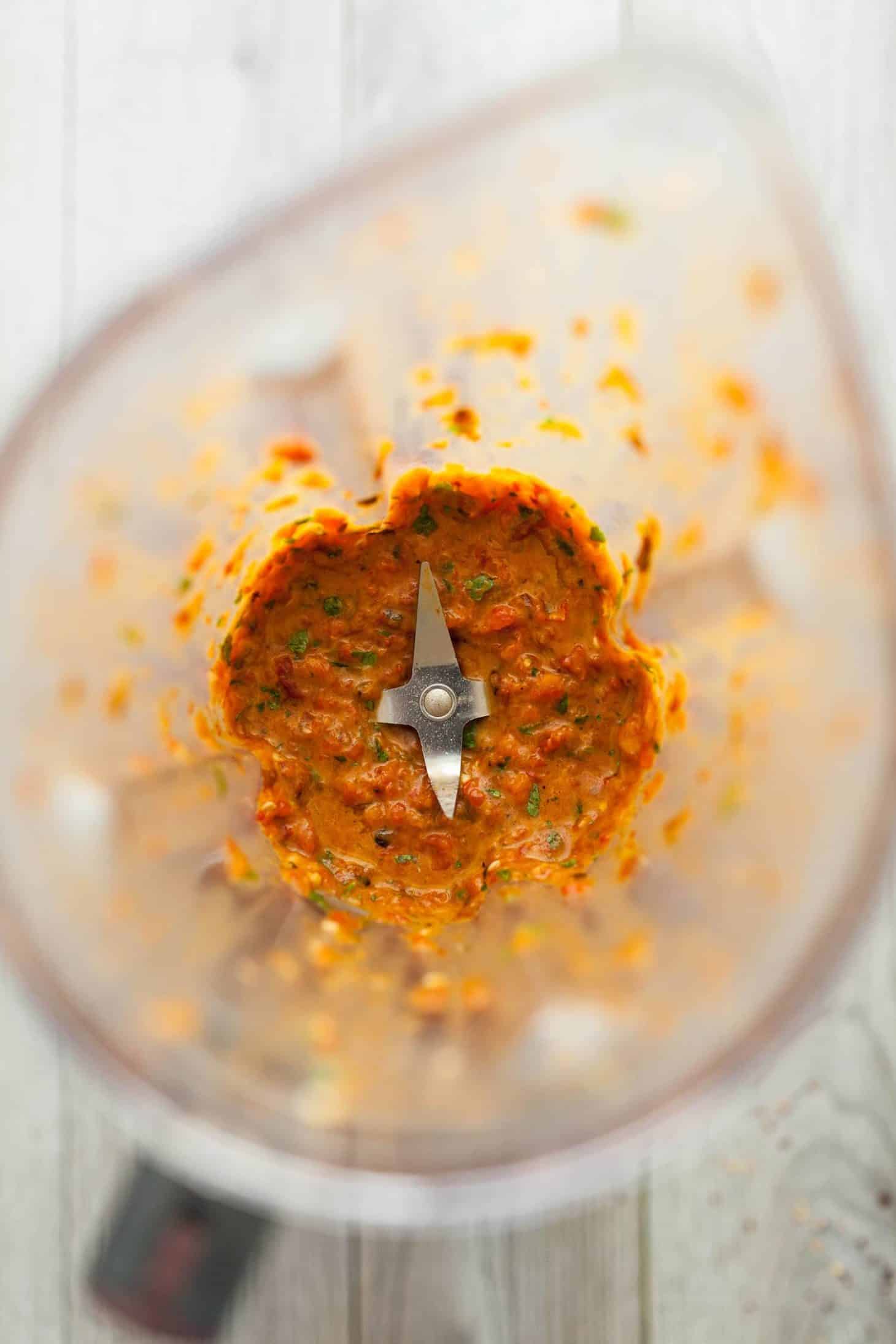 If there's one thing that rules my component cooking, it's sauce and sauce-like recipes. Making a sauce or two a week can bring all your meals together. I can't remember how I started making harissa but it's become a favorite component of mine. The smoky, spicy flavor works well with many different recipe types and is a perfect partner for vegetables and legumes.
Red harissa paste is most prominent in North African and some Middle Eastern cooking. From what I can tell, each region does harissa differently. While I love a traditional harissa, my variation is based on ease of use/what I have on hand most often (roasted red peppers and chipotle peppers). My version is also on the slightly more mild side thanks to a heat-avoiding husband. I recommend trying a few different variations to find which combination of flavors you like best. You can also buy store-bought red harissa but the flavor is not as good as homemade!
Print
Harissa
A slightly spicy version of the classic North African paste using roasted red peppers and chipotles. Yields about 1 cup, depending on pepper size.
Prep Time:

10 minutes

Cook Time:

10 minutes

Total Time:

20 minutes

Yield:

8

servings

1

x
Category:

Component
½ teaspoon

coriander seeds (see note)

½ teaspoon

cumin seeds

2

clove garlic (see note)

1

roasted red bell pepper

1

chipotle peppers in adobo sauce (see note)

2 tablespoons

adobo sauce

2 tablespoons

olive oil

1 tablespoon

fresh lemon juice

1 teaspoon

tomato paste

½ teaspoon

sea salt

¼ cup

fresh cilantro (optional)
Instructions
Heat a small, dry skillet over medium-low heat. Add the whole cumin and coriander. Toast, shaking the pan often, until the spices are fragrant. Transfer to a spice grinder or mortar/pestle. Process until ground.


Place garlic in a food processor or blender and pulse a few times. Add the remaining ingredients, along with with the ground spices, and pulse until well combined and mostly smooth.




Alternatively, using a mortar and pestle, smash garlic into a paste. Add the peppers and continue to process. Add the ground spices and remaining ingredients, stirring until well combine.
Notes
Tips & Tricks: ground spices can be used in place of the whole spices. Substitute 1:1.
I like to use roasted garlic if I have it on hand.
Substitute dried or fresh chiles for the chipotles in adobo. Play around with the combination of chiles to find a heat level and taste you like.
The cilantro is non-traditional but I've always used it. Leave it out if desired.
Stock up: get the pantry ingredients you will need: peppers, spices, garlic
Nutrition: see the information.
Red Harissa
variations
Traditional: Leave out the cilantro and use dried red chile peppers of your choice. This is my favorite traditional recipe.
Green: Drop the red chili peppers for green. Use jalapeño for a more mild version or spice it up by using seranno. This is my green harissa version.
Chiles: I like using dried chiles because I think they pack a bit more flavor but you could easily use fresh (and cook them). Play around with different varieties and types.
Soups/Polenta: Stir harissa into cooked polenta or use a spoonful on top a vegetable soup. I love harissa stirred into tomato-broth based soups to up the flavor.
Eggs: Spoon harissa on top of scrambled or fried eggs. Harissa is also great added to quiche and frittatas before baking.
Dips: Puree harissa into hummus or other dips for a boost of flavor.
Sandwiches: Spread red harissa onto sandwiches or my favorite, added to grilled cheese sandwiches.
Vegetables: Toss vegetables in harissa before or after roasting.
Dressings: I like make a simple lemon vinaigrette then add a tablespoon or two of harissa to the dressing before using on salads.
Pizza: Mix the harissa with tomato sauce for an easy and flavorful pizza sauce.