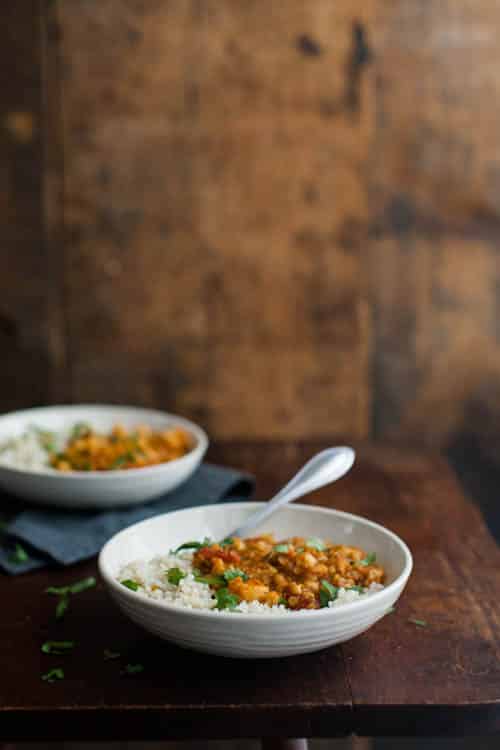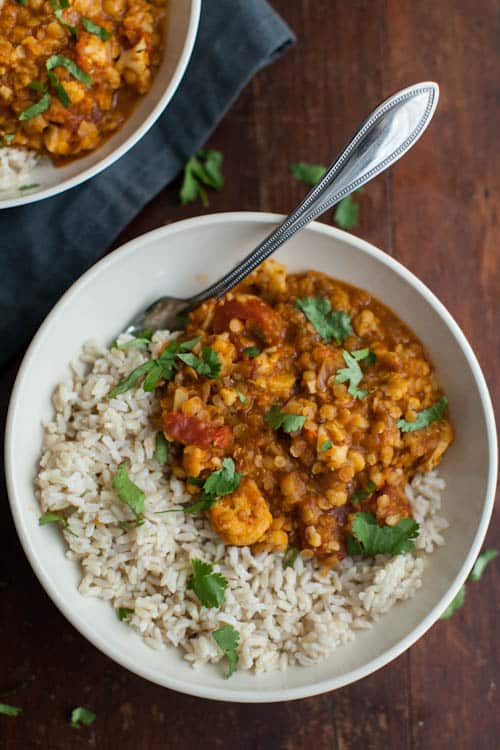 I have a quick post for you today. I'm trying to cram five days of work into three days this week so that I can celebrate my birthday properly: one day of snowboarding and one day of hanging out with my husband. We've finally got a dose of winter and in the past week the ski areas have gotten feet (FEET!) of snow. Can't pass up that opportunity to enjoy all the new snow.
I'm still talking about lunch. This meal is a typical lunch for me (inspired by this spicy red lentil and spinach dish I love so much). I'll make a big batch of grains and lentils for the week and then reheat for each meal. I love this post from The Kitchn about making harissa and while I would typically make a spicier harissa, I had a bell pepper and a half-used jar of chipotle peppers that needed to be used. If you decide to go spicier, reduce the amount of harissa you use in this dish.
Print
Harissa Lentils and Cauliflower
Harissa

2

clove garlic

1

roasted red bell pepper*

2

chipotle peppers in adobo sauce

3 tablespoons

adobo sauce

1 teaspoon

cumin powder

½ teaspoon

sea salt

2 tablespoons

olive oil
Juice from

one

lime

⅓ cup

cilantro
Lentils

1 tablespoon

olive oil

½

small red onion

2 cups

small cauliflower florets

½ cup

red lentils

1 cup

stewed tomatoes

1

-

2

cups low-sodium vegetable broth
Instructions
In a blender or food processor, pulse garlic until minced. Add remaining ingredients and pulse until harissa is well combined. Taste and adjust seasoning as desired.
In a large skillet, heat olive oil over medium-low. Add onion and sauté until translucent, 6-7 minutes. Add cauliflower and continue to cook for another 5-6 minutes. Stir in lentils, stewed tomatoes, ¾ cup of the harissa, and 1 cup vegetable broth. Bring to a boil, reduce to a simmer, cover, and let cook until lentils are tender, 20-24 minutes.
Serve over grains.
Notes
*To roast a bell pepper, stick under a broiler, rotating occasionally until pepper is soft and charred.