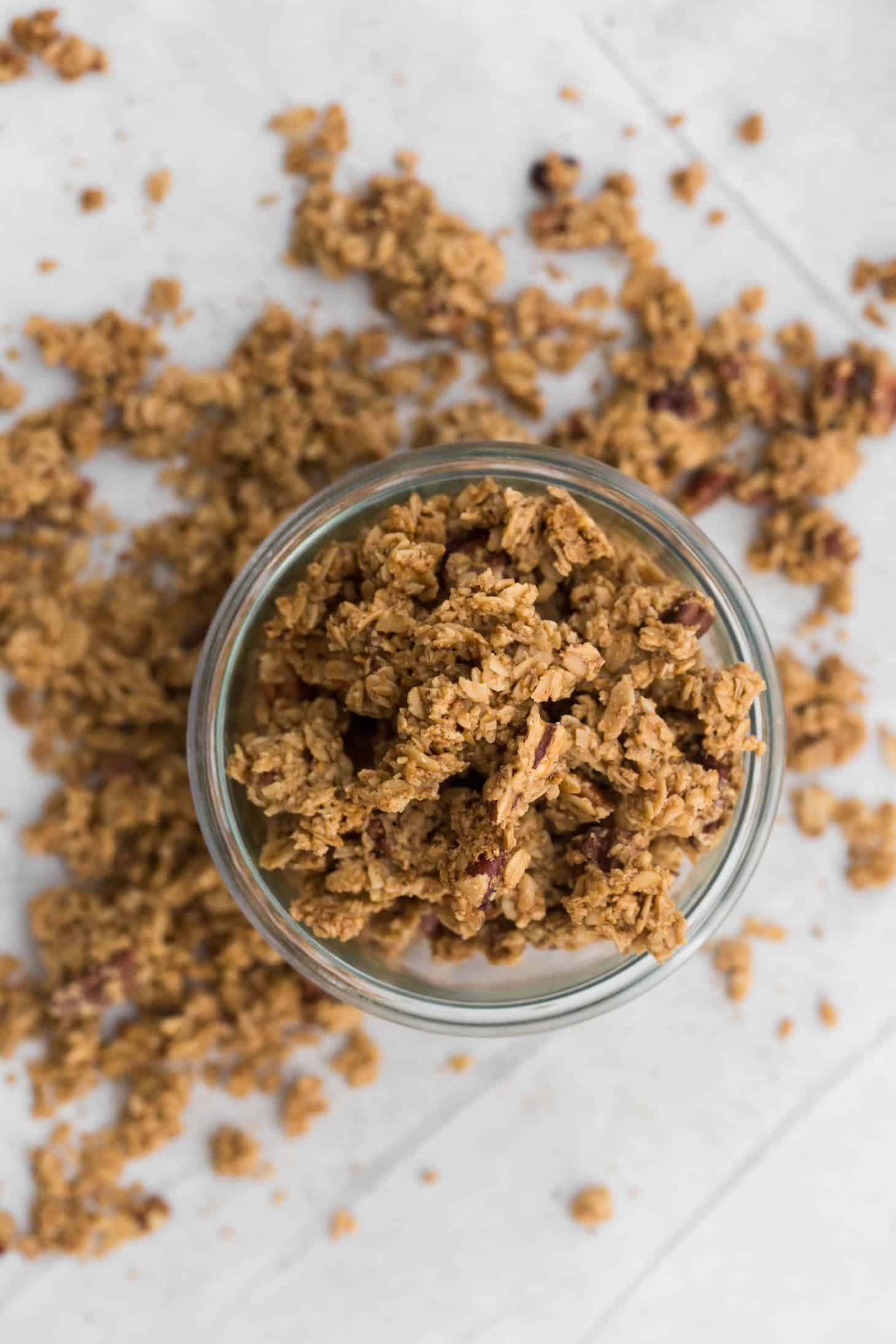 I am a granola enthusiast. I love trying different brands and different recipes. However, this is the recipe I always come back to. It's the recipe I make on the weekend to have granola throughout the week. It's the recipe I dole out when someone wants a simple breakfast. This granola has changed slightly over the years, but the change is good. After trying Dolly and Oatmeal's granola recipe from her book, the idea of using flour as a binding agent led me to this updated version. Pulsing a few of the oats to flour helps to create the final clumpy, homemade granola goodness.
Print
5 Ingredient Homemade Granola
Author:
Prep Time:

5 mins

Cook Time:

1 hour 15 mins

Total Time:

1 hour 20 mins

Yield:

4

-6

1

x
2 cup

old fashioned rolled oats

1 cup

pecan pieces

¼ cup

walnut oil (see note)

¼ cup

maple syrup
pinch of salt
Instructions
Preheat oven to 300˚ and cover a baking tray with parchment (or silpat.)
In a food processor, pulse ½ cup of the oats until the oats resemble flour. Add remaining ingredients and pulse 6 to 8 times, just until everything is mixed well.
Pour oats on to tray and evenly spread into a thin layer. Bake for 45 to 60 minutes, turning the tray half way through. Granola should be lightly browned and beginning to crisp when done. Remove and let sit until cool. Break apart and store in an airtight container for up to 5 days.
Notes
+ I like nut oil but sunflower oil or coconut oil would work in place of the nut oil.
Homemade Granola
variations
This is a very basic recipe which means there's a ton of room for variations. I always start with this recipe and add swap in based on what I have on hand. I usually use maple syrup but brown rice syrup or honey would also work. Also try adding cardamom, cinnamon, and/nutmeg to the recipe.
Oats: If you can, find other grains in flake form. A few of my favorite: kamut, rye, spelt, and quinoa.
Nuts/Seeds: Swap out the pecans for sunflower seeds, chia, almonds, walnuts, hazelnuts, and/or popped quinoa.
Dried Fruits: Add after baking: dried cranberries, apricots, or chopped dates.