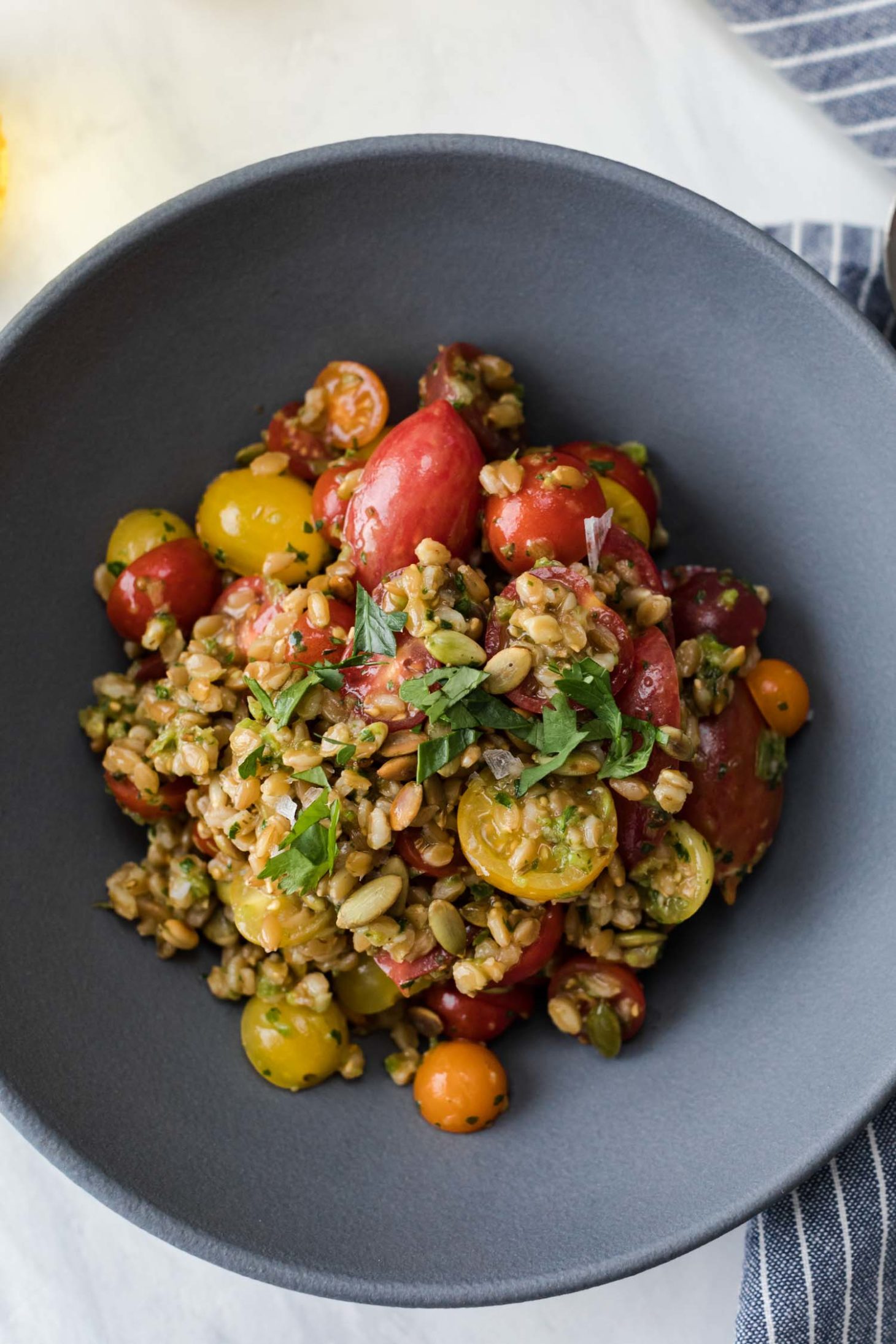 I feel like when September hits, it's easy to throw the idea of summer produce out for all the fall goodness that's about to come our way. And yet, I find September to be one of the best months for tomatoes. The mature plants are still producing and the abundance is still there. The change in the weather also makes me a bit more mindful that it's only a short time before the tomato bounty is gone.
This harissa tomato salad is a stunner side-dish or lunch salad. I make a note of this in the recipe but I also feel it's important to call it out here. Make the harissa and farro ahead of time and use both throughout the week. Toss the farro into your morning eggs, use as the base for a grain bowl or more salads, or have a breakfast-for-dinner night and make this farro skillet.
As for the harissa, it's great with grain bowls, roasted vegetables, or made into another sauce. My favorite is to swirl green harissa into a cashew cream. It makes for the perfect balance of smooth and spicy.
harissa tomato salad
variations
Beans: If I'm making this harissa tomato salad for lunch or light dinner, I like to toss is cooked chickpeas. You could use them just-cooked or for an extra bit of crunchy texture, try pan-frying the chickpeas until crisp.
Grains: swap out the farro for cooked barley or einkorn. If you're looking to go gluten-free, use sorghum or you could easily use millet. I prefer the texture from the chewier grains but it's up to you.
Fall: If you're not in the mood to eat this with tomatoes, the combination of harissa and farro is fairly generic. I'd suggest roasting cubed sweet potato or butternut squash. Replace the tomatoes with the fall ingredients and you're ready for October.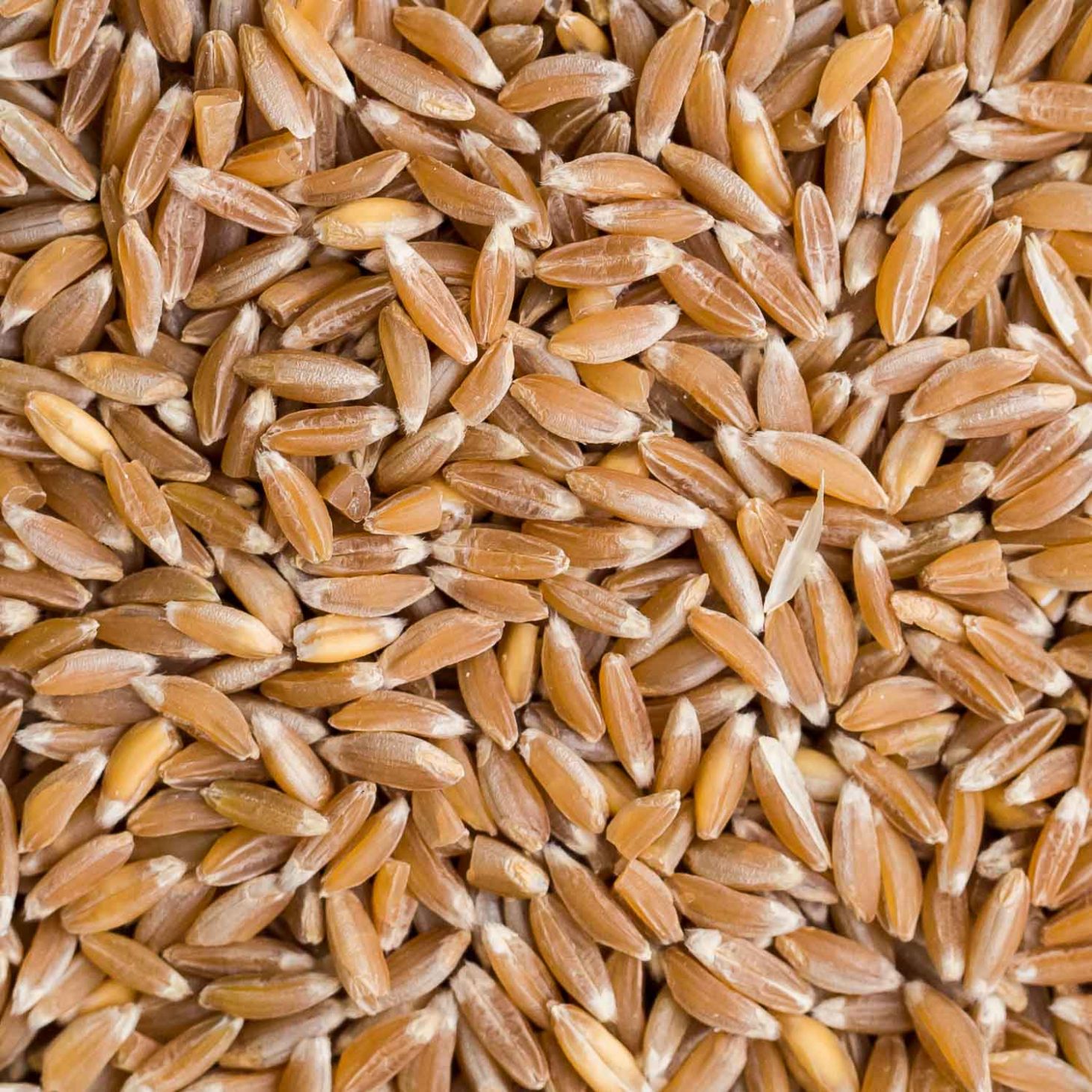 Farro is one grain that tends to stay in whole-form in my cooking. The slightly warm and nutty wheat berry is perfect for salads, stews, and bakes. It keeps a slight chewy texture but soaks up flavors of everything around it. You can also crack farro- I use this technique for whole grain morning porridges or making a farro risotto. Cracking adds a bit of extra creaminess without any additional ingredients!
Kale Risotto with Farro
Dried Apricot Soup with Emmer
Baked Farro Risotto with Cauliflower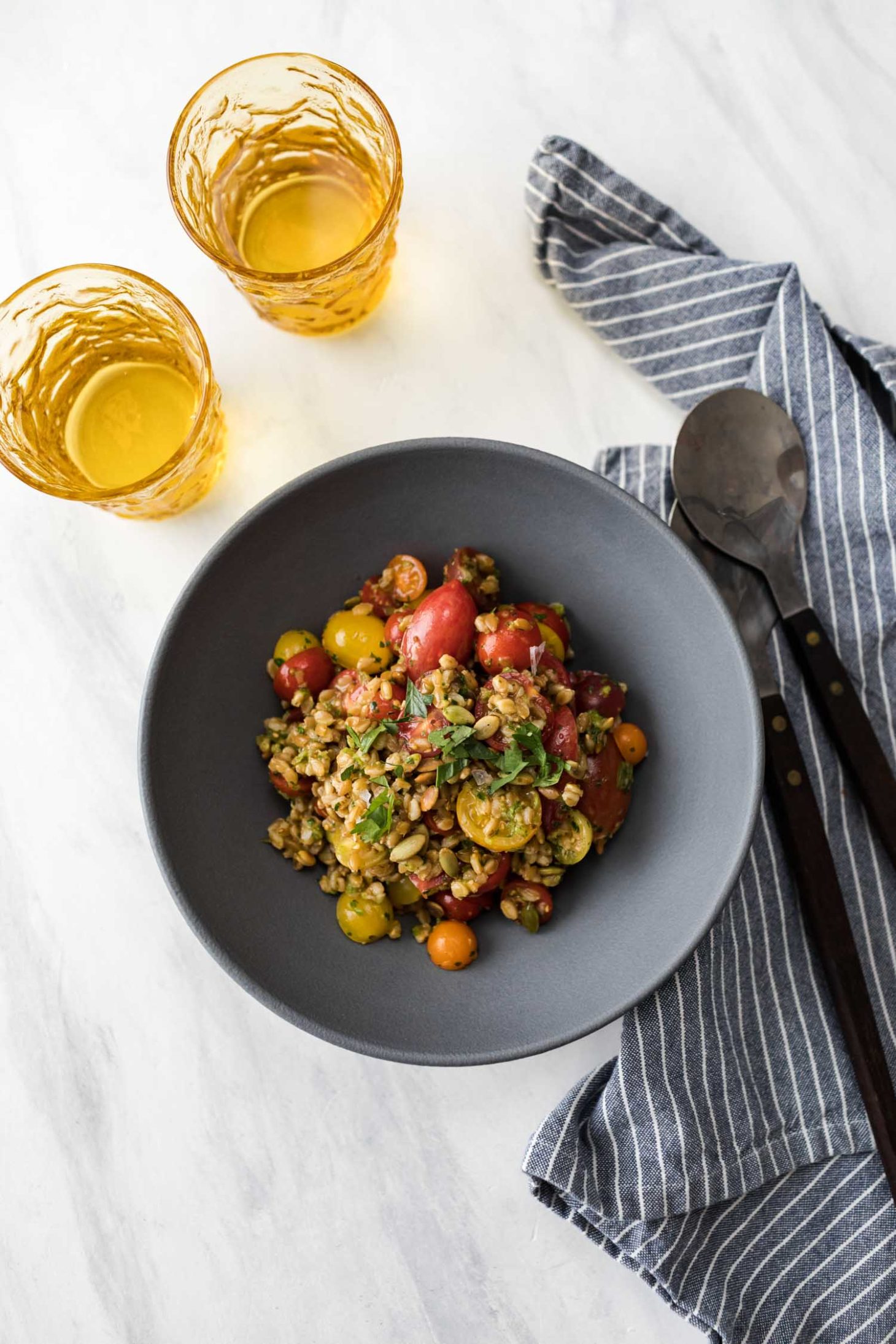 Print
Tomato Harissa Salad with Farro
Author:
Prep Time:

10 minutes

Cook Time:

45 minutes

Total Time:

55 minutes

Yield:

4

servings

1

x
Category:

salad

Method:

stove-top
Ingredients
Harissa
1 tablespoon cumin seeds
½ tablespoons coriander seeds
2 medium jalapenos
½ bunch green onions
1 clove garlic
2 tablespoons olive oil
¼ cup fresh flat leaf parsley
⅓ cup fresh cilantro
3 tablespoons lemon juice
¼ teaspoon salt
Salad
1 pound cherry/grape tomatoes
½ cup whole-grain or pearled farro, toasted and cooked
¼ cup toasted pepitas
Cheese, optional
Instructions
To make harissa, add cumin and coriander to a cast iron skillet over low heat. Toast until fragrant, 3-4 minutes. Remove from skillet and place in a mortar and pestle.

Grind toasted spices. In a food processor, add garlic and jalapeño, pulsing until minced. Add in green onions, parsley,cilantro, and ground spices, pulsing again. Finally, add in oil, lemon juice and salt. Run food processor, scraping down sides occasionally. Add more olive oil/lemon juice if harissa is still to thick.

Slice the tomatoes in half and place in a bowl along with the cooled farro and toasted seeds. Add about ¼ to ⅓ cup of the prepared harissa. Toss to combine, adding more salt as desired.
Notes
Keywords: farro salad, green harissa, vegan grain bowl