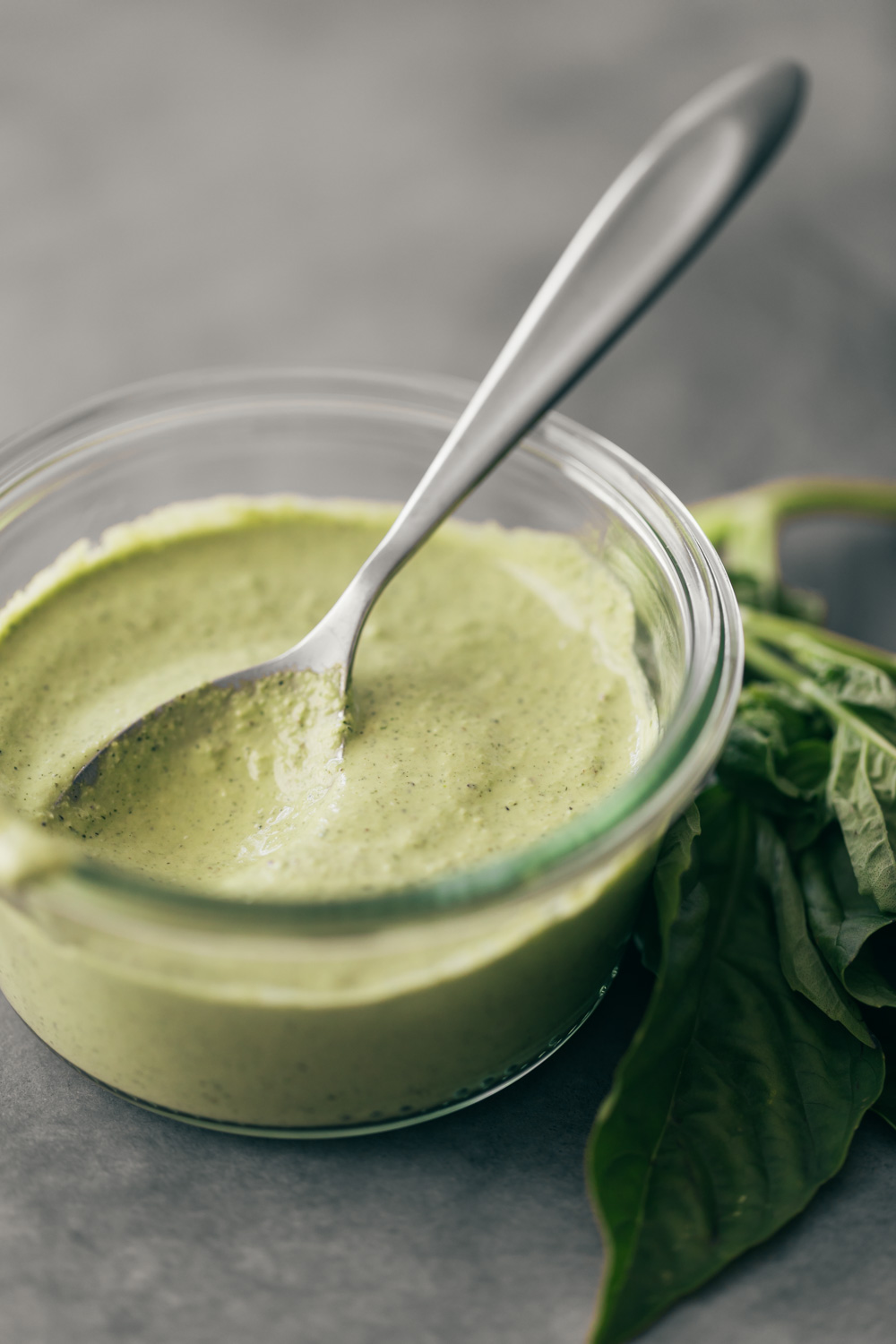 I feel like the key to a solid, quick dinner is in the sauce. There are endless combinations of grains, beans, and vegetables once you get sauces involved. Plus, this is something my entire family can easily agree on: you can never had too many sauce ideas. Enter in this easy herby hemp sauce.
I keep hemp seeds around for sprinkling on morning oatmeal and waffles. It's a nutritious little seed that can really help bump up the impact a meal might have. I've also found I really enjoy blending them, which led to this sauce. They don't have a strong flavor which makes them perfect for pairing with a handful of herbs.
Hemp Sauce
variations
Herbs: Play around with the herbs. Add a bit of mint, use a handful of dill, or take this sauce in a different direction by using cilantro in place of the basil. It's a great all-purpose way to use up leftover fresh herbs.
Cashews/Sunflower Seeds: For a creamier sauce, swap out some of the hemp seeds for soaked raw cashew and/or sunflower seeds.
Roasted garlic: If you happen to have roasted garlic, replace the raw garlic with a few roasted garlic cloves.
Salad Dressings: Thin the sauce out a bit with water and use as a salad dressing. I find it perfect for salads heavy on vegetables, especially tomatoes and cucumbers.
Grain Bowls: Use this sauce as the finishing drizzle for a grain bowl. During the fall months, roast sweet potatoes or butternut squash and toss with your favorite grain and this hemp sauce.
Tacos/Enchiladas: Use as a topping for tacos or use as a sauce for enchiladas. I like to use the cilantro variation for this!
Pasta: Use as a pasta sauce (either hot or cold). It's great for summer pasta salads or stir it in to a hot pasta dish with greens and roasted vegetables.
Print
Herby Hemp Sauce | Cooking Component
½ cup

hemp seeds

¼

to

½

cup water

3 tablespoons

minced basil

2 tablespoons

minced fresh flat-leaf parsley

2 tablespoons

minced chives

1 teaspoon

stone ground mustard

1 tablespoon

lemon juice

1

clove garlic
Salt, to taste
Pepper, for serving
Instructions
To make dressing, combine all the ingredients in a blender and puree until smooth. If using a regular blender or food processor, soak the hemp seeds for an hour or so before making the dressing. Taste and adjust salt as needed.
Notes
Tips & Tricks: This dressing will keep in the refrigerator for a few days. Use it for other salads or as a sauce for grain bowls and/or roasted vegetables.
Stock up: get the pantry ingredients you will need: Hemp Seeds, Herbs, mustard
Recipes that use the Herby Hemp Sauce