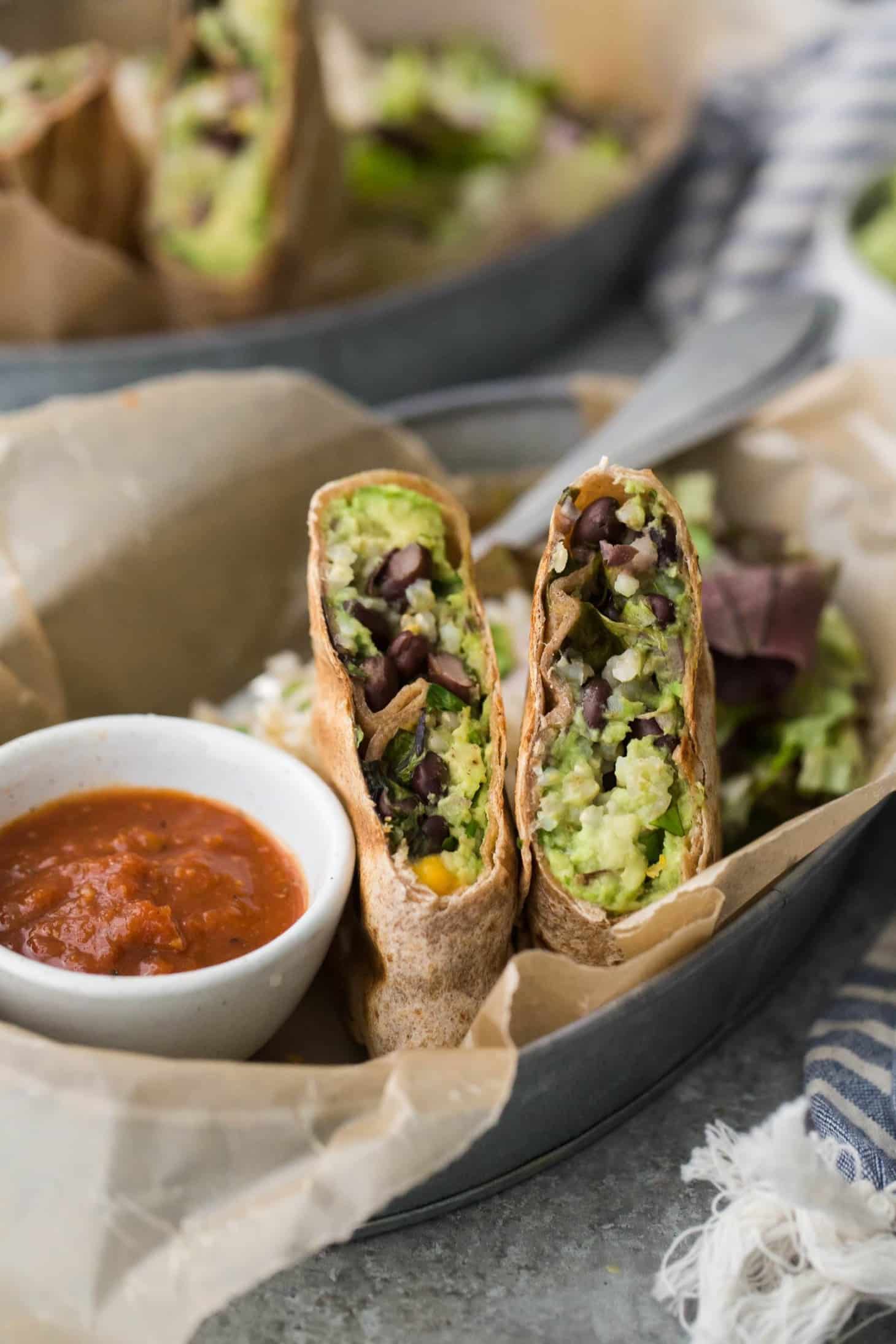 I am a stalwart when it comes to recipes in December. This is the season when having a surplus of quick, healthy meals is a lifesaver. Just because it's the holidays doesn't mean that our main meals should suffer (and I'm not talking about eating cookies for dinner). This black bean burrito is hearty, healthy, and easy, especially if you cook the rice ahead of time. Also, I love having a grill pan/panini press for making items like this black bean burrito, like this grill pan and panini top.
Print
Guacamole and Black Bean Burritos
Guacamole
2

ripe avocados

¼ cup

minced red onion (see note)

¼ cup

minced cilantro

1

clove garlic, minced

¼ teaspoon

salt

1

lime
Burrito
2

large whole wheat flour tortillas

½ cup

cooked brown rice

½ cup

cooked black beans, drained and rinsed if using canned

⅓ cup

shredded Cheddar or Monterey jack cheese

½ cup

shredded lettuce

3 tablespoons

minced red onion
Instructions
To make guacamole, cut avocado in half around the pit and spoon out the avocado into a bowl. Add in the onion, cilantro, garlic, and salt. Cut the lime in half and squeeze 1 to 2 tablespoons of lime juice over the guacamole and stir. Taste and adjust salt and lime juice as needed.
Spread about ¼ to ⅓ cup guacamole in the center of a tortilla. Layer half the rice, beans, cheese, lettuce, and onions on top of the guacamole. Roll into a burrito (see note) and tuck in the ends.
Heat a grill pan or panini press over low heat and place the burritos seam side down. Place a weight on top and let cook until tortilla is brown and crisp, 3 to 5 minutes on each side. Serve with remaining guacamole or salsa.
Black Bean Burrito
variations
I'm usually unwavering when it comes to changes in this burrito because I'm a guacamole lover. However, there have been a few variations throughout the years that have worked well with what I already have on hand.
Tomatoes: the original recipe called for tomatoes both in the guacamole and in the burrito. However, tomatoes are one of those items I really don't eat during the winter and I don't really add to my guacamole anymore. But, if they're in season, feel free to add them back in if desired.
Vegan: I love that the black bean burrito is heated long enough to make the tortilla crispy and start to melt the cheese but the cheese isn't going to make or break the burrito. This burrito ban be made without cheese to keep it vegan.
Homemade Tortillas: If you have a bit of extra time, try making homemade flour tortillas. I love these Einkorn tortillas or use whole wheat flour in place of the Einkorn (I love this Ivory wheat flour from Bob's Red Mill).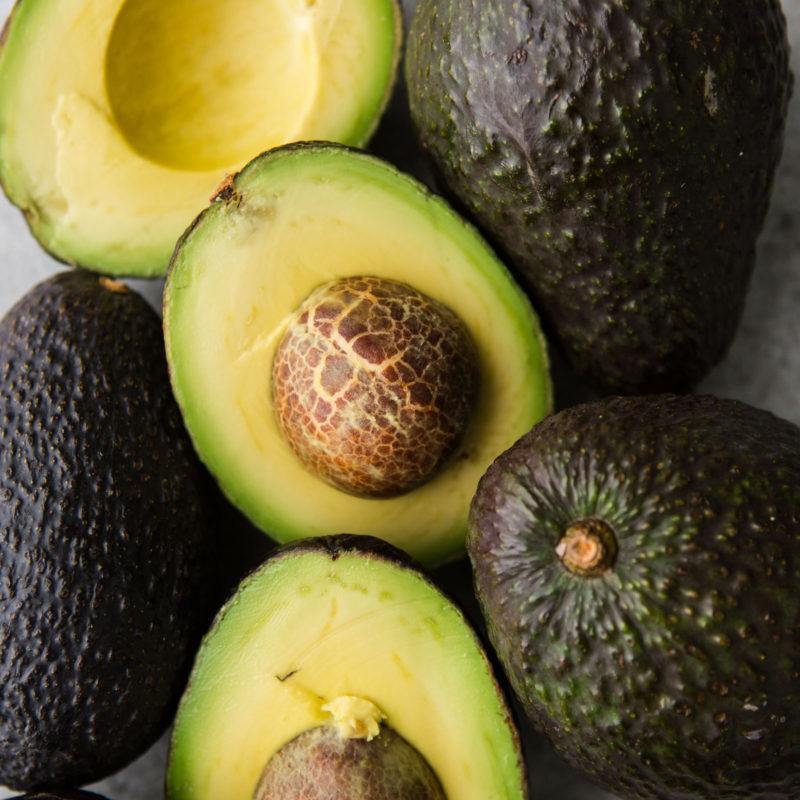 Even before I moved to California, avocado played a big part in my diet. Every time we have tacos, enchiladas, or quesadillas, avocados are near. If you happen to pick up a just-ripe avocado or find a soft avocado on your counter, stick it in your refrigerator. The cold slows down the ripening which means the avocado is ready to be used when you need it. Check out other avocado recipes below.
Quinoa Bowl with Za'atar Avocado
Avocado Quesadilla
Avocado Salad with Chickpeas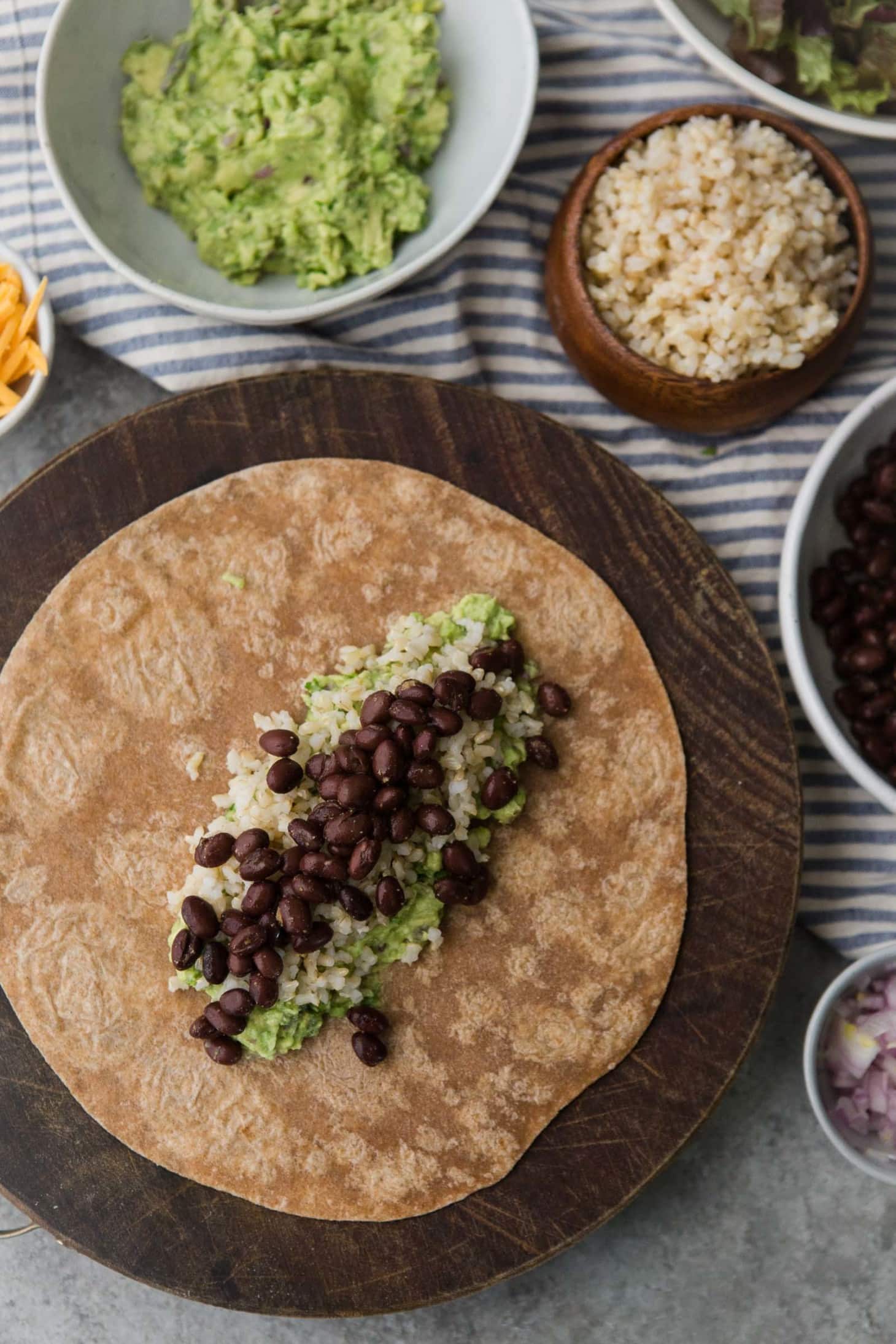 Published on February 24th, 2010. Last updated on December 15th, 2015.