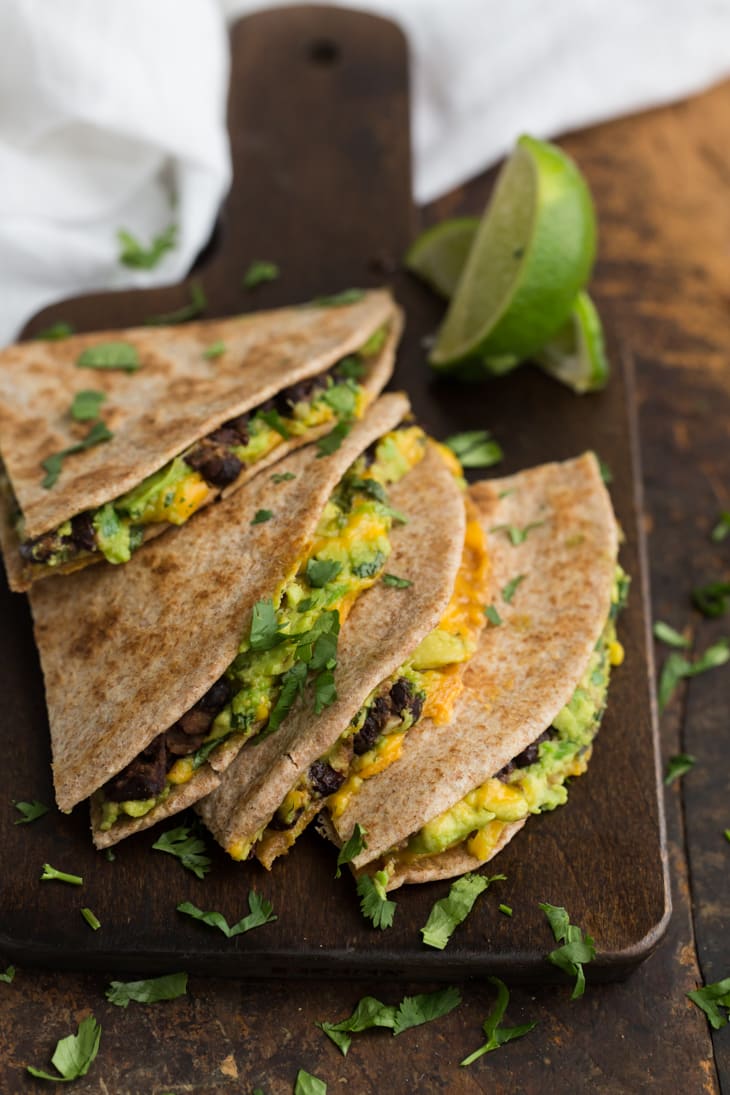 I think it's time to come clean about one pregnancy thing I'm not too excited about: preparing freezer meals. It's not the actual preparation I'm concerned about but it's the eating of the actual meals. My freezer is good for about one thing: holding ice cream (and ice cubes). Beyond that, anything that goes into the freezer is usually eaten in protest because it never taste the same as when prepared fresh. I know that these meals are going to be wonderful to have when I'm low on sleep and just not having it, but still- not happy about it.
However, I'm also preparing a list of meals that M can prepare. He is not into cooking but I'm slowly building a repertoire of meals that require little fuss: eggs, grilled items, and avocado quesadillas are just a few to start (he's also surprisingly good at making salads- a fact he attributes to making salads with his mom). These particular avocado quesadillas are easy to throw together and if you don't like the warm avocado, leave it off and dip the quesadillas in it after the fact (ie: a simple guacamole.)
Print
Chipotle Black Bean and Avocado Quesadilla
Author:
Yield:

2

to

4

servings

1

x
1 cup

black beans with cooking liquid

1

garlic clove, minced

1 teaspoon

chipotle chili powder

¼ teaspoon

sea salt

2 tablespoons

lime juice

1

ripe avocado

2 tablespoons

minced cilantro

1 tablespoon

lime juice

4

whole wheat flour tortillas, 10 inches across
Olive oil, for brushing

3

to

4

ounces shredded sharp cheddar
Instructions
In a skillet, combine black beans and liquid with the garlic, chipotle powder, sea salt and lime juice. Heat over medium-low and cook until the majority of liquid has been absorbed, 6 to 8 minutes.
Meanwhile, scoop the avocado from its shell and place it in a bowl. Add the minced cilantro and lime juice; mash with a fork until avocado is in small chunks.
Preheat a griddle or large, flat skillet over low heat. Brush one side of a tortilla with olive oil and place it oil-side down on a plate or other clean surface. Sprinkle with ¼ of the cheese, followed by ½ the black beans, ½ the avocado mixture, and finish with another layer of cheese. Place another tortilla on top and brush the top side with olive oil. Repeat with remaining ingredients to make a second quesadilla.
Cook the quesadilla over low heat, flipping once, about 4 to 5 minutes. The tortilla should be browning and crisp and the cheese should be melting. Repeat with second quesadilla. Cut into wedges to serve.