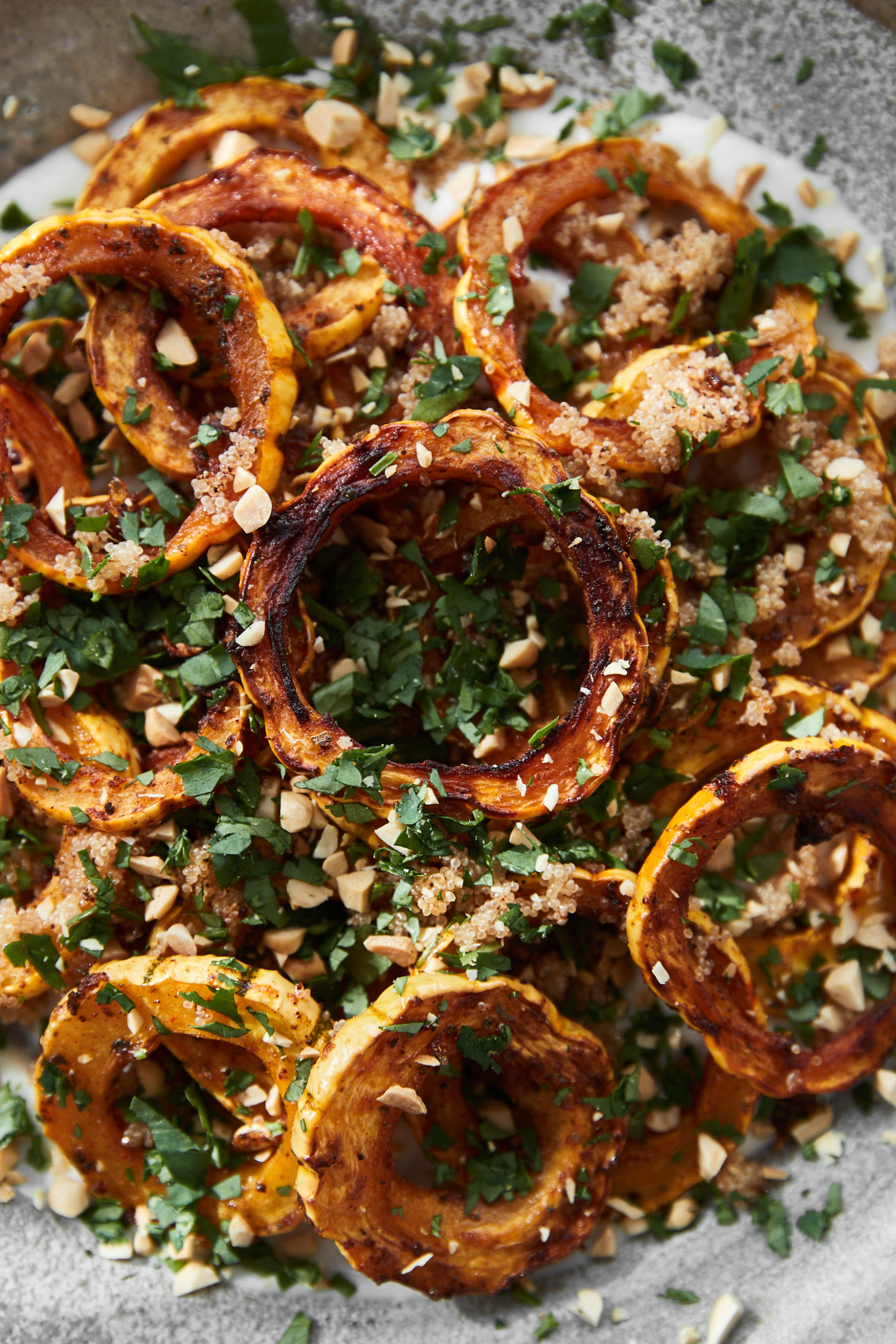 On the site, I try to balance quick recipes you can make for dinner and recipes that maybe push you a little more to explore different techniques or ingredients. I have to say, this squash dish is one of the favorites I've made in a long time.
Everything just comes together in a delightful way. However, it's a bit involved, primarily from the amaranth. Make it as is or take some inspiration from this recipe- either way you can end up with something delicious.
Spiced Delicata or bust
I think my favorite thing about fall cooking is the wealth of squash that come to play. Sure, there's the staple butternut and acorn but once you start venturing out, those squash are just a number in a line of amazing varieties. Red Kuri! Blue Hubbard! Kabocha! Each one with different flavors, consistencies, and uses.
It might be obvious why I chose delicata for this recipe: no peeling and it's beautiful in it's ring form. However, as I recently discovered on a trip to the midwest: it's not always available. So, if you can't find it, use cubed butternut squash or sweet potato instead.
Amaranth: not just for porridge
I find most people avoid amaranth because this little pseudo-grain does not cook like any other. It makes a wonderful porridge but the second you want to do anything else, things start to get murky. Amaranth contains higher amounts of amylopectin (a main component of starch). This creates the gelatinous texture that helps amaranth be great porridge.
The solution, while not the most elegant, helps amaranth be a wonderful component in salads and this squash dish. Simply put the cooked amaranth in a nutmilk bag and rinse. This removes most of the creamy textures and leaves you with something usable across numerous dishes.
Other spice blends to try
In terms of spice blends, the adobo seasoning is one I've turned to for years. It's a bit sweet, a bit smokey. However, it requires you to have a few different spices on hand. If you're not ready to invest in that, try a spice blend you might already have such as curry or harissa (just watch the spiciness of the blend!)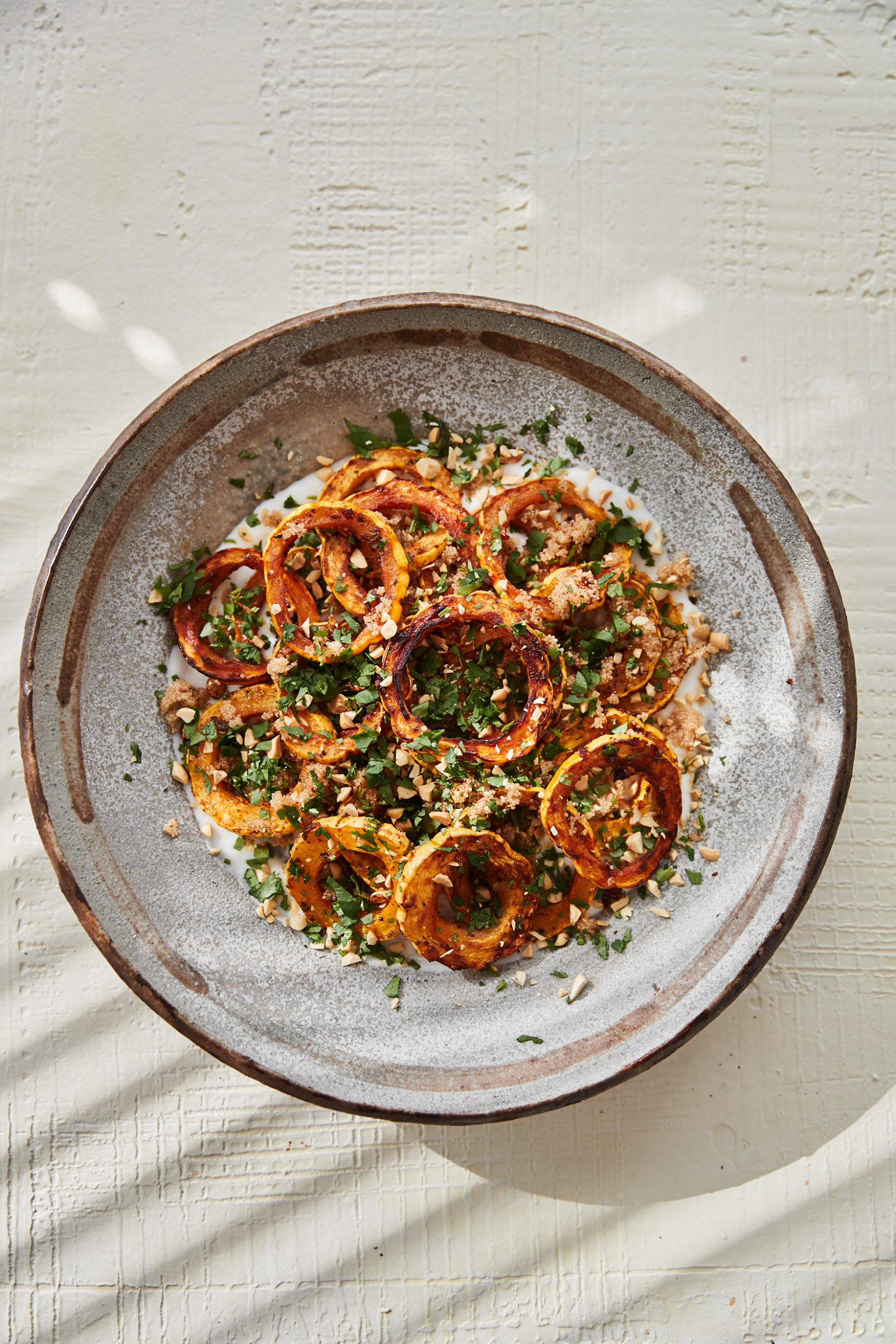 Peanut Alternatives
In terms of peanut swaps, my next go-to would be toasted pepitas. You could also use toasted sunflower seeds. I'd stay away from pecans or walnuts- I think the flavor would be a bit too much with the seasoning.
Make this vegan
Finally, take this vegan with a simple swap of yogurt for your favorite nut-cream sauce or even vegan yogurt (I'd stay away from coconut). Use this cashew cream with the garlic and lime.
Print
Spiced Delicata Squash with Amaranth and Garlic Yogurt
A beautiful dish to share or a potential light dinner pairing, this recipe is full of flavor and highlights the wonderful delicata squash.
Author:
Prep Time:

20

Cook Time:

25

Total Time:

45 minutes

Yield:

4

servings

1

x
Category:

vegetarian

Method:

oven
Delicata Squash
1 large or 2 small delicata squash
1 tablespoon olive oil
Bowl parts
¼ cup uncooked amaranth
2 tablespoons crushed roasted and salted peanuts
2 tablespoons minced cilantro
Yogurt Sauce
½ cup plain goat yogurt
1 clove garlic
Zest from one lemon
Pinch of salt
Instructions
To start, turn on the oven to 425˚F and prep the delicata squash. Trim the ends then cut the squash into ¼" thick rings. Using a knife, spoon, or small biscuit cutter, remove the seeds and leave as much of the squash intact (see note).

Place the sliced squash on a sheet tray covered with parchment and add olive oil and adobo seasoning. Toss until squash is well coated. Spread out to a single layer and place in the oven. Toast the squash, turning the tray halfway through, until the squash is caramelizing; 20 to 25 minutes.

While the squash is roasting, cook the amaranth. Place the amaranth in the smallest pot you have along with ¾ cup water and a pinch of salt. Bring to a boil, reduce to a simmer, cover, and cook until the amaranth is tender. Once the amaranth is tender, about 20 minutes and the consistency will still be porridge-like, place in a nut-milk bag (or something similar- as long as the amaranth can't slip through.) Rinse the amaranth and squeeze out as much of the water as you can.

When both the squash and amaranth are done, add the amaranth to the tray with squash and gently toss to coat the amaranth in a bit of the spice mixture. 

Finally, place yogurt in a bowl. Microplane the garlic into the bowl then zest the lemon. And the salt, stir, and let rest while everything finishes.

Finally, assemble. Spread the yogurt in the bottom of shallow bowl or plate. Layer the squash and amaranth on top then finish with crushed peanuts and cilantro.
Notes
Notes
Delicata:

If you don't want to deal with leaving the delicata in rings, cut the squash in half lengthwise and scoop out the seeds. Then, proceed as normal with the half-circles. 

Goat Yogurt:

You don't have to use the goat yogurt but I really love the bit of punch it gives to balance out the smokiness of the spice mixture and the sweetness of the squash. 

Amaranth: A nutmilk bag is a cheap and good investment to have around. If you don't feel like messing with it, use quinoa instead of amaranth.
Keywords: spiced delicata squash