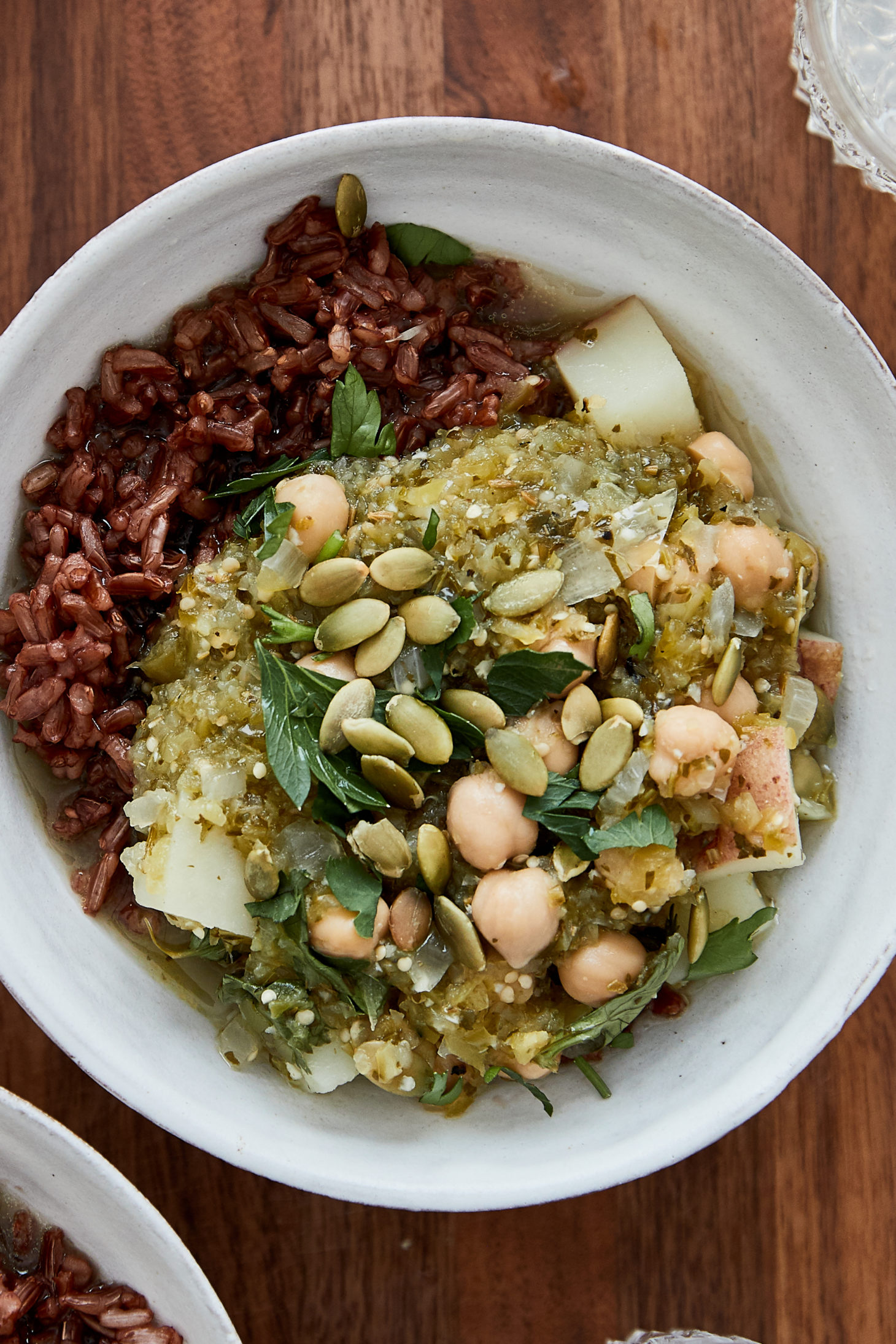 Chile Verde is a stew that is traditionally from Northern Mexico that made its way north in many different variations. As with most traditional chile verde recipes, this stew is usually heavily meat-based featuring pork that is cooked until extremely tender. Some versions feature few tomatillos but I love the brightness they add with the peppers. Also, if you're curious about using chile versus chili- Merriam Webster has an in depth article.
Spice it up
I went fairly mild with the heat of the peppers in this recipe. You can always add more poblanos or use different chili peppers such as anaheim or jalapeno. Play around to find your favorite combination of peppers.
Make it a meal
Finally, this stew can easily be an extremely filling meal. You can eat it as is but I love it served over rice and usually with a freshly made flour tortilla. I used organic red rice but any variety of rice would work.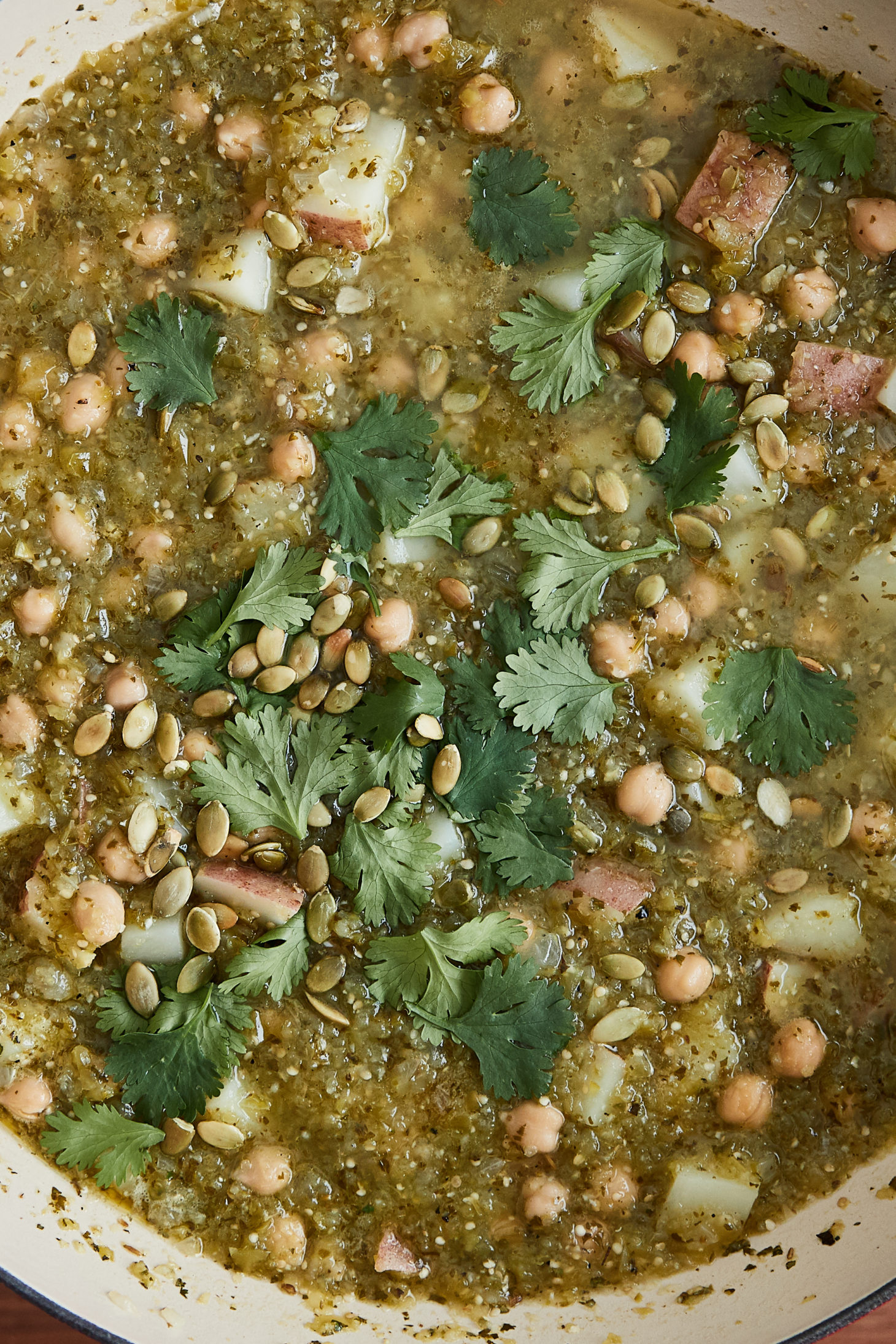 Print
Vegetarian Chile Verde with Garbanzo Beans
Author:
Prep Time:

20

Cook Time:

40

Total Time:

1 hour

Yield:

4 large servings (or up to 8 as a starter)

Category:

Soup

Method:

Stovetop
Salsa Verde
2 small poblano peppers
½ pound tomatillos
2 garlic cloves
½ medium yellow onion
⅓ cup cilantro
1 lime, juiced
¼ to ½ teaspoon salt
Stew
2 tablespoons ghee
½ medium yellow onion
½ pound red potatoes, scrubbed and cubed
½ teaspoon cumin
½ teaspoon dried oregano
½ teaspoon sea salt
1 to 2 cups water or broth
1 15oz can garbanzo beans, drained and rinsed
Toppings
Rice, for serving
Pepitas, for serving
Cilantro, for serving
Instructions
Prepare the poblano and tomatillos. Roast the poblanos under the broiler (or on a gas stove stop) until charred. Place in a bowl and cover with a plate. Let rest until mostly cool. Remove the peel, most seeds, and stem. For the tomatillos, bring a pot of water to boil then add the tomatillos. Let heat for a minute then then transfer to a colander. Remove the skins from the tomatillos.

To make the salsa, place the garlic in the food processor and give a whirl. Add in the onion, poblanos, and cilantro, letting the food processor run until everything is in small pieces. Add in the tomatillos, lime juice, and salt; run the food processor until everything is well combined and the tomatillos are in small pieces. (see note) Set mix aside.

In a large pot, heat the ghee over medium heat. Add the onion and let cook until fragrant, about 3 to 4 minutes. Stir in the cubed potato and cook for another 3 to 4 minutes. Add in the spices and water, cooking for a minute to warm the spices. Finally, add in the salsa along with about 1 cup of water. Bring the mixture to a boil, reduce to a simmer, and cook until potatoes are tender; 10 to 15 minutes (Depending on the size of your potato cube).

When the potatoes are just tender, stir in the garbanzo beans and cook the stew for another few minutes to heat the garbanzo beans in the mixture. If the stew feels too thick, add a splash or two more of water or broth.

Place a scoop of rice in a bowl and top with the stew along with a sprinkle of toasted pepitas and cilantro.
Notes
Notes
I specifically did not use my blender for this recipe. I find the high-speed blender does too good of a job by creating a creamy sauce out of the tomatillos. I like the texture and color better with the mix coming from the food processor.