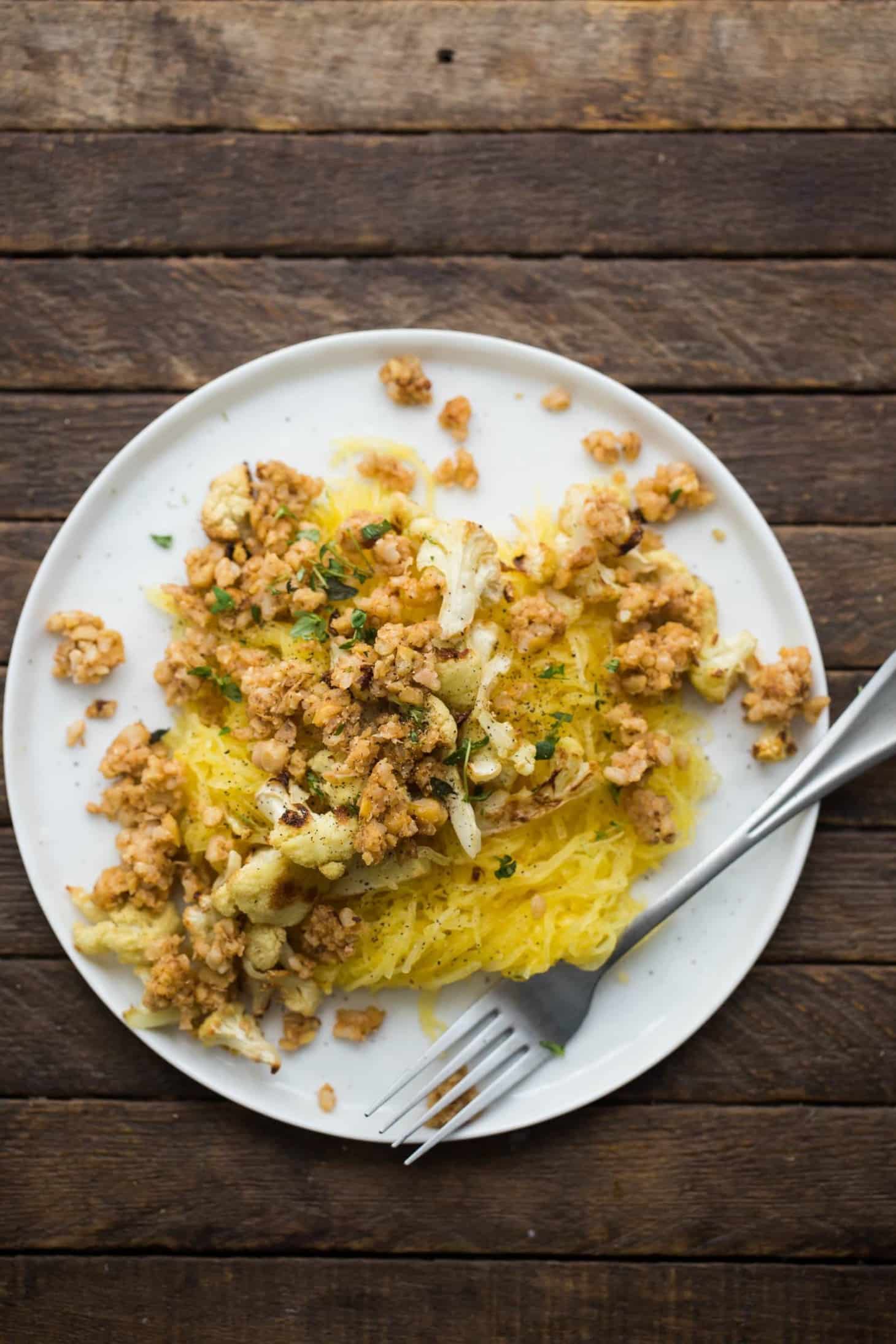 For the longest time, I did not like spaghetti squash. I loved the creaminess of the butternut squash and the earthy flavor of the acorn squash. I had a hard time getting past the stringy texture. Once I got past what it wasn't, I fell in love with what it was. Roasted Spaghetti squash became a staple as a base for sauces, roasted vegetables, and everything in between. This particular version includes one of my favorite recipes- the crumble. It's a mixture of brown rice, chickpeas, and pecans that I've found to be the perfect topping for salads, potatoes, and as one reader commented, stuffed cabbage. I typically make a larger batch than the recipe calls for to use throughout the week.
Print
Roasted Spaghetti Squash with Thyme Butter
Author:
Prep Time:

10 mins

Cook Time:

60 mins

Total Time:

1 hour 10 mins

Yield:

2

servings

1

x
Roasted Spaghetti Squash
1

spaghetti squash

2 tablespoons

butter, melted

1 teaspoon

fresh thyme, minced
Roasted Cauliflower
2 cups

cauliflower florets

½ teaspoon

olive oil

¼ teaspoon

salt

¼ teaspoon

pepper
Pecan Crumble
½ cup

cooked short-grain brown rice

½ cup

chickpeas, drained and rinsed if using canned

¼ cup

pecans, toasted

½ teaspoon

garlic powder

½ teaspoon

smoked paprika
Instructions
Preheat oven to 400˚ F. Cut the spaghetti squash in half and place cut side down in a roasting pan. Add about ½" of water to the pan and place in oven. Bake until squash is tender, 45 to 60 minutes.
Combine cauliflower with olive oil, salt, and pepper. Place in a roasting pan or on a sheet tray. Roast until squash is browning, 25 to 30 minutes (do this along with the roasting squash).
While the squash and cauliflower is roasting, In a food processor, combine chickpeas, cooked brown rice, pecans, smoked paprika, and garlic powder. Pulse a few times until mixture comes together and resembles a coarsely ground meal.
Heat a skillet over medium low heat and add mixture to pan (if using a pan that sticks, add a little olive oil). Stirring occasionally, heat mixture until fragrant, 4-6 minutes.
Once the squash is done and just cool enough to handle, but still warm, scrape the insides with a fork. Place squash in a bowl and add the melted butter and time. Toss until the squash is well coated. Top with roasted cauliflower and crumble. Taste and add salt/pepper as desired.
Variations for the Roasted Spaghetti Squash
I use the three components of this recipe separately all the time but this was a recipe worth sharing when used together. If you were in a hurry, you could microwave the spaghetti squash (I've not done this, but it's a way to speed up the process). You could also steam the cauliflower but I will always choose roasted cauliflower.
Vegan: Toss the spaghetti squash with olive oil or vegan butter instead of the butter. This recipe can easily be vegan.
Sauce: This isn't an saucy recipe as the butter just coats the spaghetti squash. If you're looking for something with sauce, use a prepared tomato sauce- it works well with the recipe as written. Or, you could even leave out the roasted cauliflower.
Crumble: I stick with brown rice and chickpeas but I'll often switch up the nuts. Walnuts are a good alternative to pecans (or use both!)