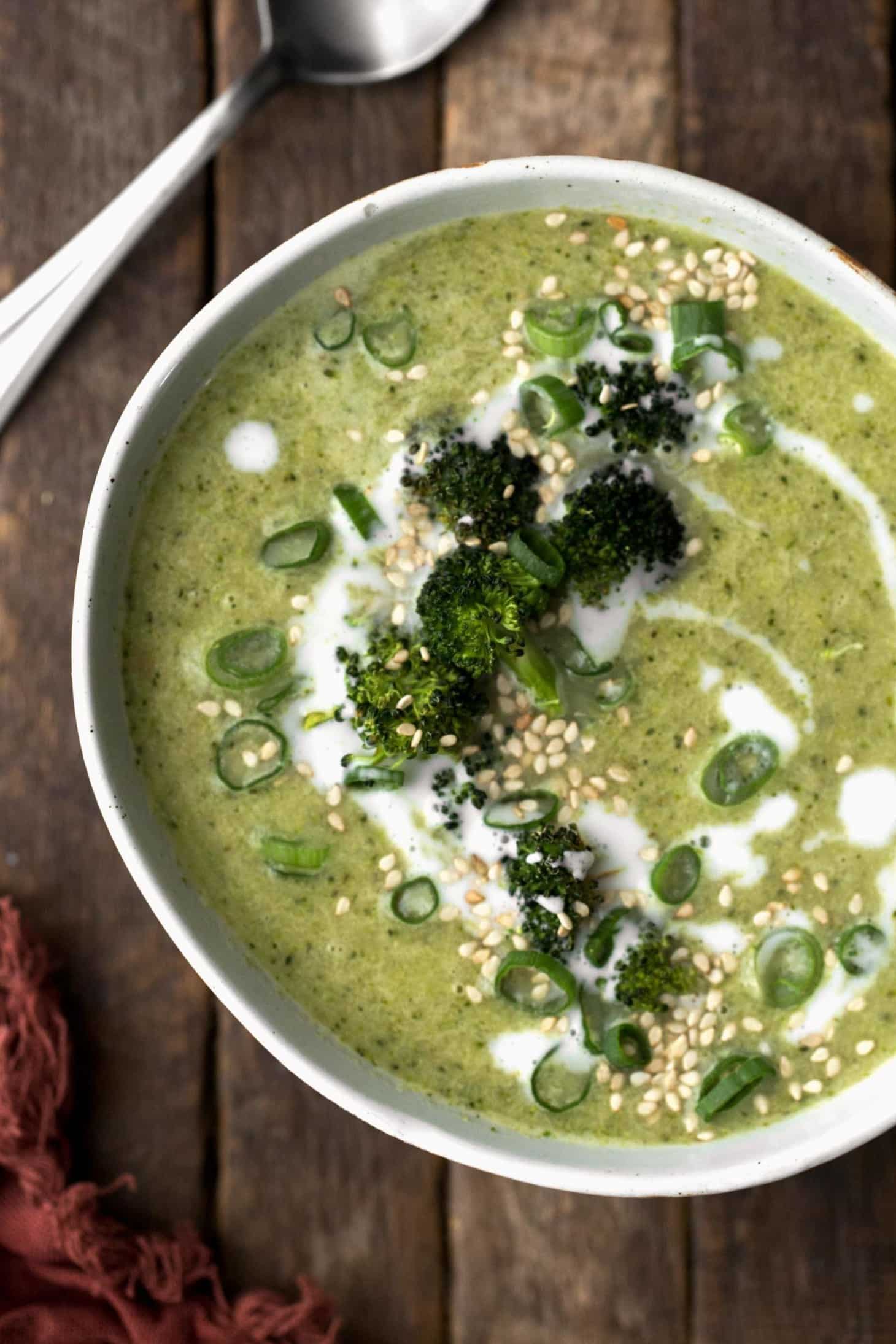 When I first started eating healthier, soup became my go-to meal for eating out because in my mind, it felt healthier. In retrospect, it was not. The soups I fell in love with were often overloaded with salt and cheese. Similar to all those salads that should be healthy but after a hefty handful of cheese and ranch, are not. One of my favorite soups was and still is broccoli cheddar. If two ingredients were ever meant to be together it's broccoli and cheese. Of course, sometimes I just want the creaminess of the broccoli soup without the cheddar. That's where this soups comes in. It uses the stems of the broccoli to add heft to the soup. Then ginger, lemon, and just a splash of coconut to round out the flavors. Between this broccoli soup and this bok choy soup, I'm set for winter.
Print
Broccoli Soup with Ginger and Lemon
Author:
Prep Time:

10 mins

Cook Time:

25 mins

Total Time:

35 mins

Yield:

2

servings

1

x
Ingredients
2

small heads of broccoli, with stems

1

medium shallot, minced

1 tablespoon

olive oil, divided

1 tablespoon

minced ginger

3

to

4

cups vegetable broth

1 teaspoon

lemon zest

2 tablespoons

lemon juice

¼ teaspoon

salt

¼ cup

coconut milk
toppings
coconut milk
scallions
sesame seeds
roasted broccoli
Instructions
Preheat oven to 400˚ F. Remove broccoli florets from the stems and cut into small pieces. Peel the stems, discarding the outside, then dice stems and set aside. Toss with ½ tablespoon olive oil and spread into a single layer on a sheet tray. Roast until broccoli is tender and starting to brown, 20 to 25 minutes.
While the broccoli is roasting, heat olive oil over medium low in a medium stock pot. Add in minced shallots. Cook for roughly 4 minutes then add in the ginger, cooking for one more minute. Stir in the broccoli stems followed by 3 cups of broth, lemon zest, juice, and salt. Bring to a boil, reduce to a simmer, and cook until stems are tender and roasted broccoli is done.
Add in the roasted broccoli, reserving a few smaller pieces for topping the soup. Transfer to a blender puree the soup. You will want a solid blender for the job (high-powered if you have it). If soup is too thick, add enough vegetable broth to thin it down to a good consistency.
Transfer the soup back to the pan if using a blender and add in the coconut milk. Heat the soup over low until ready to serve.
Divide soup into two bowls and top with the saved roasted broccoli, sesame seeds, scallions, and extra coconut milk.
Notes
+ make sure the stems are cooked through and if you blend the soup and find the texture not smooth, pass the soup through a sieve before returning to the pot.
Variations for the Broccoli Soup
This recipe I cook as is, with only minute changes. For me the differences are in the small details, like the shallots and toppings.
Shallots: I try and keep shallots on hand but I can almost guarantee I have onions and garlic. Either would work in this soup.
Coconut Milk: This soup is perfect for using leftover coconut milk but it's rare I'd open a can just for this soup. I've been known to use heavy cream and add a few toasted coconut flakes on top to keep the flavor.
Toppings: One of my favorite toppings for this soup I didn't have on hand, but pickled ginger is also great on top.