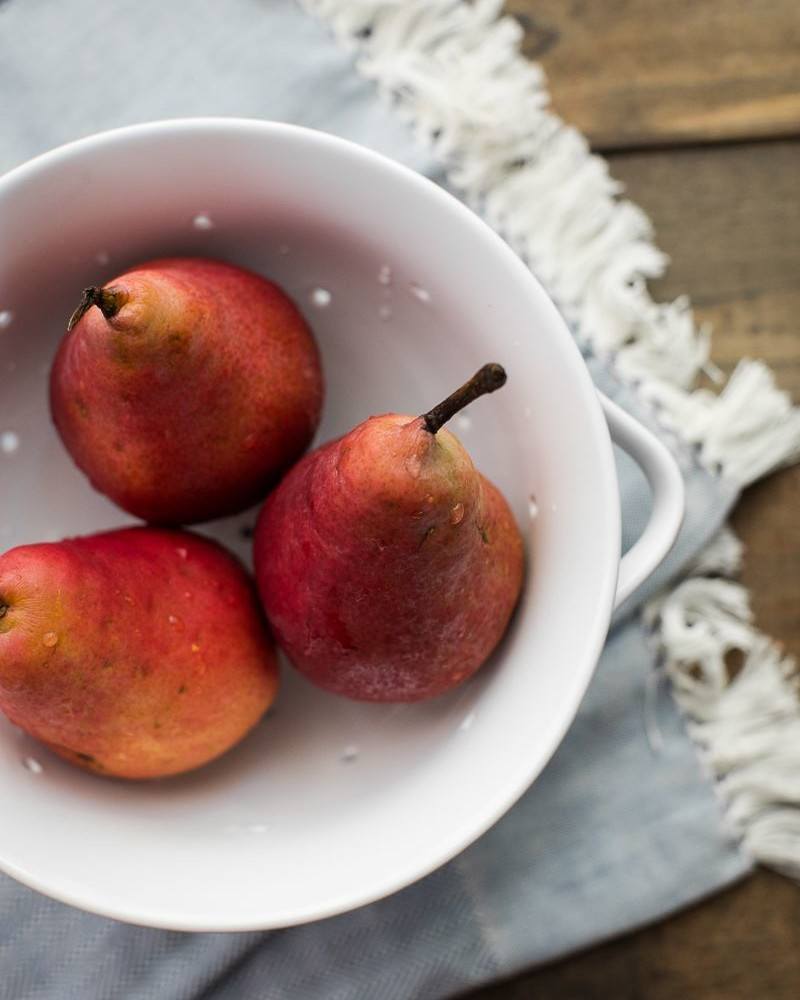 Post sponsored by California Pears. See below for more details.
Whenever someone finds out that I'm a California transplant because of my husband's job, I always seem to field the same question: do I like it here? My answer is always the same. I love it and I couldn't have asked for a better place to land. There is something invigorating about being apart of the food community in a place that grows so much of the food we consume. This is part of the reason I'm excited to team up with the Pear Advisory Board for a few posts about California pears.
I really love to learn about all the different varieties and uses for produce. I find it's a great way to connect with the produce and create delicious recipes. Best of all, I know that the pears I'm using for the recipes had a short journey from the farms and I'm supporting my local farmers. I'm good at surface information about pears but I've learned so much recently that I'm excited to share. The first part in this series is all about how to buy locally, whether you live in California or happen to be here for a visit (which I would highly recommend!)
The Varieties
There is quite a variety among California pears. Some are sweet and soft while others stay more firm and are perfect for eating as a snack. Some pears change in color when ripening while others soften a bit. Also, I always think of pears as a fall fruit but in California, the season kicks off in July! Here's what to look for when buying fresh pear varieties and you can get more information/images of each variety on the California Pear site.
Bartlett: These pears start with a bright green color and as they ripen at room temperature, will shift to yellow. These pears are in season from July through November.
Bosc: One of my favorite pears, Bosc pears do not change color but will show signs of ripeness when end of the stem shrivels a bit. Bosc pears are in season from the end of July through November.
Seckel: With a shorter season compared to other pears, Seckel pears stay their same, beautiful color when ripe. However, you can tell if the pear is ripe when it is slightly soft around the stem. These pears are in season from August through October.
Comice: This variety is similar to the seckel pears. The color doesn't change much but the pears will soften around the stem. I find the seckels and comice pears to look similar but the comice variety is a bit more round and has more green color. This pear season starts around the beginning of August and runs through November.
Red: My favorite pear for salads, the pear is red across the entire fruit. The red pear (Starkcrimson) is harvested starting mid-Julyand the season continues through October.
Forelle: A smaller pear, the forelle pear is ripe when the color has changed from green to yellow and is dusted with a crimson speckle. Harvest for the Forelle starts in early August and runs through October.
French Butter: This pear looks like a cross between a bosc (color) and anjou pear (shape) and has a shorter season, roughly a month and half from August through September. Test for the ripeness by pressing near the stem.
What to look For When Shopping
Since pears ripen as they sit at room temperature, whether or not they are ripe when buying isn't a huge deal. However, you want to look for pears that don't have large bruises or cuts. The pears should also be firm when pressed. How do you know they're from California? Farmers use the family or ranch name to identify their fruit in California. Other producing regions in America just use "USA Pears." California wants you to feel a real connection to the farm — most are third generation family farms. California pears can be found at your local store starting in July all the way through October
Recipe Inspiration
Disclosure: This recipe was created in partnership with California Pears.. All thoughts and opinions are my own. It's content like this that helps me keep this site running to provide the vegetarian recipes you see every week. |