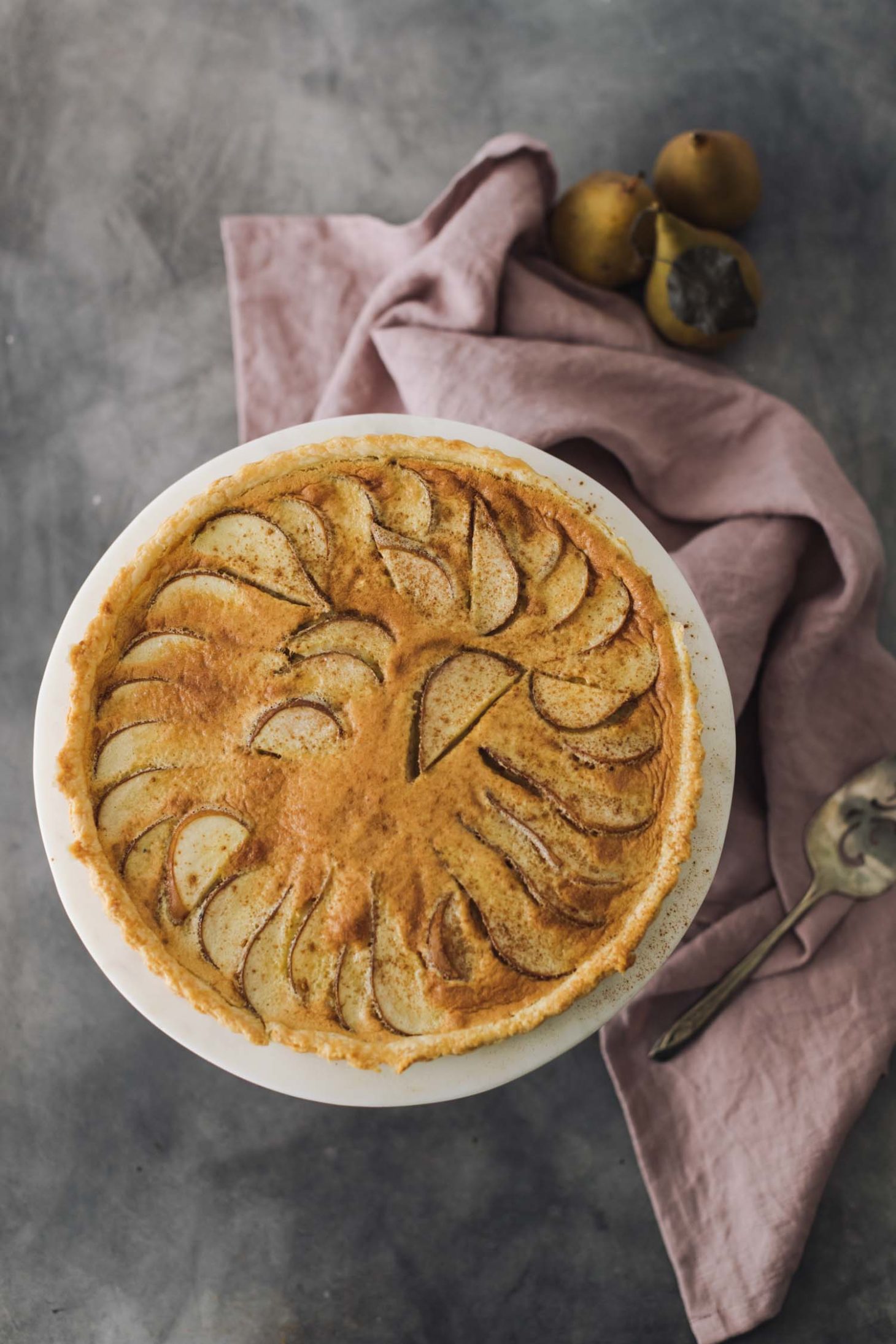 Post sponsored by California Pear. See below for more details.
It's rare that I post dessert recipes but don't be fooled, I love my desserts. This custard tart has been around for years and has made it's way through all the seasons. However, this pear version is my favorite. Using slices of bosc pears makes for a beautiful presentation and the custard filling is the perfect partner.
Since September is farm to fork month in Sacramento, I'm partnering with California pear to chat a little about organic Cal pears. If you were to chat with the local pear farmers, you would learn that most of the farms have been in their families for over 100 years. These farming families are multigenerational and the caring for the land is a top priority. Pear farmers are in the process of transitioning more of their land over to USDA certified organic pear orchards as a way to prepare for future generations.
Best of all, organic California pears can be found at Raley's new Market 5-ONE-5 in downtown Sacramento. This market is a neighborhood store focused on providing local, natural food (including organic California pears!) Just walking through the store is inspiring- I always leave with so many new recipe ideas!
A look at California Pears
custard tart
variations
Gluten-free: Use the Bojon Gourmet's flakiest pie crust recipe and then use a generic AP Gluten-free mix for the filling.
Cardamom: Swap or add ½ teaspoons of ground cardamom for/with the cinnamon.
Almonds: I love doing a variation with a bit of almonds. Swap out part of the AP flour for almond meal, add a splash of almond extract to the filling, and top with toasted almond slices.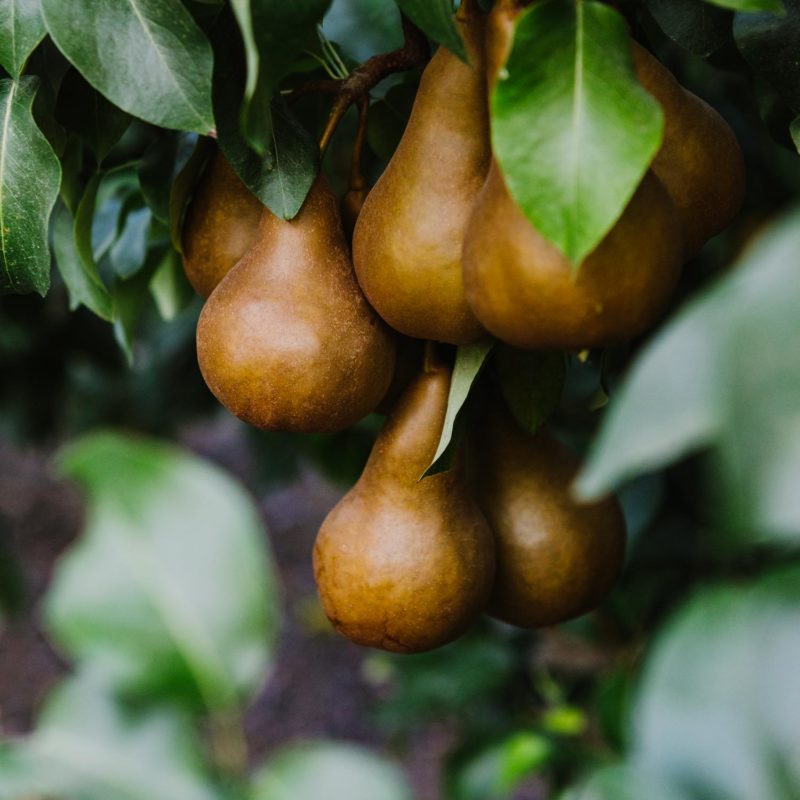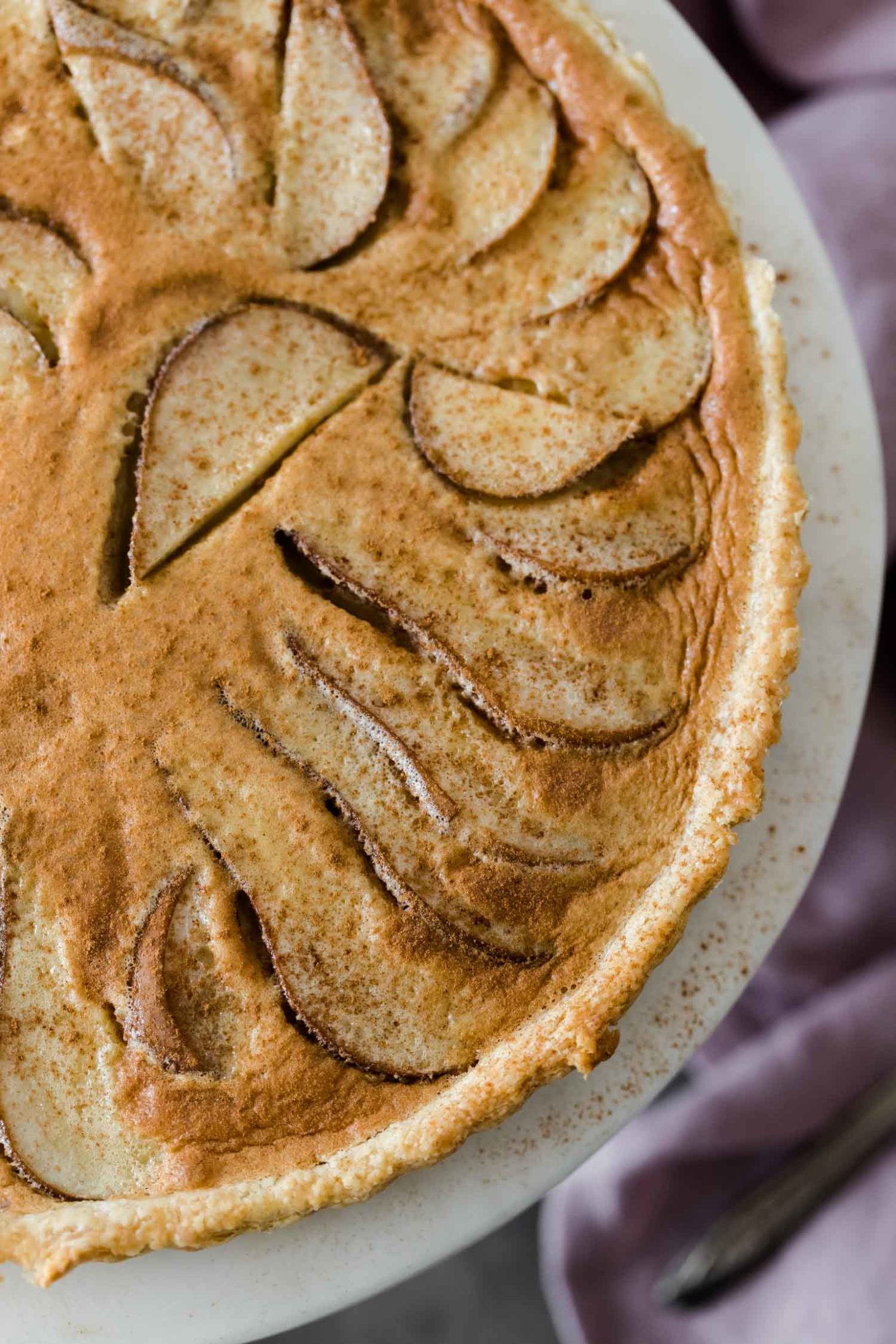 Print
Pear Custard Tart
Crust
1 ¼ cups unbleaced all-purpose flour or whole wheat pastry flour
½ teaspoon sea salt
6 tablespoons cold unsalted butter
1 ounce cream cheese
2 tablespoons maple syrup
2 tablespoons cold water
Filling
½ cup unbleaced all-purpose flour or whole wheat pastry flour
½ cup maple syrup
6 large eggs
¼ cup heavy cream
1 teaspoon vanilla extract
2 tablespoons unsalted butter, melted and cooled
1 teaspoon ground cinnamon
1 to 2 bosc pears, cut into ¼" thick slices
Instructions
Preheat your oven to 375˚F.
Make the crust: combine the flour and salt in a food processor or bowl. Cut or pulse in the butter and cream cheese until the mixture is in pea-sized pieces. Stir/pulse in maple syrup and just enough water for the dough to come together.
Transfer the dough to a floured work surface and roll into a circle large enough to cover an 11-inch tart pan. Transfer and press the dough into the tart pan. Pierce the bottom with a fork and parbake the crust for 10 minutes, until it is lightly golden.
To make the custard filling, combine the filling ingredients, through the cinnamon, in a blender and process until smooth. Lay the pears in the bottom of the parbaked crust, overlapping them slightly. Pour the custard filling over the pears and return the tart to the oven. Bake for 20 to 25 minutes, until the custard is set and lightly browned. Remove from oven, let cool, and transfer to the refrigerator until chilled. Sprinkle with extra cinnamon before serving.
Disclosure: This recipe was created in partnership with California Pears. All thoughts and opinions are my own. It's content like this that helps me keep this site running to provide the vegetarian recipes you see every week.