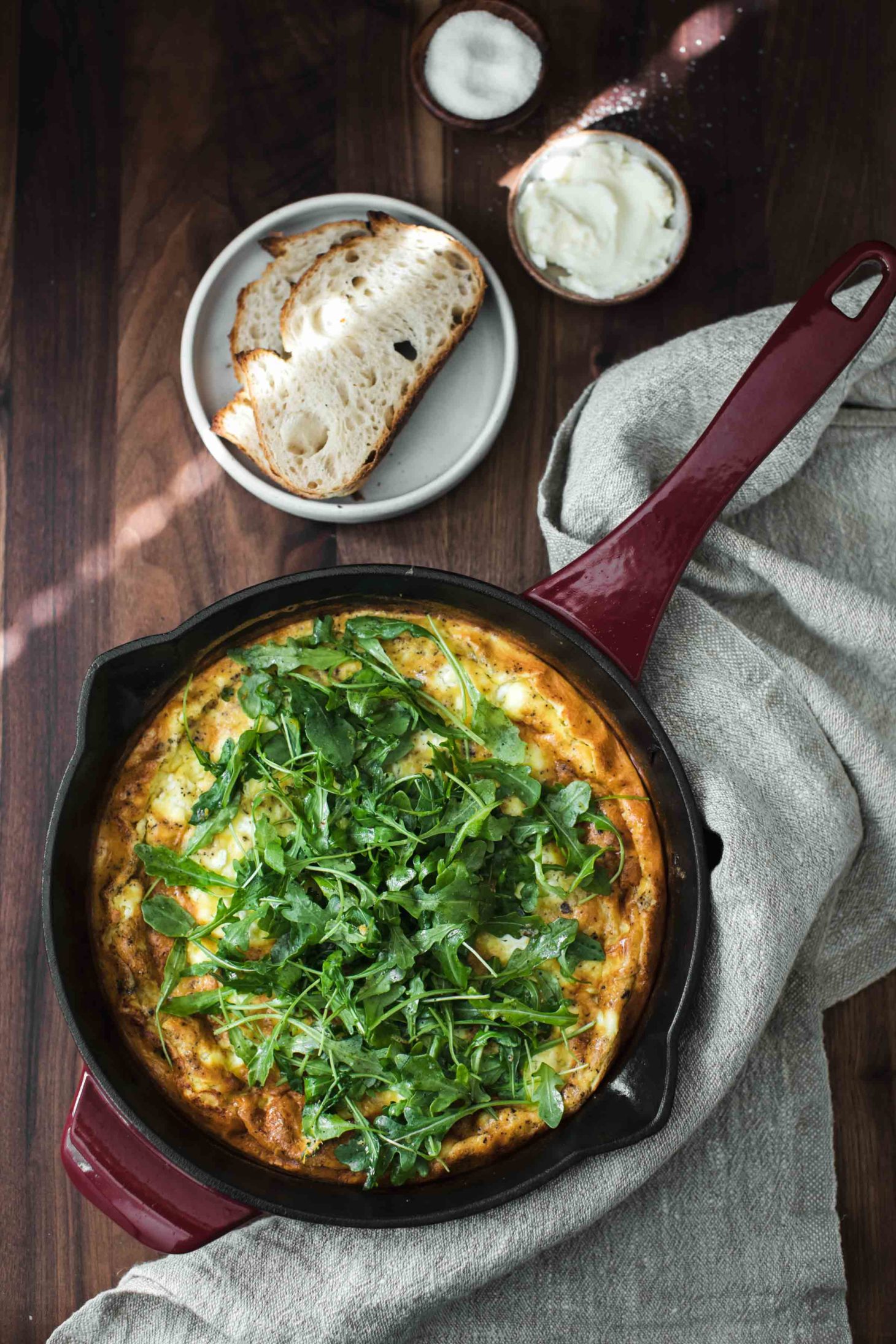 Post sponsored by Anolon Cookware. See below for more details.
I don't watch a ton of television but I have a soft spot in my heart for older cooking shows. There is a realness and perfect messiness to the older shows- something that appears to be gone in our instagram-curated cooking. Of all the shows, to this day, I most adore watching Julia Child. I love everything about her approach to food and cooking- so much of it is what we still need in today's food culture. When Anolon asked me to create a recipe for the 40th anniversary of IACP in the style of one of the original founders, I knew I wanted to create something to honor Julia.
In terms of this recipe, I've always found Julia's approach to eggs to be elegant. The egg recipes and techniques are simple but the end result is perfect. There's a grace she has with eggs, in every type of preparation. This onion frittata is my nod to that. It's a recipe that we eat quite a bit on the weekend.
The onions aren't quite caramelized but are cooked long enough to be soft. The filling is simple but the soft onions paired with the tang of the goat cheese makes for a solid meal. Add to that the fresh greens and a light vinaigrette (another nod to Julia), it's the perfect way to start your day.
I know eggs aren't always synonymous with cast iron but I've always made frittatas in my cast iron. The cast iron creates a nice bottom layer of the frittata and in terms of Anolon's Vesta Cast Iron, it's the perfect size of a 4-person frittata!
Print
Onion Frittata with Goat Cheese and Arugula
Perfect for a weekend breakfast, this onion frittata uses slow-cooked onions for the base and a light arugula salad for a finish.
Author:
Prep Time:

10 minutes

Cook Time:

45 minutes

Total Time:

55 minutes

Yield:

4

servings

1

x
Ingredients
Onion Base
1 large yellow onion
1 tablespoon butter
⅛ teaspoon sea salt
1 tablespoon sherry vinegar
Frittata
6 large eggs
3 tablespoons heavy cream
¼ teaspoon salt
¼ teaspoon black pepper
1 ounce crumbled goat cheese
Topping
2 cups arugula
1 tablespoon olive oil
1 teaspoon lemon juice
½ teaspoon lemon zest
¼ teaspoon stone ground mustard
⅛ teaspoon black pepper
⅛ teaspoon salt
Instructions
Peel and cut the onion in half. Cut each half into thin slices, roughly ⅛" thick. Heat a 10" cast iron skillet over medium-low heat. Add the olive oil, followed by the onions. Sprinkle a little salt over the onions, reduce the heat to low, and cook until the onions are soft and starting to brown, 25 to 30 minutes or so (see note). Measure in the vinegar, scrapping up any bits of onion stuck to the pan. When the onions are almost done, preheat the oven to 425˚F.

Whisk together the eggs, heavy cream, salt, and pepper; making sure to not overly beat the egg mixture. Pour into the pan and let cook until the sides begin to set. Sprinkle the goat cheese over the egg mixture and transfer the skillet to the oven. Continue to cook for 10 to 12 minutes until the frittata is puffed and starting to brown on top.

While the frittata is baking, place the arugula in a bowl. In a small bowl, whisk together the olive oil, lemon juice, zest, mustard, pepper, and salt. Pour over the arugula and toss to combine.

Once the frittata is done, let cool slightly. Top with the arugula and serve.
Onion Frittata
variations
Filling: As mentioned above, you could use caramelized onions. I find I only have patience most days to get the onions soft but using caramelized onions is amazing.
Grains: I left this frittata fairly simple but the filling possibilities are endless. I love pairing grains with the onions- especially quinoa, millet, or bulgur. Adding grains really bulks up the frittata and I find I can easily serve 6 with the addition.
Cheese: The cheese is fairly option. You could leave it off or you could use another type of cheese. I like a cheese with a stronger presence- try parmesan or even a blue cheese.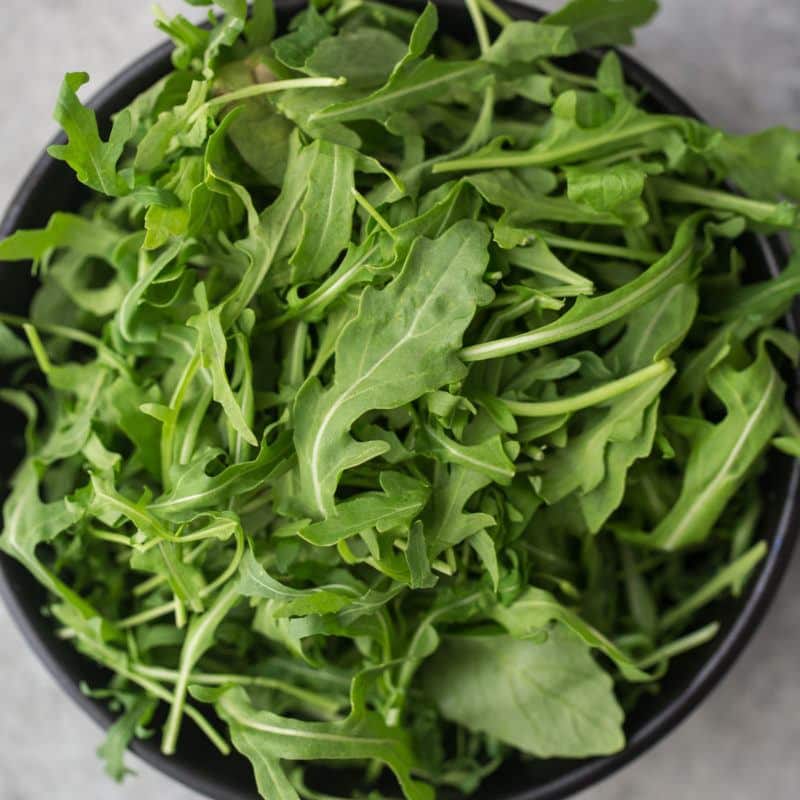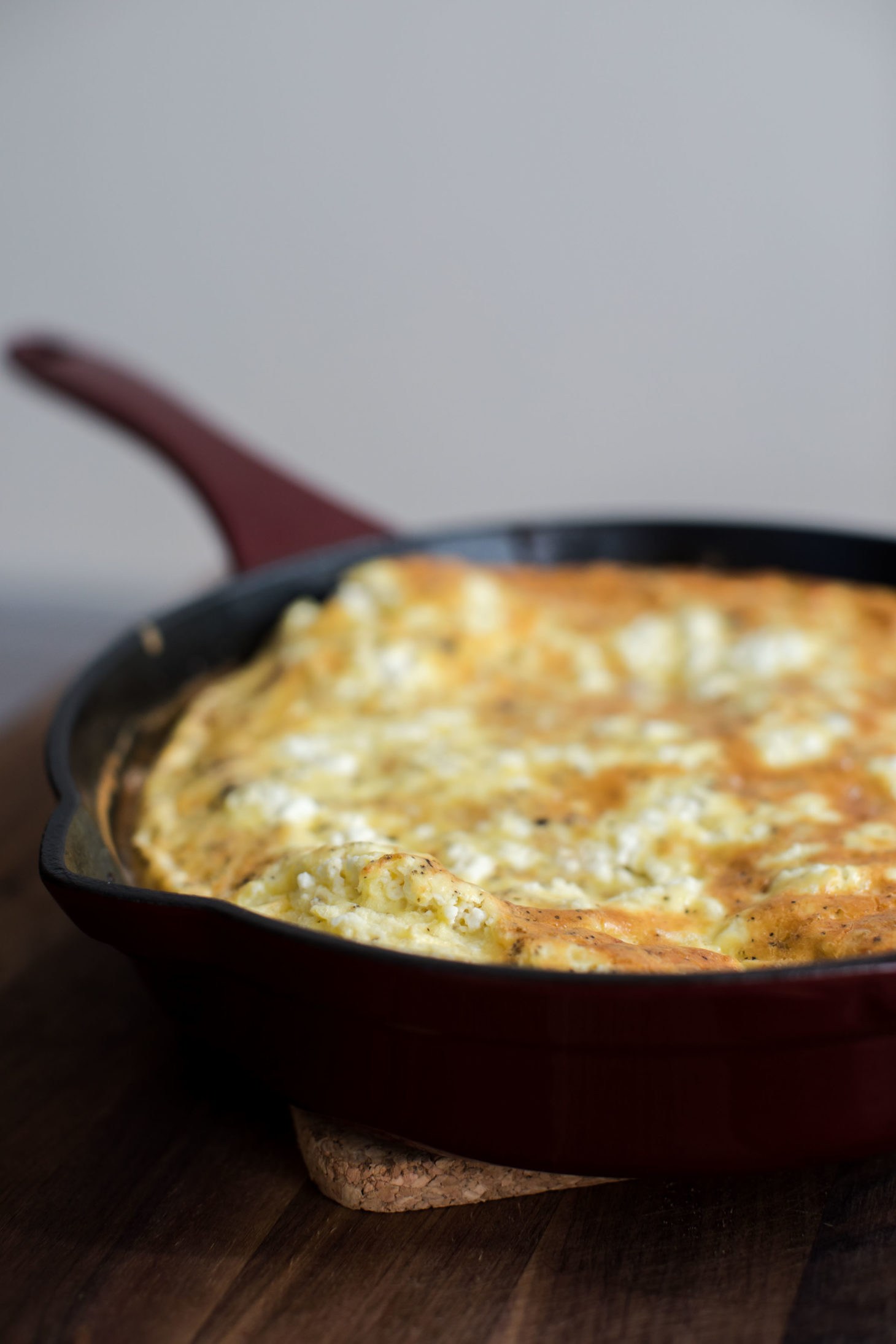 Disclosure: This recipe was created in partnership with Anolon. All thoughts and opinions are my own. It's content like this that helps me keep this site running to provide the vegetarian recipes you see every week.