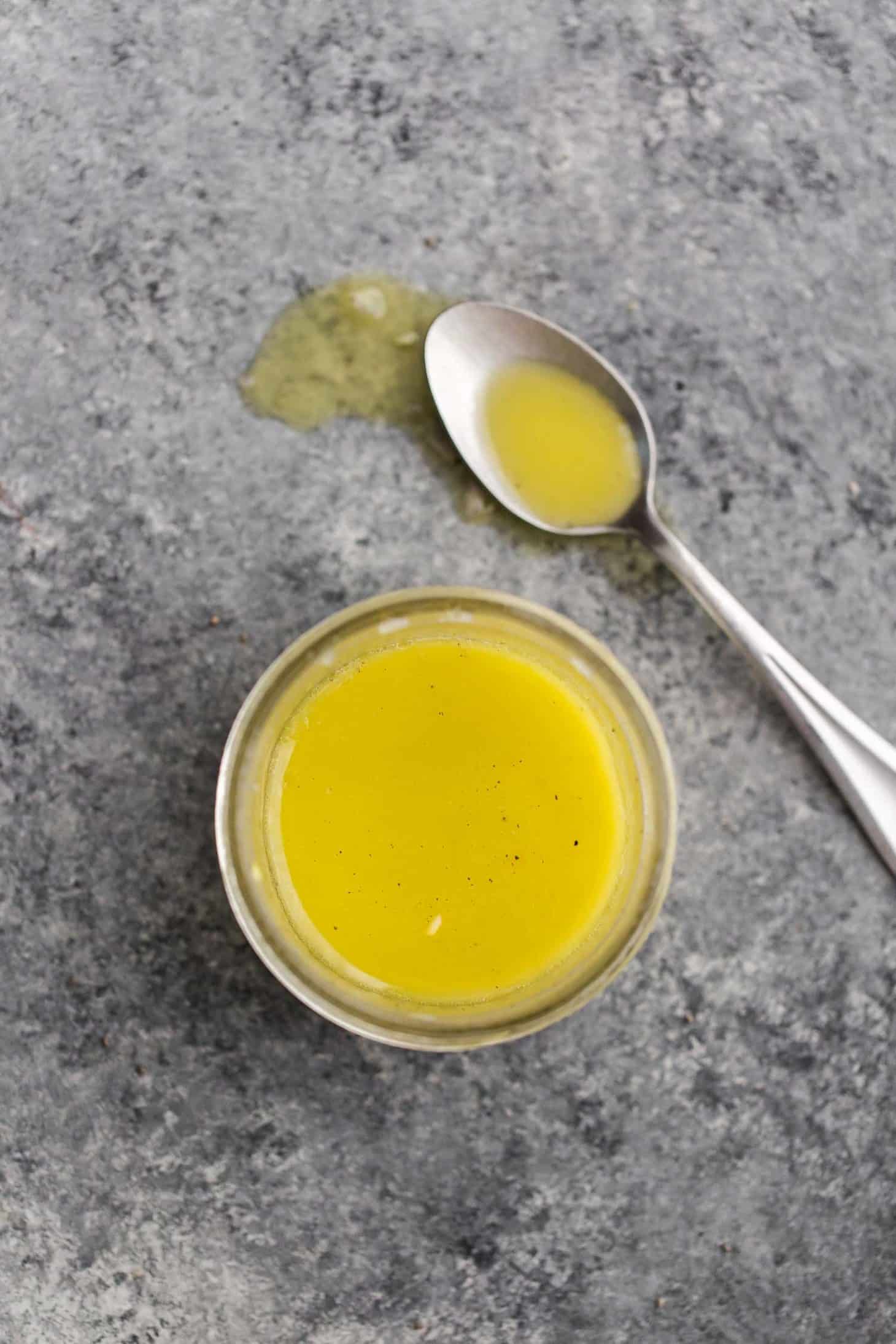 If there's one thing I tell people to start making at home right away, it's dressing. Homemade salad dressing is as easy as whisking together olive oil, lemon juice, and salt. From that base, the possibilities of dressing are endless. While most people say you want a dressing that is 1 part acidity (lemon juice or vinegar) to 3 parts oil. My dressing tend towards 1:2 as it all depends on what you're adding to the dressing.
Print
Lemon Vinaigrette
This easy homemade dressing is the perfect base for many different flavors and use in many different
Prep Time:

5 minutes

Total Time:

10 minutes

Yield:

4

servings

1

x
Category:

Component
¼ cup

olive oil

2 tablespoons

fresh lemon juice

2 tablespoons

minced shallot

¼ teaspoon

salt

¼ teaspoon

black pepper
Instructions
Combine all ingredients in a jar with a tight-fitting lid. Shake until well combined and emulsified. Store in an airtight container in the refrigerator for up to a week, bringing to room temperature before using.
Notes
Tips and Tricks: You can also whisk the dressing together or place in a blender for faster emulsion. Also taste and adjust the salt/pepper level as desired. I like to make a one-bite salad with the dressing as flavors can change based on the salad components.
Stock up: Get the pantry ingredients you will need: Olive Oil, Lemon
Nutrition: See the information.
Nutrition
Calories:

125

Sugar:

0.6

Sodium:

146

Fat:

13.5

Carbohydrates:

1.4

Fiber:

0.2

Protein:

0.2

Cholesterol:

0
Lemon Vinaigrette
variations
Herbs/Spices: Add a few fresh herbs like parsley, chives, or tarragon. Or, add a pinch of your favorite spices like cumin, coriander, or paprika.
Alliums: Swap out the shallots for minced or roasted garlic. Finely minced scallions also work well in the dressing.
Mustard: I love a teaspoon or so of stoneground mustard in my dressings. You could also add a pinch of mustard powder.
Yogurt/Mayo Turn this dressing into a creamy dressing by mixing in a few tablespoons of whole milk yogurt.
Nut/Seed Creams Similar to the yogurt, turn this into a cream based dressing by using cashew, sunflower, or hemp seed cream. Also, adding a dollop of nut/seed butters also works.
Miso/Ginger Whisk in fresh minced ginger and a teaspoon of miso. I also love to swap out the olive oil for toasted sesame oil- you have a wonderful dressing or stir fry finishing sauce!
Sweetener I like my dressings tart but you could add a pinch of sugar, honey, or brown rice syrup to help cut through the tang of the lemon.
How to use lemon vinaigrette
Salads: Use the cashew cream in place of heavy cream to thicken cream soups.
Pastas: Use one of the variations like herbed cashew cream sauce or pesto cream sauce to toss with cooked pasta.
Grain Bowls: Use a spiced version or the cilantro cream sauce to top enchiladas sauce for a creamy version.
Roasted Vegetables: Use a variation of of the cashew cream sauce to top roasted or grilled vegetables.
Recipes that use lemon vinaigrette