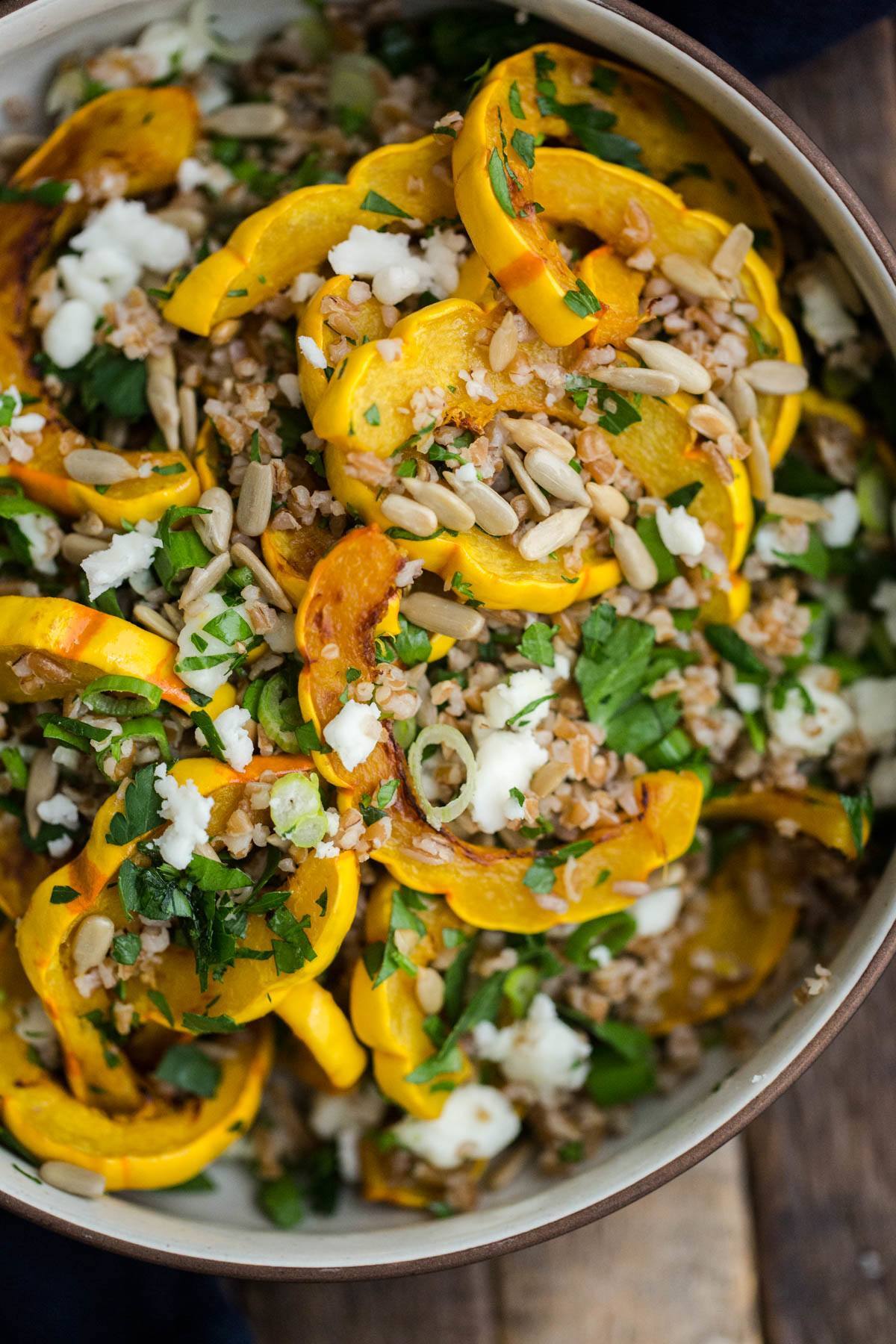 Continuing on with the theme of making dinner/lunch at the same time, this easy roasted delicata squash salad is perfect in my book. The nuttiness from the bulgur is the great compliment to the squash flavor and lightness of the goat cheese/dressing. The cross over ingredient to dinner is the roasted delicata squash which can be used in these tacos or this pizza (a favorite of mine this winter- occasionally I'll roast the squash). The best part- the roasted squash wedges cook up quick, making dinner (and lunch) in no time!
Print
Roasted Delicata Squash Salad with Bulgur
Author:
Prep Time:

5 mins

Cook Time:

25 mins

Total Time:

30 mins

Yield:

2

servings

1

x
Ingredients
1

medium delicata squash

1 tablespoon

olive oil

¼ teaspoon

salt

¼ teaspoon

black pepper

½

uncooked bulgur wheat

¼ cup

minced scallions (whites and greens)

¼ cup

minced parsley

3 tablespoons

sunflower seeds

1 ounce

crumbled goat cheese

2 tablespoons

olive oil

2 tablespoons

lemon juice (see note)
salt and pepper, to taste
Instructions
Preheat oven to 400˚. Cut the delicata squash in half lengthwise. Scoop out the seeds and place cut side down. Slice eat half into ¼" thick half moon slices. Place in a bowl, drizzle with olive oil and toss with salt and pepper. Spread out onto a sheet tray covered with parchment paper and roast until tender and browning, 15 to 20 minutes.
While squash is roasting, combined the bulgur with 1 cup water. Bring to a boil, reduce to a simmer, cover, and cook for 12 minutes. Leave covered and remove from heat, let sit for 5 minutes.
Assemble salad once squash and bulgur is done. Toss the squash and bulgur (see note) with the scallions, parsley, sunflower seeds, and goat cheese. In a small bowl, whisk together olive oil, lemon juice, salt, and pepper. Add to bowl and toss lightly until everything is well combined.
Notes
- Another great alternative to lemon juice in this recipe is a white balsamic or champagne vinegar.
- I only used half the cooked bulgur in this recipe (I like my ratio on the high side of vegetable. Feel free to use as much or as little as you want).
Variations for the Roasted Delicata Squash Salad/h2>
This type of recipe is another one that can be made and used in a myriad of ways. Even if you don't make this the night before, you could easily roast the squash in the morning while eating breakfast (or wait for the squash to be done and put it in an omelette!)
Salad: I'm a big fan of grain salads with and without greens. I opted without greens for this particular recipe but you could easily add those back in. Toss with lettuce, spinach, or kale. If you want to use greens, I recommend letting the squash and bulgur cool completely as to not wilt the greens.
Spices: If you make the tacos, the roasted delicata squash has an adobo seasoning on it. Use that to your advantage in this salad and swap out the parsley for spinach and toss a few of the black beans in as well.
Protein: Similar to the greens, I left legumes out of this salad because I wanted to keep it simple. While chickpeas are almost always a good choice, I love black lentils or Le Puy lentils.
Gluten-free/vegan: Use a gluten-free quick cooking grain like quinoa or millet in place of the bulgur and to make vegan, ditch the goat cheese.