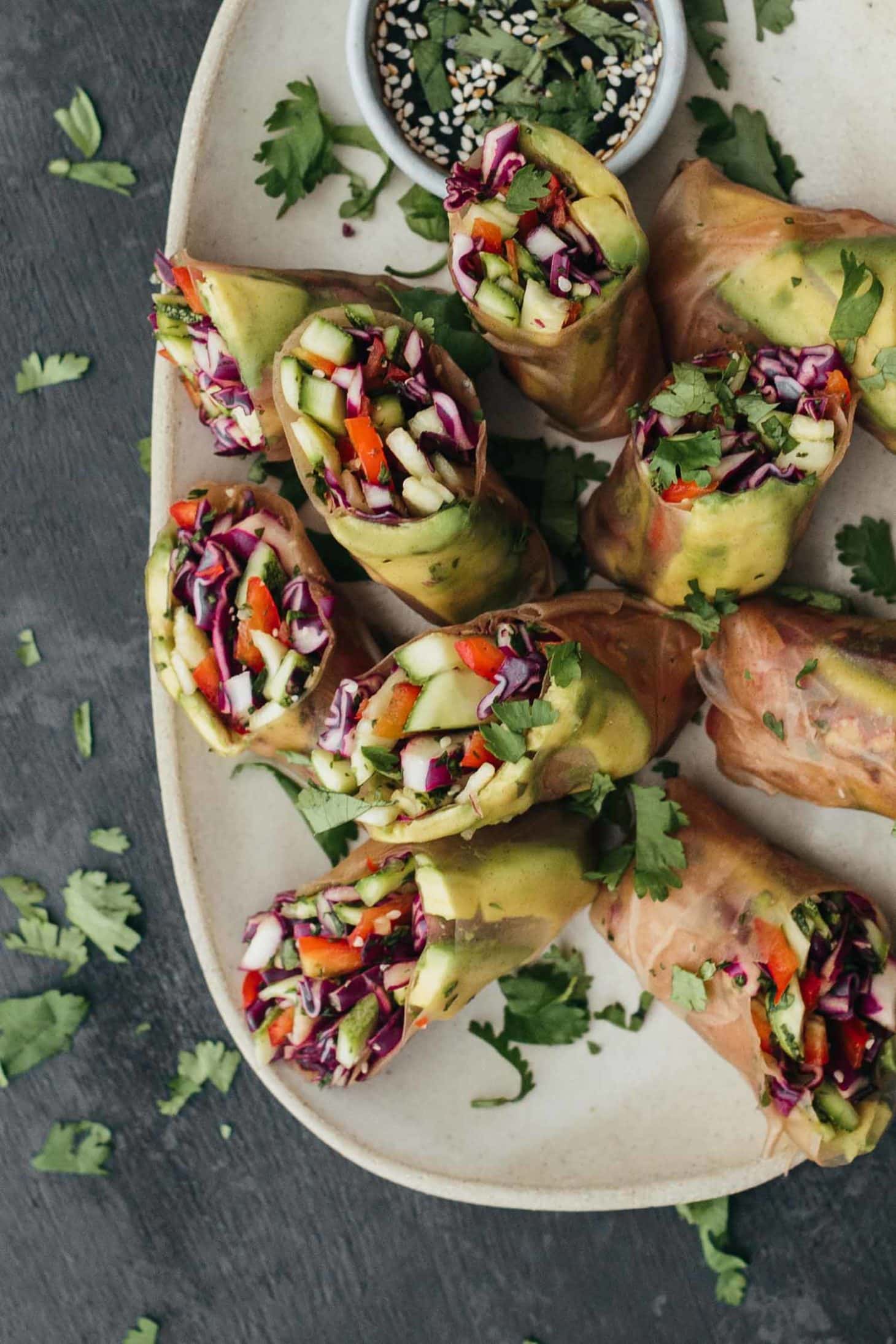 I love cooked zucchini when done well. Grill it, roast it, or sauté it- there's so many options. However, I often forget how great zucchini is raw, especially with herbs in a fresh summer recipe. These zucchini summer rolls really show this well. The zucchini is left in strips that are tossed in a wonderful herb mixture that's finely minced and coats the zucchini/cabbage mixture. Perfect for a light lunch or road-trip snack.
Also, I didn't specify a sauce for these but a few different ones would work. Try a simple soy/rice vinegar/sesame mixture or step up your game with a tahini sauce. The flavors work well with many different kinds so find which type of sauce works best for you!
Print
Herbed Zucchini Summer Rolls
Fresh summer rolls featuring zucchini tossed with shredded purple cabbage and a lovely garlicky herb mixture. Perfect for a light lunch or quick road-trip snack!
Author:
Prep Time:

30 minutes

Cook Time:

0 minutes

Total Time:

30 minutes

Yield:

4

servings

1

x
Cuisine:

lunch
Ingredients
¼ cup

lightly packed basil

3 tablespoons

cilantro leaves and stems

1

clove garlic

1 teaspoon

minced ginger

1

medium zucchini/yellow squash

3

to

4

small sweet red peppers

2 cups

shredded cabbage

1 tablespoon

soy sauce

1 tablespoons

sweetened rice wine vinegar

1

large just-ripe avocado, pitted and cut into

¼

8

rice paper wrappers
Toasted sesame seeds, for serving
Instructions
Place the basil, cilantro, garlic, and ginger on a cutting board and chop until everything is finely minced and well combined (as if you were making a gremolata).
Cut zucchini and peppers into 2" long strips (the zucchini should be roughly ¼" thick) or alternatively, turn your zucchini into noodles. Place in a bowl along with the the shredded cabbage. Add the herb mixture along with the soy sauce and rice vinegar. Toss until everything is well combined.
Prep a summer roll rolling station: Set up your spring roll rolling station with the pan of water, cabbage mixture, sliced avocado, and the rice paper wrappers. Add a bit of extra water if it is too hot- the temperature should be hot but not scalding.
Soak the rice paper for 10-15 seconds, just until the rice paper starts to soften (this will depend on hot the water is). Place rice paper on a cutting board and load with a mound cabbage and a few slices of avocado. Roll, tuck, and fold in sides as you go. Continue with remaining ingredients.
Slice in half and serve with a small bowl of soy sauce if desired.
Notes
Tips & Tricks: I love to pack these summer rolls for a road trip. Wrap them in a damp towel and place in a sealed container for up to 48 hours.
Stock up: get the pantry ingredients you will need: herbs, avocado, zucchini
Nutrition: see the information.
Nutrition
Serving Size:

2 summer rolls

Calories:

227

Sugar:

4.5

Sodium:

267

Fat:

7.8

Saturated Fat:

1.1

Carbohydrates:

39.5

Fiber:

7.7

Protein:

3.5

Cholesterol:

0
Zucchini Summer Rolls
variations
I've not really changed the mixture but rather, there's a few add-ins I think work well. These summer rolls are good but if you're looking for something filling, I'd recommend bulking them up a bit.
Noodles/Noodle Bowl: I love rice noodles added to my summer rolls. They help bulk up the meal and soak in all the flavors. You could also ditch the rice papers and have just a noodle bowl with the ingredients above, adding a splash or two more of the soy sauce and rice vinegar.
Spice: Sambal Oelek or Sriracha are lovely in the cabbage mixture. Add a small bit, taste, and add more if you desired a stronger heat level.
Tofu: A great way to add protein to the mix!