I am madly in love with this dish.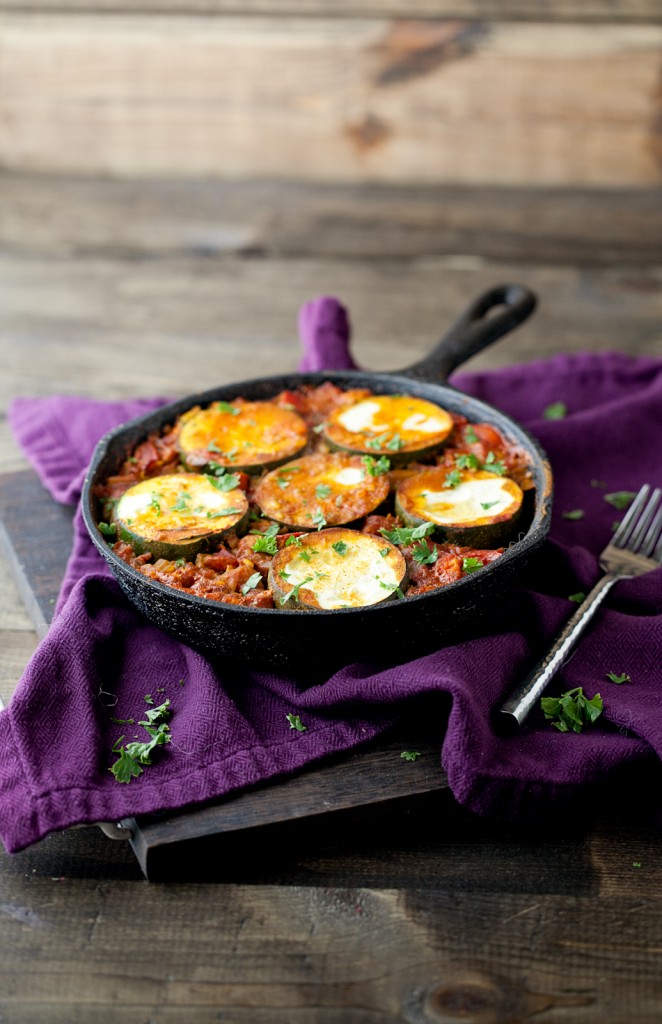 Paella has been on my "to-make" list for awhile but again like many items, it always seems like too much effort or too many exotic ingredients.  So, I never took my desire to make it seriously.
Until Alex and Sonja made the dish for me the first night I was in Indianapolis.  The flavor of the pimentón (Spanish smoked paprika) paired with the rice and veggies was perfect.  Not only that, the dish is vegan and gluten-free.  After that meal I was half tempted to move to Indianapolis just so we could have weekly paella dinners.  (Just kidding, but only slightly...)
But alas I'm still four hours away from Indy and the only way I was going to get more paella was to make it for myself.  In fact, Alex was even nice enough to grab me some pimentón to take home.  I really had no excuse.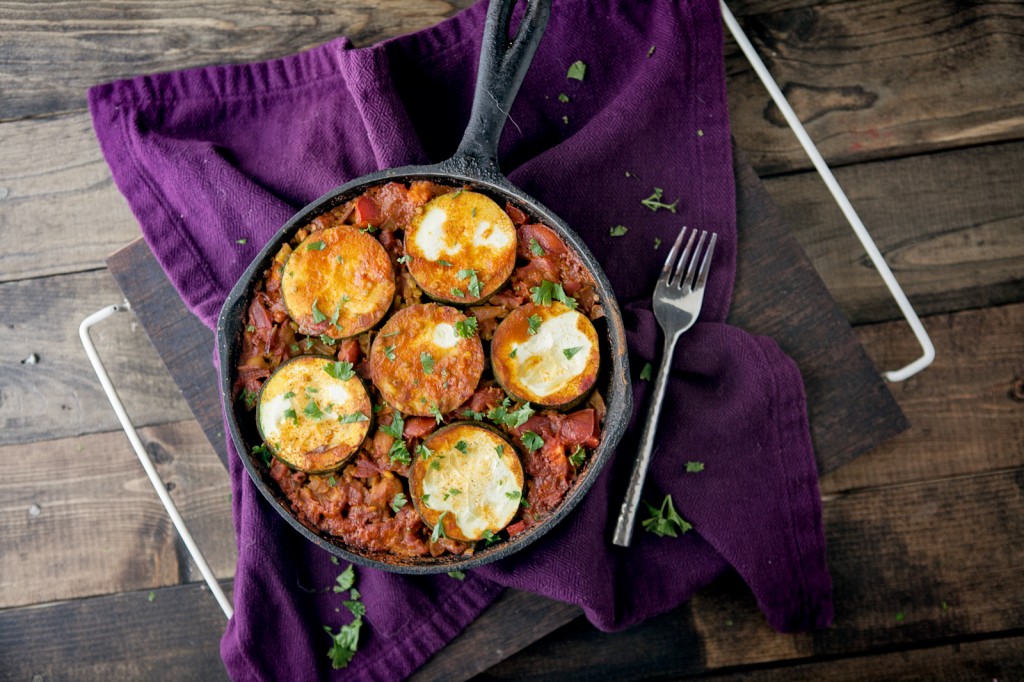 I waited until I could get everything from the CSA and since I'm always looking for more zucchini recipes, I decided to replace the artichokes with thickly sliced zucchini and I used fresh tomatoes instead of the canned.  Everything worked out perfectly for my 8" cast iron skillet (can you tell I'm excited about my antique store find? Two cast iron skillet dishes in one week!)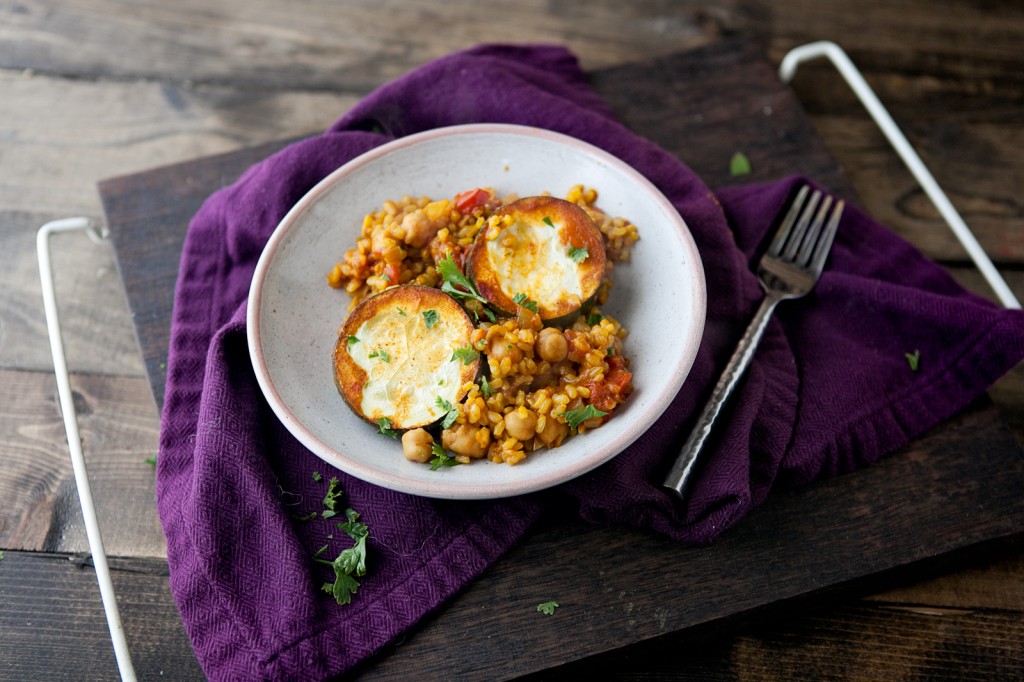 Be sure to pop over to A Couple Cooks for the original recipe and some helpful hints on making this!  You can find pimentón at stores like Fresh Market or Whole Foods.   Also, if you are in the market for cast iron skillets, I highly suggest you check out your local antique stores!  I bought mine for relatively cheap and I've been wondering how I've lived my life for so long without small cast iron skillets!
(Also, be sure to check out their recipe/instructions for how to do Paella on the grill- perfect for the warm summer weather!)
Print
Zucchini (Summer) Paella
Alex and Sonja suggest using saffron in place of the turmeric to be more authentic; however, as long as you use the pimentón you should loose flavor!
Author:
Prep Time:

10 mins

Cook Time:

50 mins

Total Time:

1 hour

Yield:

1

-2

1

x
1 tablespoon

olive oil

1

clove garlic, minced

1

shallot, diced

½ tablespoon

smoked paprika (pimentón)

1 teaspoon

tumeric

½ cup

short grain brown rice

¾ cup

diced tomatoes (about

1

large one)

2 tablespoon

water

½ cup

chickpeas (drained/rinsed if using canned)

½ teaspoon

salt

½ teaspoon

pepper

1 ¼ cup

vegetable broth

5

-

6 ½

" slices zucchini
Instructions
In a 8" cast iron skillet, heat 1 tablespoon of olive oil over medium heat. Stir in diced shallots and minced garlic, cooking for 4-5 minutes. Next, add ½ tablespoon smoked paprika, 1 teaspoon tumeric, and ½ cup brown rice; cook for one minute.
Next, add the roughly diced tomato, two tablespoons water, ½ cup chickpeas, and ½ teaspoon of salt and pepper. Give a good stir and cook until tomatoes start to boil, 3-4 minutes.
Finally, carefully pour in 1 ¼ veggie broth and layer zucchini slices on the top of the dish, lightly pushing the zucchini in to the dish. (The broth will be up to the edge of the pan but will reduce down from there.) Bring broth to a boil and the reduce to medium-low.
Continue to let cook without stirring until rice has absorbed almost all the liquid, roughly 40 minutes. Remove from heat and let sit for 5-10 minutes before serving. Water should be completely absorbed and paella should look crusty on top!
More recipes you may enjoy
Reader Interactions