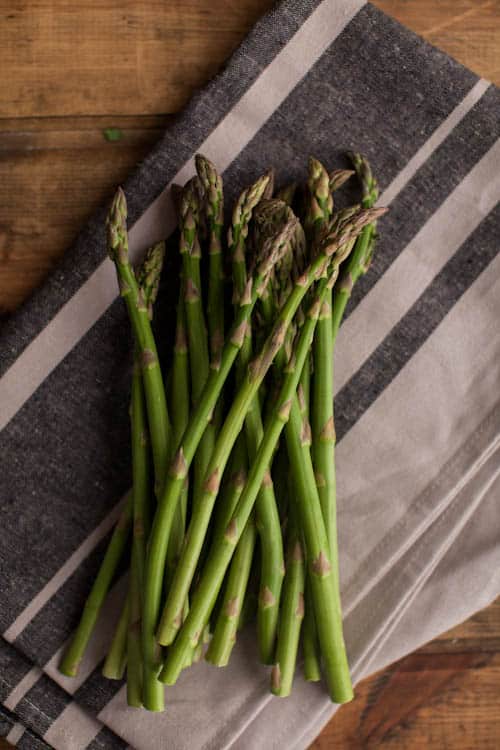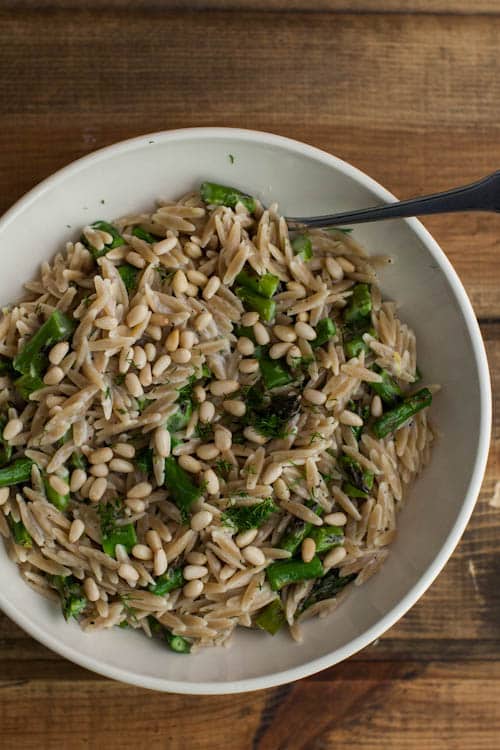 One of the things I miss about the midwest is the slow transition into spring. I know I've been showing (flaunting) all the wonderful weather in California but coming home to Illinois for a few days made me realize how much I appreciate the renewal season a bit more when it comes on the heals of a cold winter and takes it's sweet time of arriving.
While home I was able to pop in and visit my close friend who has done me proud (hi Brittany!) She has a garden, a cute chicken coop, and horses. She's probably lucky I didn't just move in with her (because she also has the cutest 2 year old that has more spunk than five adults put together.) It was so fun to see everything and while her garden is slowly arriving, the asparagus has shot up.
This pasta dish is one of my quintessential spring dish (right along with the ricotta gnocchi with peas and herbed-lemon butter I whipped up for The Kitchn). Crème Fraîche is slightly newer to my kitchen but I'm finding 101 ways to use it. The tang is a the perfect compliment to the brght lemon and sweet honey. Plus, it makes for a creamy pasta dish without a lot of hassle!
Print Grilled Asparagus Orzo Pasta
---
Asapragus

½

lb Asapragus, end trimmed off

1 tablespoon

olive oil
Pasta

2 cup

whole wheat orzo

¼ cup

creme fraiche

2 teaspoons

minced dill

2 teaspoon

honey

1 teaspoon

lemon zest

¼ teaspoon

salt

¼ teaspoon

pepper

3 tablespoons

toasted pine nuts
---
Instructions
Light grill and bring heat to medium-low. Toss asparagus with olive oil and place directly on the grill or on a grill pan. Cook asparagus, rotating occasionally, until tender and lightly charring, 7-8 minutes. Remove from grill, chop into smaller pieces, and place in a bowl.
Bring a pot of water to a boil with a pinch of salt. Add orzo and cook until just tender, 7-9 minutes. Drain and add orzo to asparagus.
In a small bowl, whisk together creme fraiche, dill, honey , lemon zest, salt, and pepper. Pour over the still-warm orzo and stir until well combined. Sprinkle with toasted pine nuts and extra dill. Serve warm.
---
Notes
For added protein grill some tofu or add some white beans
[Recipe developed and first appeared in San Jose Mercury News]