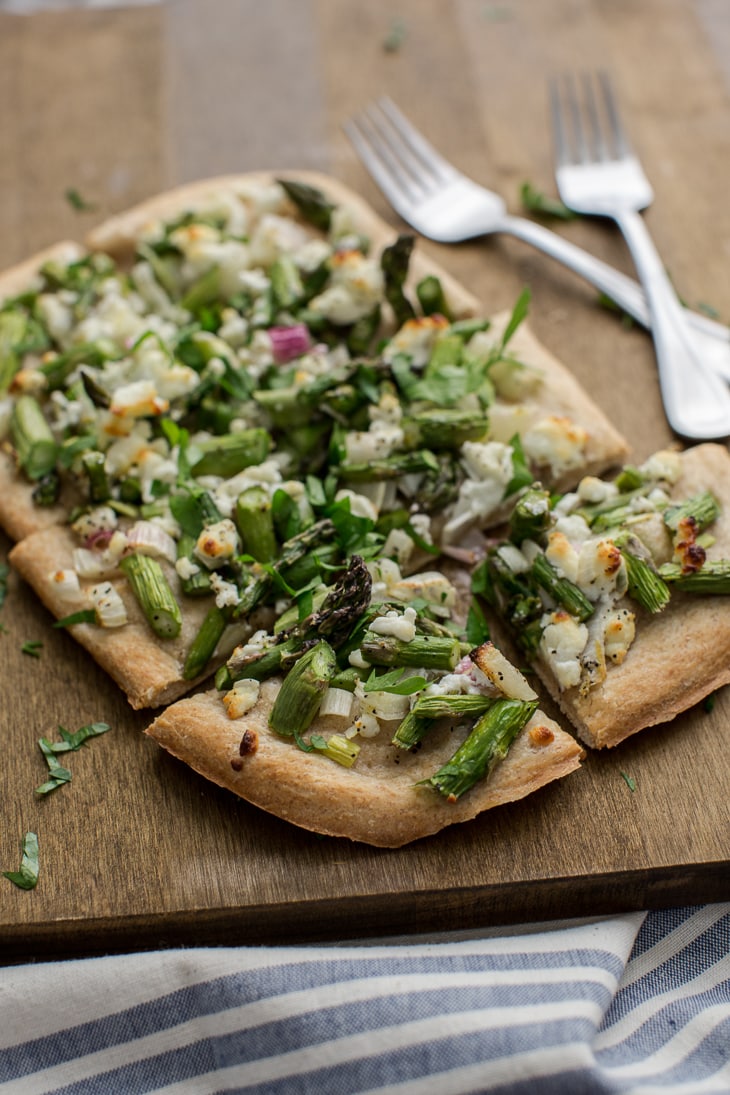 I have to partially walk back a thing I said a month or so ago when I was talking about preparing for time after baby M is born, specifically freezer meals. I made mention that I hate freezer meals and rarely (read never), keep any full meals in the freezer. My addendum: pizza dough. At least once a week we're eating pizza or flatbread for dinner and almost always I make up a big batch of dough and freeze portions I can easily grab out and thaw. That makes recipes like this one (and this Mediterranean flatbread) super easy to throw together on a busy night.
Specifically for this recipe, if you can, seek out spring onions. They are the less mature version of traditional onions but have a slightly more mellow flavor (perfect for pairing with asparagus). Also, if you aren't the biggest fan of goat cheese, try melting some Harvarti on top or shaving some thick slices of parmesan after baking.

On a different note, over the years I've managed to meet in person and online quite a few amazing people who love food just as much as I do. I have to say it's been one of the best things about blogging because there is so much talent and inspiration out there that I feel lucky to surround myself with it on a daily basis. A few of these people came together yesterday to throw me a virtual baby show full of easy vegetarian meals. I couldn't feel more loved and I have to say, these recipes are absolutely perfect. Be sure to check them out and gives these people some love, because they are all amazing.
A Couple Cooks | Breakfast Parfait with Roasted Strawberries
The Fauxmartha | A Pasta Dish for Busy Hands
Edible Perspective | Avocado Pesto Chickpea Salad Sandwiches
Eat This Poem | Penne with Cherry Tomatoes and Arugula
Cookie and Kate | Brussels Sprouts Pizza
FoodieCrush | Beet, Avocado and Fried Goat Cheese Salad
The Bojon Gourmet | Tempeh BLTs with Avocado + Chipotle Mayonnaise
Girl Versus Dough | Spiced Lentils with Poached Eggs
Dolly and Oatmeal | Chickpea Bean Bowl with Toasted Bread Crumbs and Dill Tahini
Food Loves Writing | Erin's Veggie Burgers
With Food + Love | Creamy Polenta with Crispy Beets
London Bakes | Ricotta Gnocchi with Wild Garlic and Pistachio Pesto
Flourishing Foodie | Glazed Tofu with Ramen
This Homemade Life | Chickpea Greek Salad
My Name is Yeh | Creamed Spinach
Brooklyn Supper | One-Pot Pasta Primavera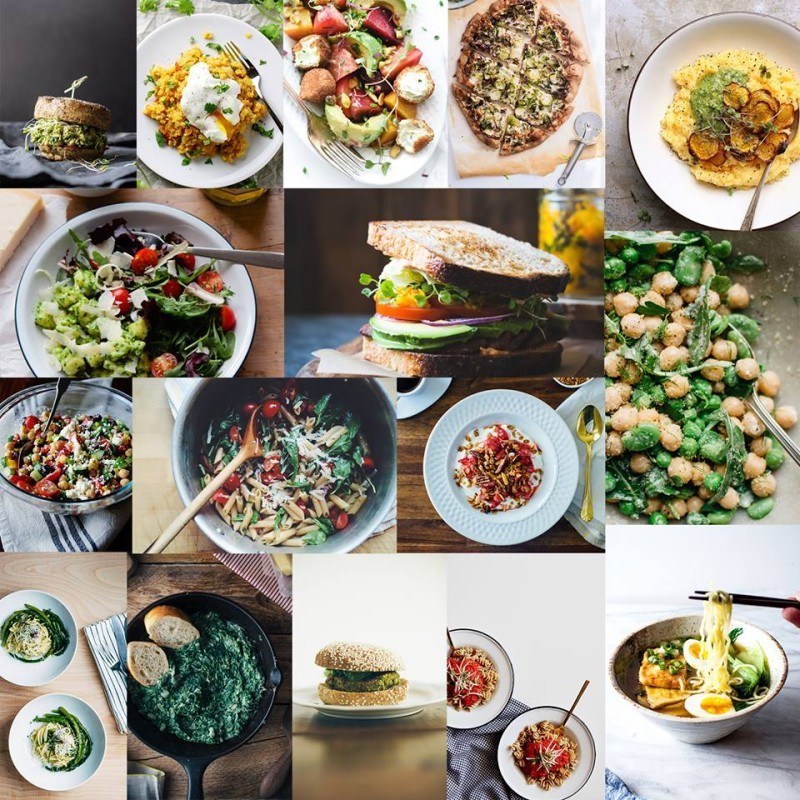 Print
Spring Asparagus Flatbread
Author:
Prep Time:

10 mins

Cook Time:

15 mins

Total Time:

25 mins

Yield:

2

servings

1

x
½

pound asparagus

⅓ cup

diced red spring onion

2 teaspoons

olive oil, plus more for the dough

1 tablespoons

lemon juice

1 teaspoon

lemon zest

¼ teaspoon

sea salt

¼ teaspoon

black pepper

2 ounces

goat cheese

½

ball pizza dough (enough for

2

people)
Instructions
Minced flat-leaf parsley, for serving 1. Preheat oven to 450 degrees.
Cut asparagus into ½-inch pieces. In a bowl, combine the asparagus with the onion, olive oil, lemon juice, zest, salt and pepper. Crumble in the goat cheese and toss to combine.
Roll out the pizza dough into an 8-by-12-inch rectangle. Transfer to an oiled or parchment-lined baking sheet.
Rub dough with a little olive oil. Spread the asparagus mixture over the dough. Bake for 12 to 15 minutes, or until crust is crisp. Cut into pieces, sprinkle with parsley and serve