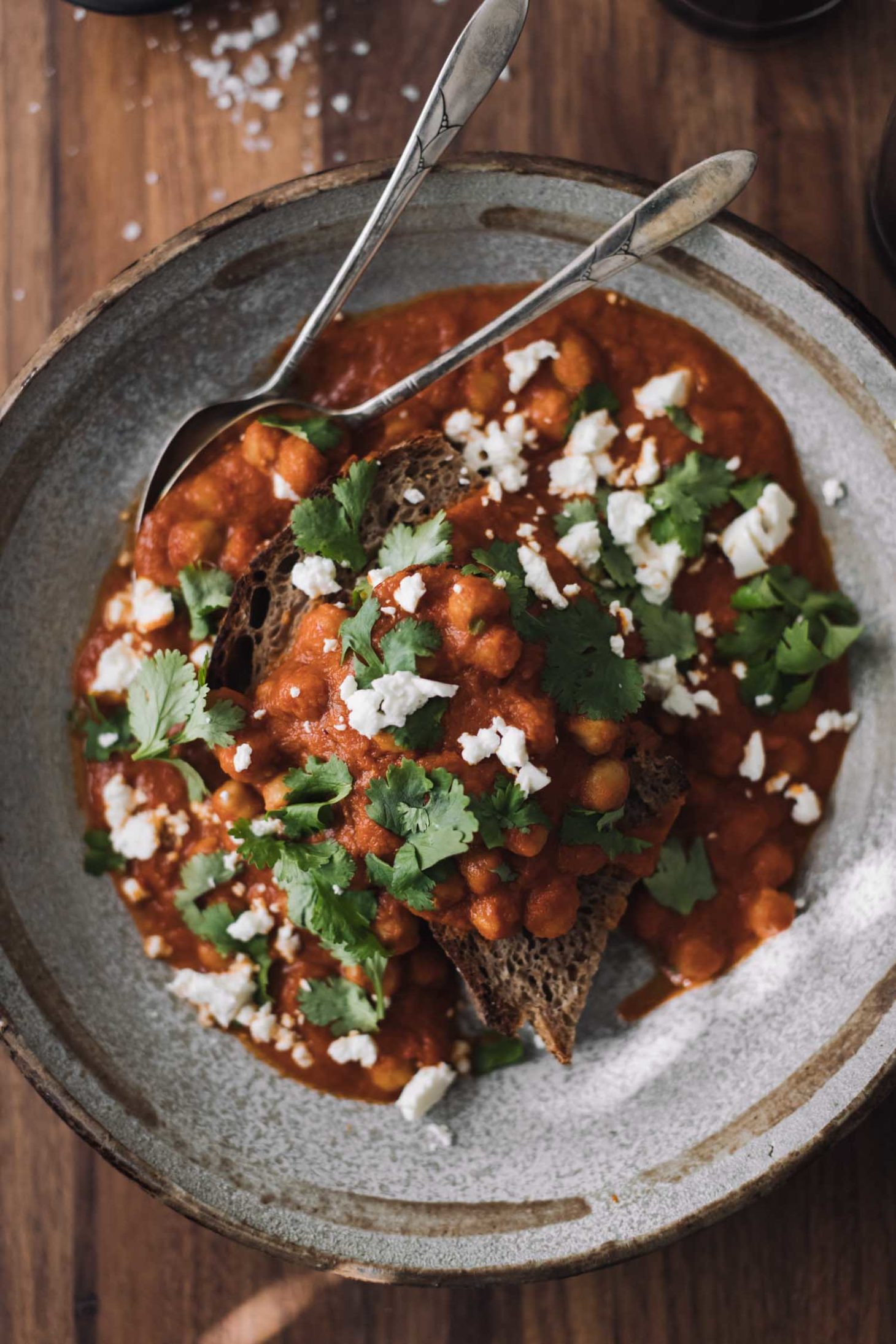 I like every recipe I post on this site. There are countless recipes that never see the light of day. They are probably good, I just don't like them. On the opposite side of the spectrum, there are recipes I love. Like, I could eat this everyday kind of love. These chili chickpeas get that kind of love.
The sauce is really where the recipe comes together. Dried chilis paired with tomatoes and finished with a boost of lemon; it's hard to go wrong. Also, just a note. It could be chili or chile peppers (and there's a fascinating read on this from the LA Times.)
Dried Peppers, your friend
If it wasn't for having a husband and small child opposed to any level of heat in a recipe, I'd use dried chilis for every meal. I already kind of do this through adding crushed red pepper on top of everything I eat. At least with dried chilis, there is a myriad of flavor and heat.
I found when writing this recipe out I had a hard time landing on which chilies to include. I had picked up a bag at the market. The chilies in this bag were not labeled but I believe they were mild red hatch peppers. So, I'd like to just say: find dried chilies with mild heat.
Which chilis have mild heat, you ask? I'm not an expect on this but Saveur has a good base of what to look for in chilies. Once you find your dried chilis, you also need to know how to prep them for a recipe.
Bean Swap
Once you figure out which chili you should go with for the recipe, the rest doesn't matter (just kidding, kind of). However, the chickpeas in this recipe are not paramount. Use what you have on hand. Big, meaty white beans would be the next logical choice followed closely by a creamy pinto.
Vegan it
You can swap the ghee for something vegan-friendly. However, and this is something I don't say a lot: the ghee really adds to the sauce. There's something magical that happens when chili peppers and ghee meet. But in swap pinch, olive oil would do. Also, drop the feta and probably add a bit more salt to make up for that.
Preserved Lemons
I lied when I said nothing else mattered because this dish isn't the same without the lemon. I shared recently about preserving lemons and many people questioned me on uses. Preserved lemons are great as a finishing flavor when the overall dish needs a bit of pick-me-up.
Of course, if you're not making your own preserved lemons or don't want to invest in buying some, lemon will work. Give the final dish a squeeze and small amount zest lemon.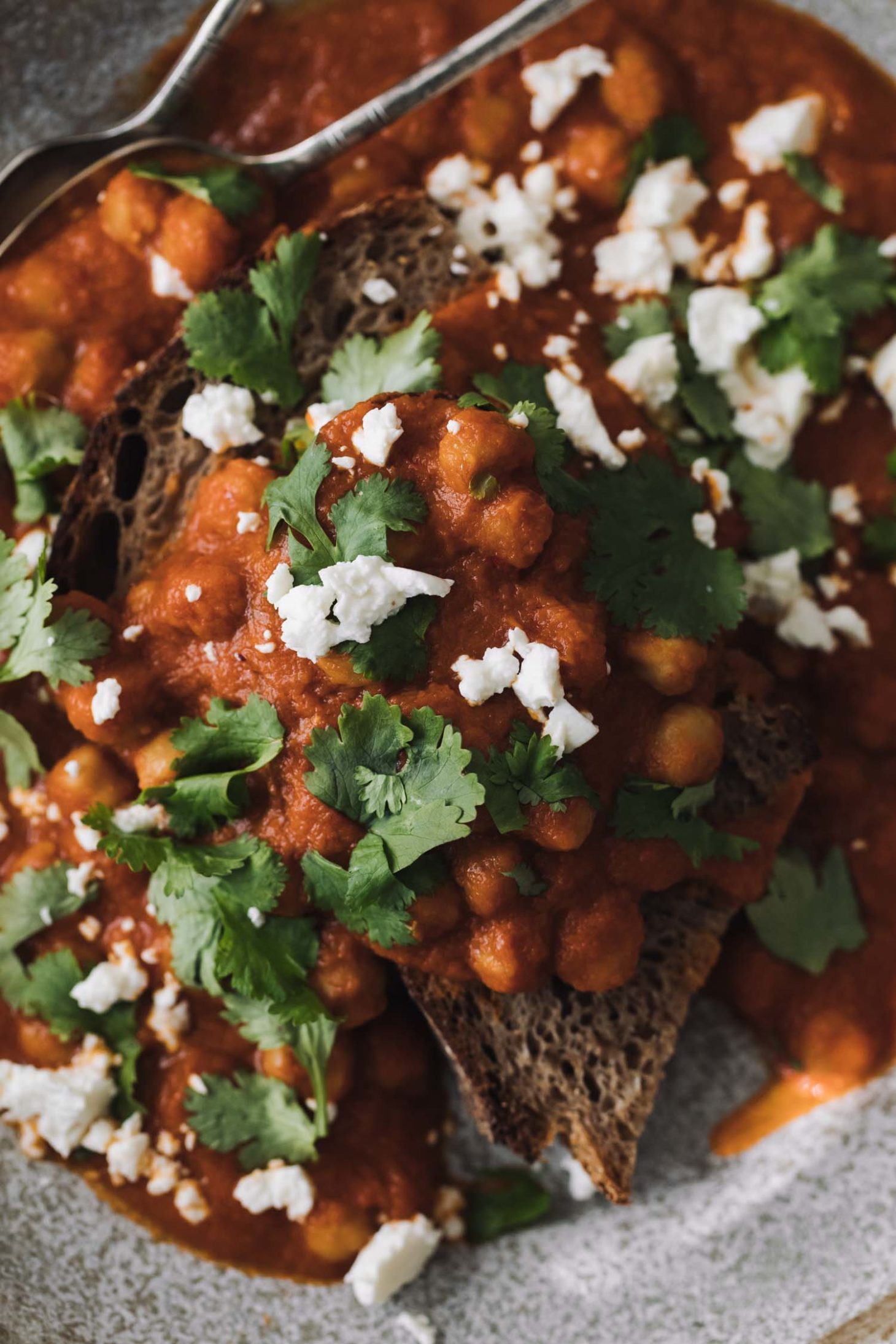 Print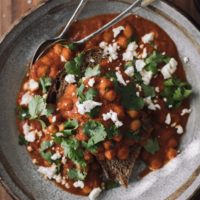 Chili Chickpeas over Toast
Author:

Prep Time:

20 minutes

Cook Time:

25 minutes

Total Time:

45 minutes

Yield:

2

servings

1

x

Category:

dinner

Method:

stovetop

Cuisine:

international
---
Chickpeas
3 med-large, mild dried chilies
2 tablespoons ghee
1 small yellow onion, minced
1/4 to 1/2 teaspoon sea salt
2 garlic cloves, smashed
1 teaspoon ground coriander
1, 15oz can stewed tomatoes
1 tablespoon tomato paste
1 ½ cups cooked chickpeas (drained and rinsed if using canned)
½ preserved lemon, minced
For serving
2 thick pieces of toast, for serving
Cilantro, for serving
Feta, for serving
---
Instructions
Before starting, bring water to a boil. I like to use my tea kettle but water in a pan would work as well. Remove the stem and seeds from the chili peppers. Place the chilis in a bowl and cover with the boiling water. Let rest for about 20 minutes. Once softened, chop into smaller pieces.

Heat a dutch oven or skillet with high sides over medium heat. Add the ghee followed by the minced onion and a pinch of salt. Cook the onion until fragrant and translucent. Stir in the chopped chilis and minced garlic, cooking for one minute more.

After the aromatics are on their way, add the coriander, stewed tomatoes, and tomato paste. Bring to a boil, reduce to a simmer, and cook for about 10 to 15 minutes or until the tomatoes are starting to break down. Carefully transfer the mixture to a blender and puree until smooth.

Return the sauce to the pan and add the chickpeas. If the sauce is on the thick side, add a splash or two of water as needed. Cook the chickpeas in the sauce until the sauce and chickpeas are hot.

Finally, remove from heat and stir in the minced preserved lemon. Taste and add salt as needed. Place the toast in shallow, wide bowls and top each with the chickpea mixture. Finish with a sprinkle of feta and cilantro.  
---
Notes
Look for dried chilis that mention being mild or under about 3,000SHU.
Also, I would highly recommend using coriander seeds that you should toast and crush right before using. The flavor is even better. Also, if you're in the business of toasting things, try toasting the chilies as well, before soaking.
Keywords: chili chickpeas