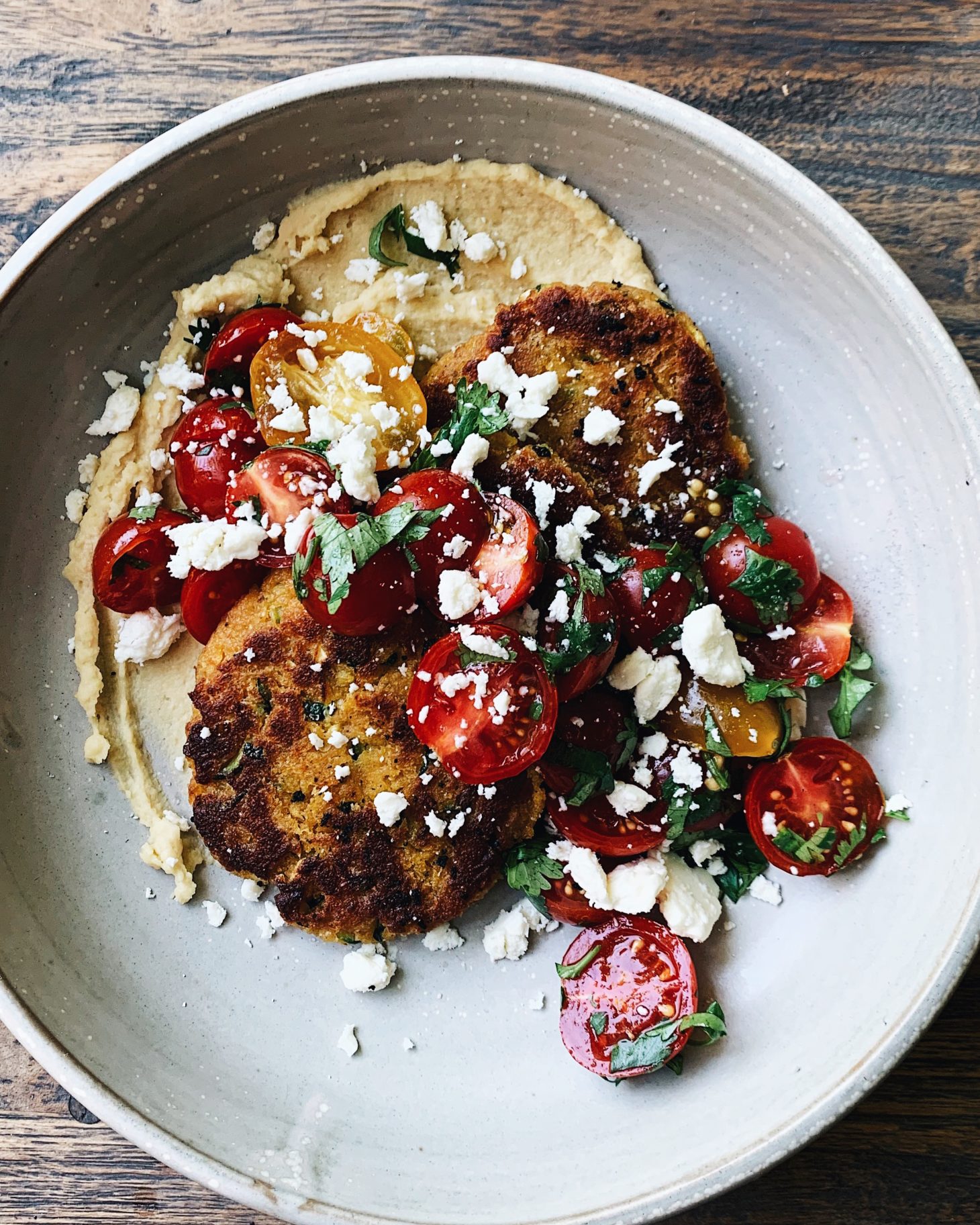 I have another recipe that started as an instagram-only recipe but rightfully deserved a place on the site. Lentils are a staple in my kitchen and one ingredient that people always want more inspiration for (because you can only eat so much lentil soup!)
Zucchini and other alternatives
Obviously I realize zucchini season is coming to an end but if you're like me, there's still a bit of summer produce hanging on. These fritters work perfectly with raw zucchini. However, I think you could do a similar concept with shredded winter squash or root vegetables.
The spread
Really this dish comes together because of the spread- I'd highly recommend not skipping it. I usually turn to hummus for this job but really any kind of spread would work. Think romesco, pureed vegetables, or whipped feta or goat cheese.
Vegetable Salads, for topping
The final part of this bowl is the fresh topping. During summer this is easy: tomatoes, cucumber, loads of fresh herbs; it's hard to go wrong. During the cooler months I like to do a salad with hearty greens or even a pile of roasted vegetables.
A note about vegan
I did not try this but I think you could totally turn this into an easy vegan meal. Use your favorite egg replacer (think flax-egg) then serve over a vegan spread and top with more fresh vegetables. It's hard to go wrong!
Print
Zucchini Lentil Fritters with Spread and Extra Veg
Author:
Prep Time:

10 minutes

Cook Time:

35 minutes

Total Time:

45 minutes

Yield:

4

servings, 3 to 4 lentil fritters each

1

x
Category:

dinner

Method:

stove-top
Fritters
½ cup uncooked red lentils
2 cloves garlic, peeled
1 ½ cups vegetable broth
½ teaspoon ground cumin
½ teaspoon ground coriander
¾ pound zucchini, grated
¼ teaspoon sea salt
¾ cup breadcrumbs (or flours)
1 large egg
Oil, for frying
Bowl Finishings
Spread, for serving (hummus, romesco, baba ganoush, or whipped feta)
Vegetable Salad, for serving (I used tomatoes tossed with olive oil, cilantro, and salt)
Instructions
Combine lentils, garlic cloves, and broth in a pot. Bring to a boil, reduce to a simmer, cover, and cook until lentils are falling apart, about 25 minutes. Let cool then remove garlic clove.
Place zucchini in a sieve and sprinkle with about 1 tablespoon of salt. Let drain for about 10 minutes then squeeze out as much moisture as you can. Place in a bowl with the lentil mixture, spices, breadcrumbs, and egg. Stir to combine. Shape into thin, 3" wide patties and fry over medium heat in a thin layer of oil. Repeat with all the mixture.