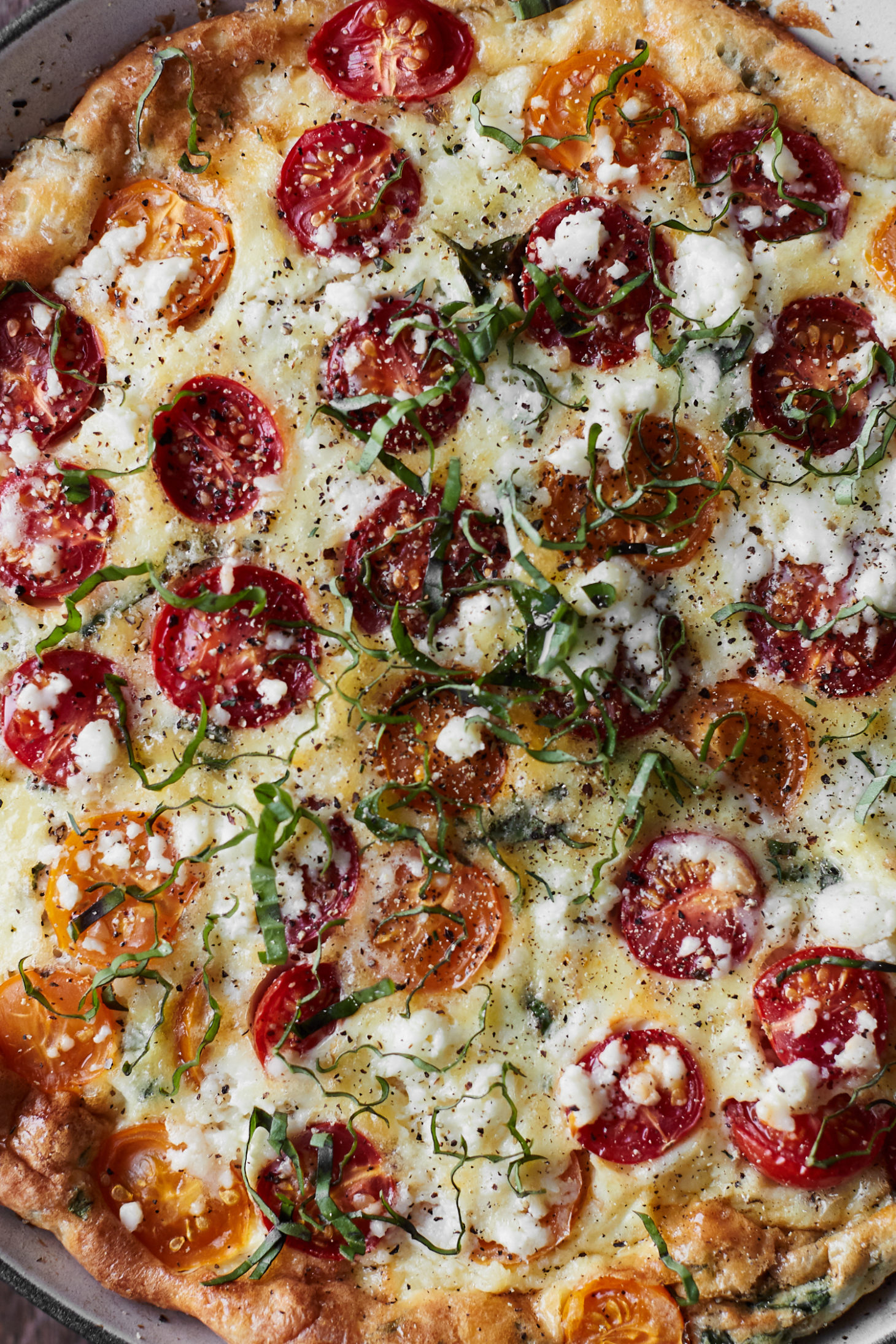 I realize that by mid-September, the feel of fall is in the air. The temperatures are dropping, the trees are just beginning to change, and we've had months of summer produce. And yet, here I am, sharing a tomato recipe. I actually find this time of year magical. It's the time when summer and fall produce overlap. It's also the time when I get to make recipes with summer produce that use a hot oven.
The Frittata
I stick fairly close to my original frittata recipe. I've found there are many ways and proportions to make a frittata but I love mine a bit more on the egg-heavy side (think just one big, open-faced omelette). Over the years I've changed my fat to use heavy cream versus whole milk. I find it really creates the perfect, smooth texture.
Also, if you have leftovers you can reheat the frittata in the oven or you can turn the frittata into a tasty grilled-cheese sandwich.
Summer or Fall Vegetables
As mentioned, I'm living my best late-summer life right now. However, as I've mentioned before in other frittata recipes, it's one of the ultimate base-recipes. Frittatas can really support most seasonal produce. Ready to jump into fall? Try adding roasted or steamed squash, sweet potatoes, or greens.
I also love to top frittatas with salads. Try a simple arugula salad dressed with a vinaigrette. The arugula will slightly wilt on-top, creating the perfect cooked/fresh combination.
Grains (and GF swaps)
Similar to the produce, grains are interchangable. I usually use leftover grains from dinner or quick cooking grains like bulgur or quinoa. I will also say, I like grains to be a big part of this frittata. However, you could easily back-off and use only half of a cup. This way the grains are more of a partner and less of a star.
Print
Bulgur Tomato Frittata with Feta
Author:
Prep Time:

15 minutes

Cook Time:

30 minutes

Total Time:

45 minutes

Yield:

3

to

4

servings

1

x
Category:

breakfast

Method:

oven
Ingredients
Egg Base
1 tablespoon ghee (or olive oil)
6 large eggs
¼ cup heavy cream
¼ cup basil, plus extra for topping
½ teaspoon sea salt
¼ teaspoon black pepper
Filling
1 cup cooked bulgur (see note)
1 ½ cups halved tomatoes
⅓ cup crumbled feta, plus extra for topping
Instructions
Preheat oven to 425˚F. Whisk together eggs, cream, basil, salt, and pepper. Add ghee into an 8" high-sided skillet over medium-low heat. Pour in the egg mixture and let cook/sit for 3 to 4 minutes, until the bottom has started to set.

Sprinkle the bulgur into the egg mixture and then place the tomatoes on top (either haphazardly or neatly- it's up to you). Finish with the feta right before you put the frittata in the oven.

Transfer to oven and bake for 15 to 18 minutes until frittata is completely set- it should be puffed and the cheese should be browning. Sprinkle with extra parsley before serving.
Notes
Note
For 1 cup cooked bulgur, combine ½ cup uncooked bulgur with 1 cup water. Bring to a boil, cover, and cook for about 8 to 10 minutes. Turn off heat and let sit for another 10 minutes then fluff and use.
Keywords: tomato frittata