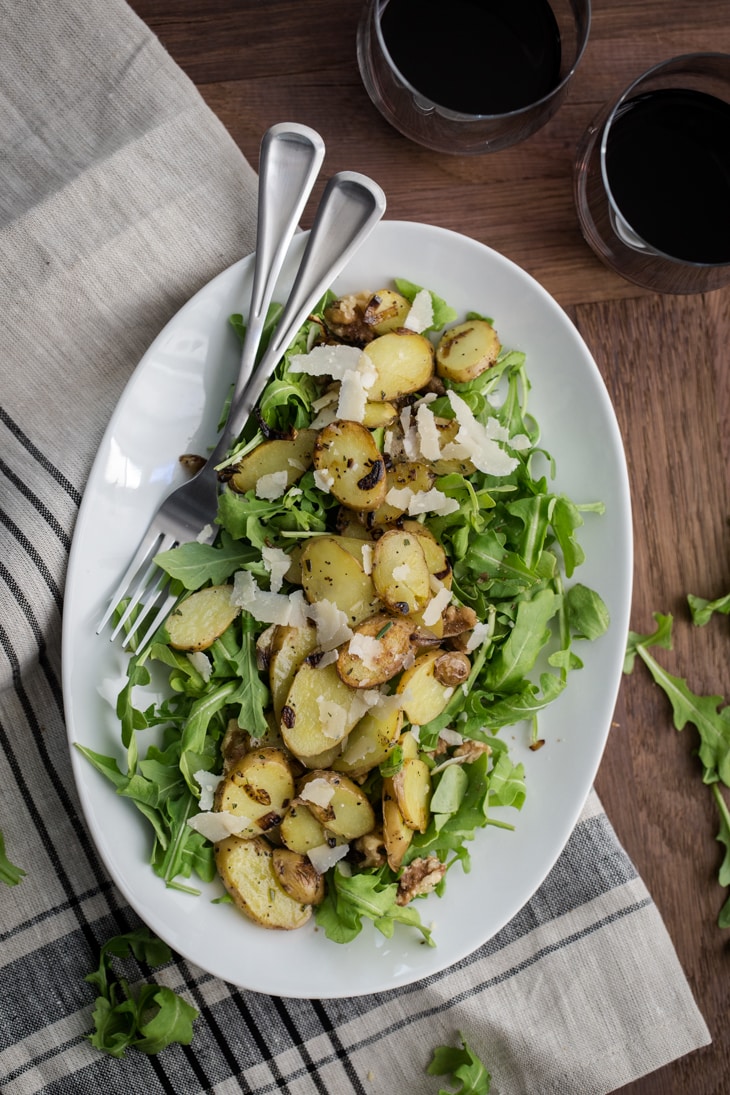 I wish I had lovely things to tell you about this arugula salad but at this point in time, my brain is filled with projects I need to complete in the next few weeks, recipes I want to make sure I have done so that the blog doesn't sit empty for the months after the baby is born, and of course, everything baby. When I left grad school I thought for sure that would be the last time in my life I would be studying and reading but it turns out when one has a baby, there's more information than one can feasibly read. M and I have picked our battles, been reading together, slowly assembling the nursery, and as of last Sunday- I'm ¾ of the way there (yeah, 30 weeks!) I'm feeling good, taking naps, and really have nothing to complain about (besides the heartburn that comes with the spicy food I can't seem to stay away from!)
So this arugula salad is an arugula salad. That's what I have to say about it. I'm still in a bit of a potato loving mood (but not near as bad as the beginning of this pregnancy.) I've moved on to finer things like oatmeal smothered in strawberries and the occasional cup of coffee (because it finally taste good again). I imagine this salad is going to be a staple this summer. Instead of roasting the potatoes, I'll toss them in a bit of foil and cook them on the grill along side whatever we happen to be cooking that night (hooray for grilling season!)

Print
Warm Potato Arugula Salad
½

pound fingerling potatoes

1 tablespoon

olive oil

1

small shallot, diced

¼ teaspoon

sea salt

¼ teaspoon

black pepper

2 teaspoons

fresh rosemary

4 cups

baby arugula

¼ cup

toasted walnuts

¼ cup

shaved Parmesan (see note)
Dressing

2 tablespoons

olive oil

1 tablespoon

lemon juice

1 teaspoon

honey
Salt, pepper, to taste
Instructions
Cut fingerling potatoes on the bias into ¼-inch-thick slices. Blanch in boiling water for 4-5 minutes, until just tender but still holding their shape.
In a skillet, heat olive oil over medium-low heat. Add shallot, blanched potatoes, salt and pepper. Cook until the potatoes have started to brown and are soft, 10 to 12 minutes. Stir in rosemary; cook for a minute more.
Combine the arugula, potatoes, walnuts and Parmesan. In a small bowl, whisk together dressing ingredients; pour over the salad, and toss until everything is well-combined.
Notes
*If you can find parm made with vegetarian rennet, sub in your favorite veg-friendly cheese.