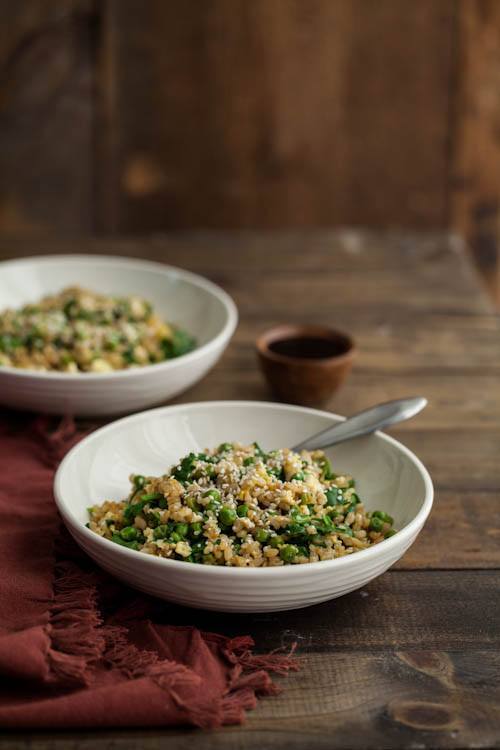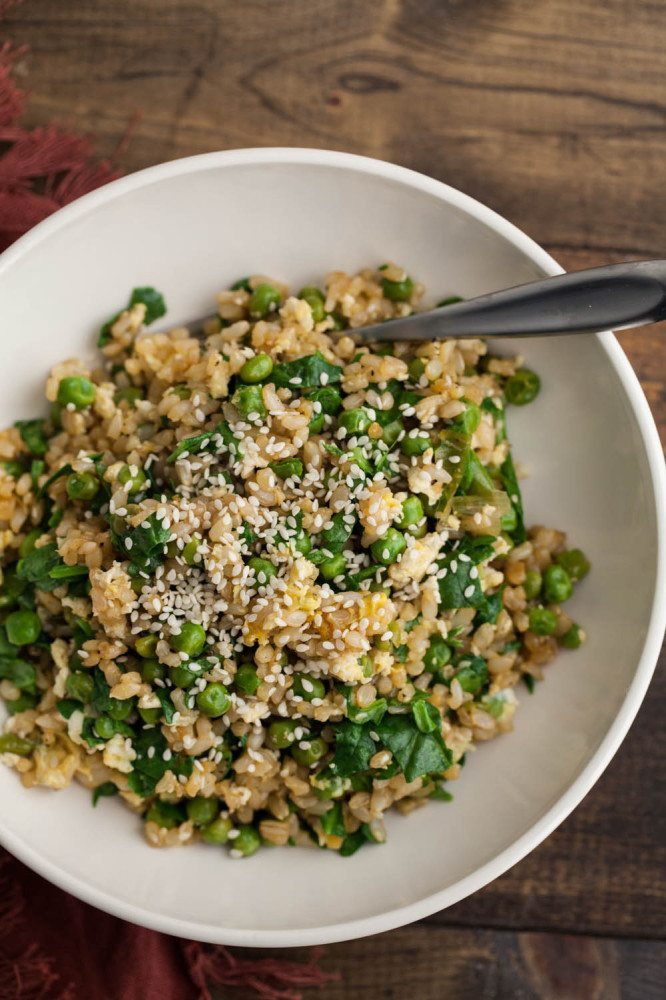 For a long time in my life, I hated one bowl meals (I know, it's a strange thing to hate.) I think I loved having choices on my plate from the main part of the meal to the sides. However, when I started eating vegetarian, the sides soon stole the show and became the main part (and really the only part) of the meal. Now? I can't get enough. Rice bowls, noodle bowls, any type of grain bowls- you name it, I probably love it. It's a pretty simple equation: a hearty base, followed by vegetables, a bit of protein, and sauce (we love sauce around our house.)
M isn't a big fan of brown rice (a fact I'm still learning to deal with) so this meal is often my lunch. Of all the grains, I almost always have quinoa and brown rice cooked and stored in the refrigerator for use throughout the week which makes this meal super easy to throw together. I'll also keep frozen peas on hand for the times I don't want to shell fresh peas or they aren't in season. Not pictured, however, is the nice drizzle of sriracha that happened right before eating!
Print
Spinach and Pea Fried Rice
Ingredients
2 tablespoons

peanut oil, divided

½

bunch scallions, including some of the green stalks, diced

1 cup

fresh shelled peas

2 cups

cooked brown rice

3 tablespoons

soy sauce

1 tablespoon

rice wine vinegar

1 tablespoon

mirin

1 ½ cups

shredded spinach

3

large eggs

2 tablespoons

sesame seeds

½ teaspoon

black pepper
Instructions
In a large skillet set over low heat, heat 1 tablespoon oil. Stir in diced scallions and peas, cooking until warm, 2 to 3 minutes. Stir in brown rice, soy sauce, rice vinegar and mirin, cooking for 2 to 3 more minutes to fry the rice. Add the shredded spinach, stirring and cooking until spinach starts to wilt slightly.
Create a large well in the center of the rice; add remaining tablespoon of oil. Whisk eggs in a bowl, then pour them into the well. Cook the eggs, stirring occasionally, until set, 3 to 4 minutes. Stir in sesame seeds and black pepper. Serve hot.
[Recipe originally developed and appeared in the San Jose Mercury Newspaper]
Similar Recipes