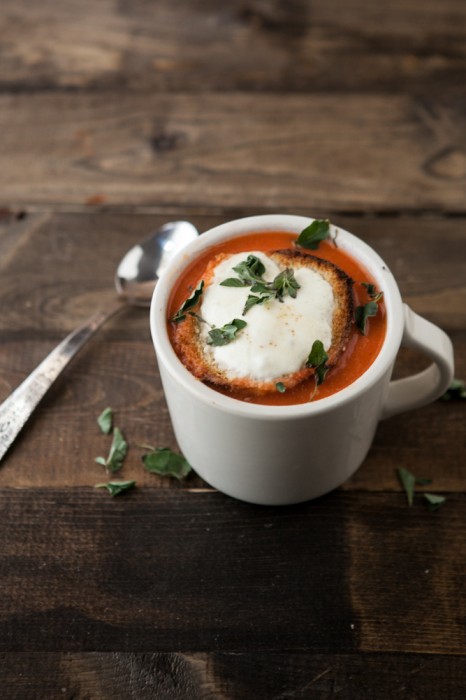 In the realm of time and blogs, I feel like I was slightly late discovering Sara's Sprouted Kitchen.  Once I finally found my way, I couldn't stop clicking through the recipes.  While at first my eyes were drawn to the photography, I continued to linger because of the unique approach Sara took to whole foods.  I was (and still am) enamored- it is clean, fresh, and above all, delicious.
It's not hard to think of one recipe from Sara's blog that I want to make.  The garnet pilaf has been patiently sitting on my list to make until sweet potatoes come back in season and the second work slows back down, her lentil meatballs are getting made.  Each recipe is a true inspiration and a testament that eating whole foods doesn't have to be complicated and can be fulfilling.
So it comes as no surprise that when The Sprouted Kitchen cookbook arrived in my mailbox, it was love at first sight.  Between Hugh's photography and Sara's recipes, the books is stunning (and I don't use that word lightly).
I opted to make the Roasted Tomato Soup first because soon tomato season will be winding down.  I love seeing how people take something traditional and add their own stamp.  Sara's version was really the perfect tomato soup.  The roasted garlic and onions accompany the tomatoes perfectly, without overpowering.  Plus, the cheese toast on top takes the traditional grilled cheese and adds it to the soup (which really, you can't go wrong)!  I also agree with the first sentence of Sara's notes to this recipe, "Simple things are usually the best."
This soup, and so many recipes in the book, are testaments to that statement.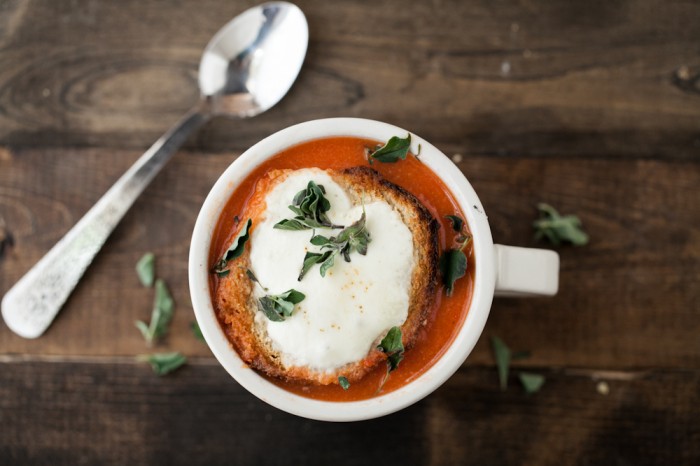 The Sprouted Kitchen is available for pre-order right now and will be officially released August,28th  (only a few days!)  If you like what you see on this site, I highly recommend that you add this cookbook to your collection (and be sure to check out Sara's blog!)  I've fallen in love with this cookbook and can't wait to whip up a few more of Sara's recipes!
Print
Roasted Tomato Soup (The Sprouted Kitchen)
Ingredients
2

pounds ripe tomatoes

1

small yellow onion

1 tablespoon

extra-virgin olive oil
Sea salt and freshly ground pepper

2 tablespoons

chipped fresh flat-leaf parsley

2

cloves garlic

1 ½ cups

low-sodium vegetable broth

2 tablespoons

tomato paste

½ cup

heavy cream or whole milk

4

slices thick, whole grain bread

4

slices mozzarella
Fresh oregano or basil leaves, for garnish
Instructions
Preheat the oven to 350˚.
Cut the tomato and onion into wedges. Use your fingers to scoop out some of the biggest pockets of seeds. Spread the tomatoes and onion on a rimmed baking sheet. Drizzle with olive oil and sprinkle with ½ teaspoon salt, a generous amount of pepper, and parsley. Gently toss with your hands to combine. Tuck the garlic cloves in the nook of the tomato so they won't burn in the oven. Roast until the tomatoes have broken down and reduced to about half their original size, 30 to 40 minutes. Remove from the oven and let cool slightly.
In a large pot over medium heat, warm the broth and stir in the tomato paste to dissolve. Ad all the ingredients from the baking sheet to the broth and simmer gently for 5 minutes. Using an immersion blender, food processor, of blender, puree the soup until it is smooth but still has some texture. If you prefer a silkier soup, pass it through a fine-mesh sieve. Return soup to the pot, turn the heat to low, and stir in the cream. Add more salt and pepper to taste.
If you're serving the soup with the cheesy toast, drizzle each slice of bread with a bit of olive oil and a slice of mozzarella cheese. Toast them in a toaster oven or under a broiler until the cheese is melted, about 5 minutes. Float a toast in each bowl of soup. Garnish with the oregano and serve hot.