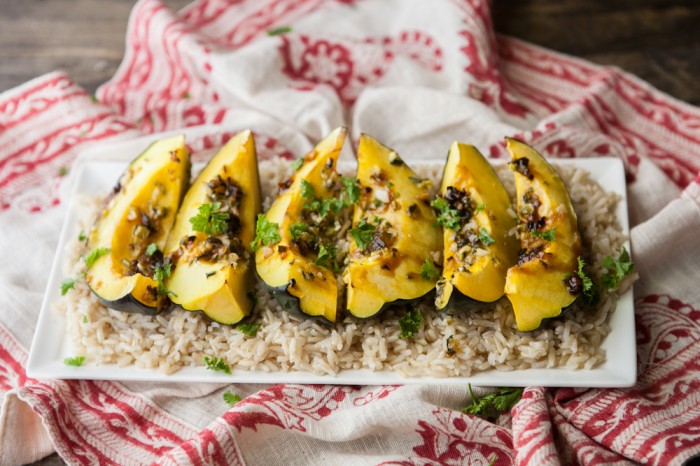 I may have jumped the gun a bit on this one but I get super excited for fall.  I am ready for the crisp, cool nights, the apples and sweet potatoes, and the cozy blankets with camp fires.
This girl loves fall (so much so, we picked a wedding date a year from this October)!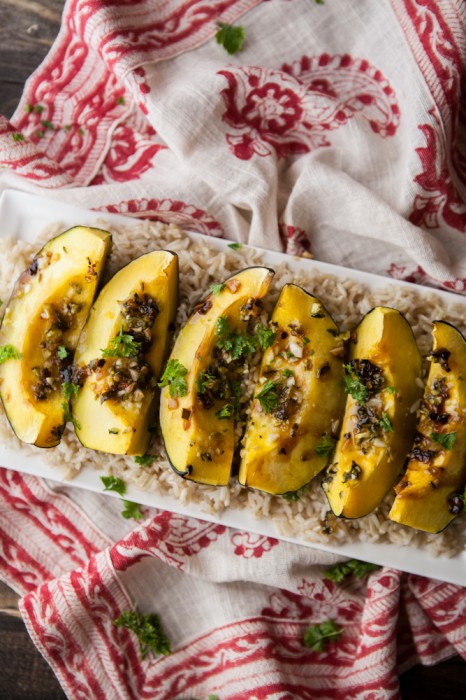 So when I ventured to the farmers' market and saw acorn squash, I couldn't resist.  Sure, I still have a kitchen full of tomatoes, zucchini, and peppers but really, this is the best time of year.  The overlapping seasonal produce creates endless flavor possibilities.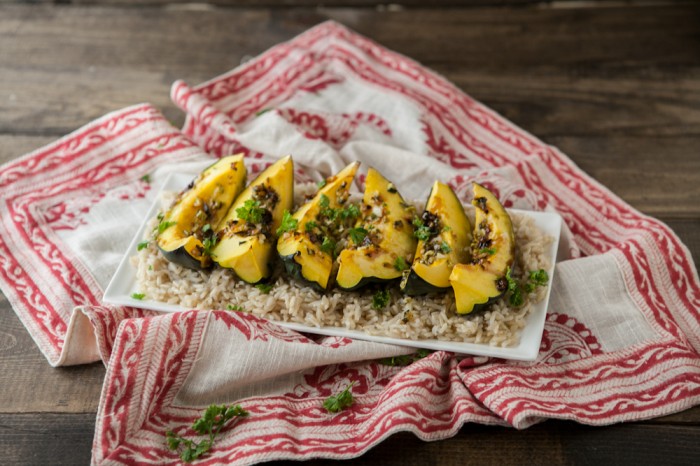 The skin is hit and miss with acorn squash.  I've had squash where the skin was thin enough that it made for perfect eating while I have had others that felt like I was eating leather.  If this happens, simply scoop the squash out and enjoy with the rice, I promise you aren't missing anything.  You can also use Delicata squash in place of the acorn (which tend to have thinner shells).   
Print
Honey-Jalapeño Roasted Acorn Squash
1

acorn squash

1

jalapeño pepper

2

cloves garlic

2 tablespoons

olive oil

2 tablespoons

honey

2 tablespoons

lime

½ teaspoon

salt

½ cup

uncooked brown rice (or other grain)
cilantro, for topping
Instructions
Preheat oven to 400˚.
Cut acorn squash in half, scoop out insides, and cut each half into four wedges. Place shell side down in the baking pan.
Mince jalapeño and garlic. Whisk with olive oil, honey, lime, and salt. Brush over acorn squash.
Bake squash for 20 minutes and brush extra jalapeño mixture over acorn squash. Bake for another 10-20 minutes until squash is tender and golden brown.
Cover rice with water and bring to a boil. Cook for 30-35 minutes until tender.
Layer roasted squash over rice. Drizzle with juice from the bottom of the pan and sprinkle with cilantro.