Pancakes were one of the earliest things I remember watching my mom make.  Granted, back then we used box mixes and doused our stacks in Aunt Jemima and Margarine (please don't hold this against me…)  Still, I remember studying my mom intensely trying to figure out how she got her pancakes so perfect.
I failed at making pancakes for years.
I know, it seems slightly strange that for someone who loves food so much couldn't make something as simple as pancakes but trust me, it happened.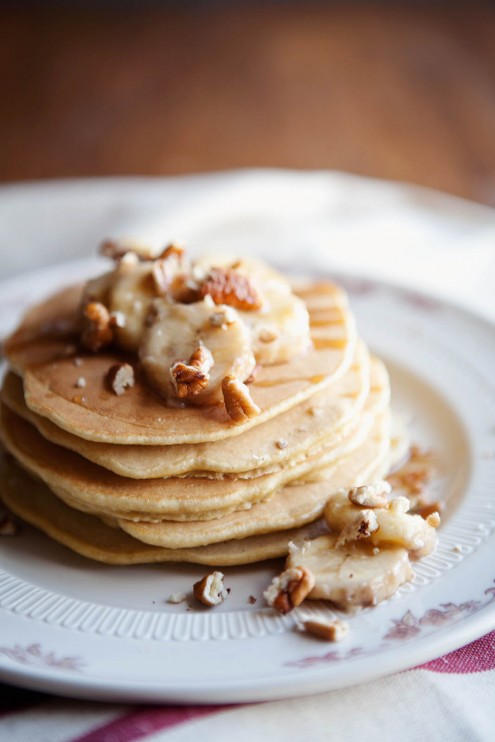 Then one day I realized all I had to do was turn down the heat.  My problem had always been that I scorched the outside and the inside was still gooey (again, a "duh" moment but sometimes you have to learn the hard way- I was probably 13.)
I failed again at making pancakes this past weekend.  I was trying to make these lovely oatmeal pancakes from Kate and it wasn't happening (I'm pretty sure my downfall was trying to use pumpkin-I didn't have any bananas.)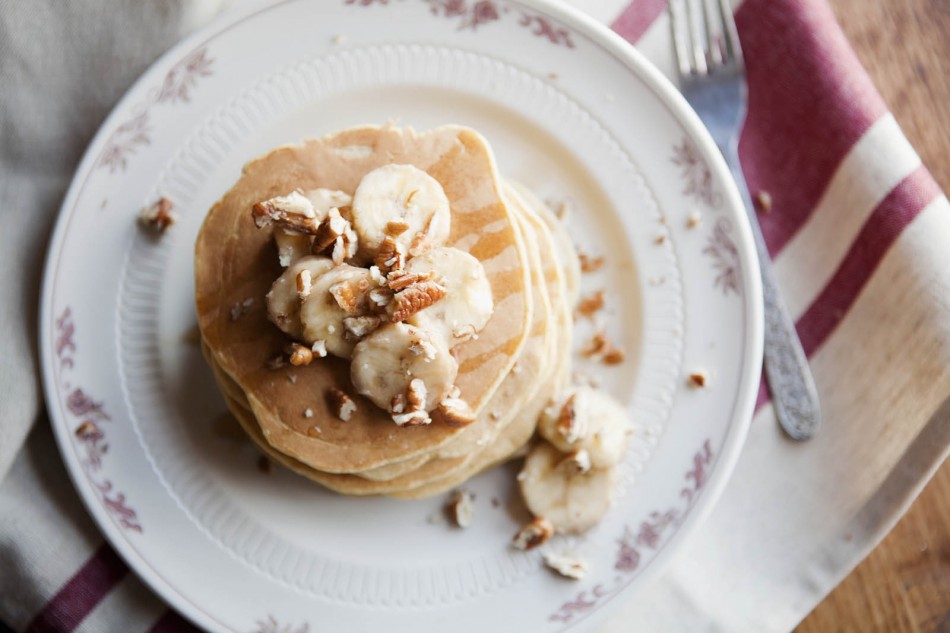 I failed twice and by the third time (late Sunday morning), I gave in and went to the store to get bananas.  I came home, said "screw it" and made pancakes I knew wouldn't let me down (by this point in time my whole thought process was "pancake, pancake, pancake, coffee, pancake.")
I didn't let the previous failures get me down.  I danced around the kitchen, waving my wooden spoon while I  sang some goofy song about bananas. and pancakes. and I'm pretty sure there was a chorus about maple syrup (you can't leave out the maple syrup.)
I thought about recording it but I realized
a. you had to be there
b. the last thing you need to hear is my voice (there's a reason I'm a BAND conductor…)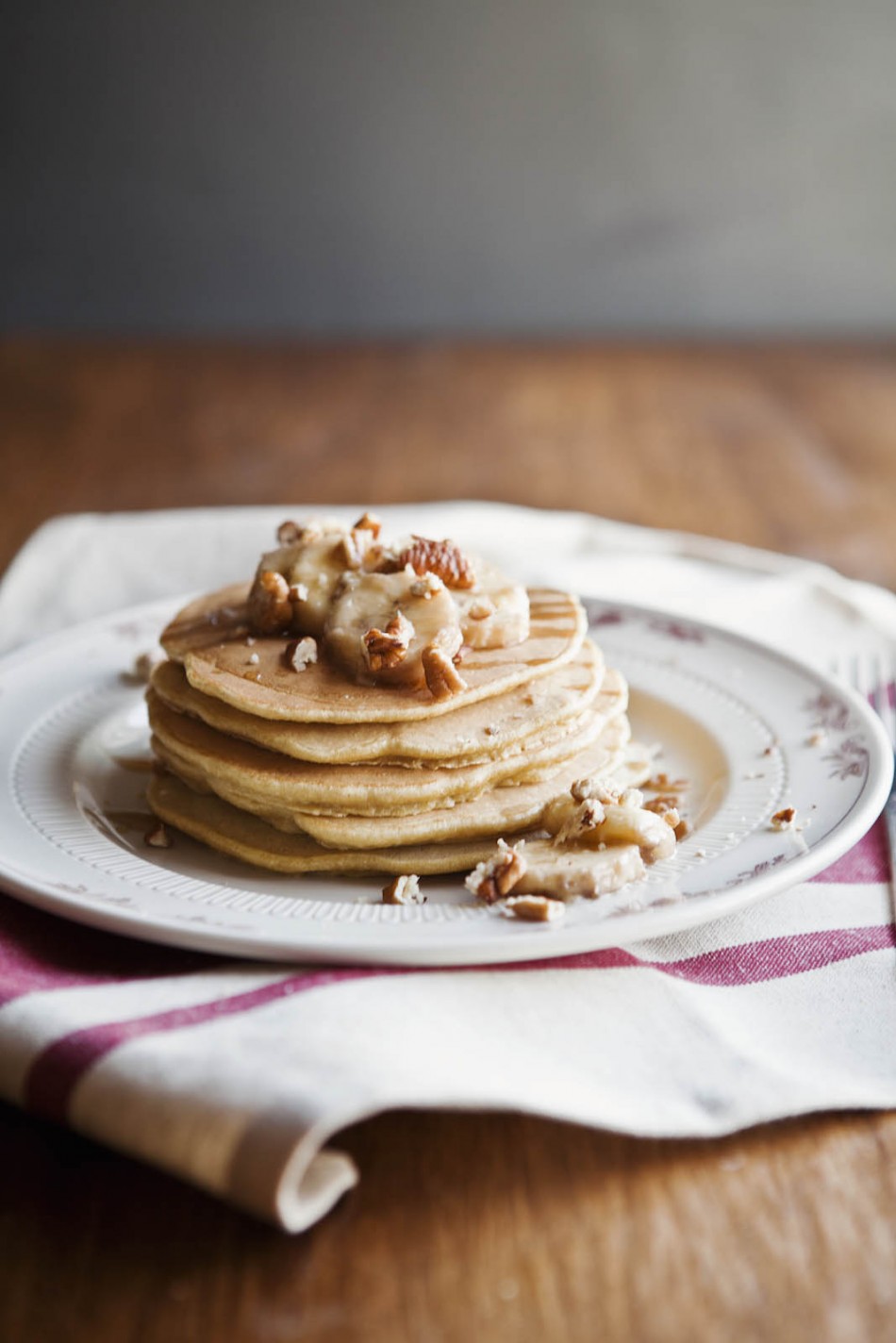 I'm sure I'll go back to that recipe but that's just it.  Cooking and baking is a lot of trial and error.  There's frustrating moments and moments that make me go, "can't I just order in?"  But once a meal clicks together, it's magical.
These pancakes clicked together.  Seriously.  I don't think it gets any better than roasted banana.  The pancakes tasted like I was eating banana bread straight from the oven.  (I might even try the oatmeal recipe with the roasted bananas!)
Print Roasted Banana Whole Wheat Pancakes
Author:

Prep Time:

10 mins

Cook Time:

30 mins

Total Time:

40 minutes

Yield:

2

1

x
---
2

bananas

1 cup

whole wheat pastry flour (or regular ww flour)

1 teaspoon

baking powder

1/4 teaspoon

salt

2 teaspoons

maple syrup

2

eggs

1 tablespoon

oil (coconut, sunflower, walnut, or melted butter)

1 teaspoon

vanilla

1/2

–

3/4

cup milk
Topping:

1/3 cup

Pecans
Butter
Maple Syrup
---
Instructions
Preheat oven to 375˚ and place whole bananas (in peel) on a baking tray. Let roast for 15-20 minutes. Bananas peels should be dark brown and softened.
While bananas roast, place pecans in a skillet and let toast for 4-5 minutes over medium heat. Seat aside.
Turn off oven and place an oven-safe plate inside for keeping pancakes warm.
In a medium bowl, combine all dry ingredients and give a good stir. In a separate bowl, mash one banana and whisk together with the wet ingredients. Pour over dry ingredients, stir just until combined-don't over mix. If batter thickens too much (and isn't easily pourable) and a bit more milk.
Heat a skillet over medium heat. When skillet is hot (if you flick water onto the skillet, it should sizzle), take about 1/4 cup of batter and pour onto skillet. Let cook for 1-2 minutes (until the pancakes begins to bubble slightly. Flip and let cook for another 1-2 minutes until pancake is cooked through.
Place in oven and continue with remaining batter.
Top final pancakes with butter, pecans, remaining roasted banana, and a bit of maple syrup.
---