Second chances.
I am one of those people that try and not judge at face value.  I believe that people can change (if motivated to do so) and I believe for the most part people (and things) deserve a second chance.
I know this can be naive but I prefer more to look at it in an optimistic way.  Life is too full of disappointment to potentially pass up something that may have been okay on a second chance.  People grow, mature, and taste change- nothing stays stagnant.  And if the second time doesn't work out, I feel the saying "you live, you learn" works well.  Everything is a learning experience.
Take for example my first experience with amaranth.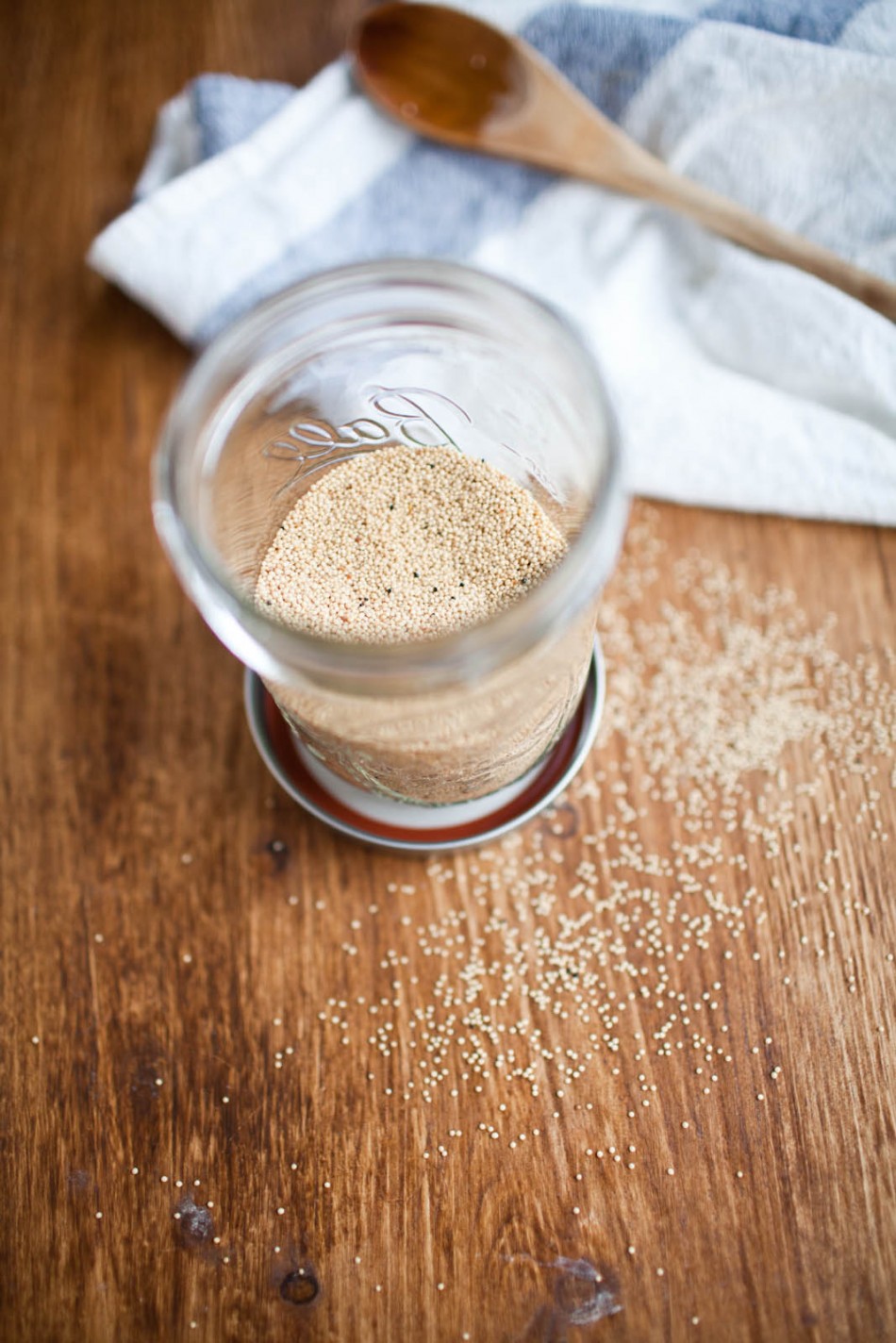 I was a wide-eyed girl wanting to eat more unprocessed foods.  I stocked up on various bulk bin items and I was determined to cook my way through them.  I fell in love with quinoa, cooked up pounds of dried beans, and rekindled a love for oatmeal.
But then there was amaranth.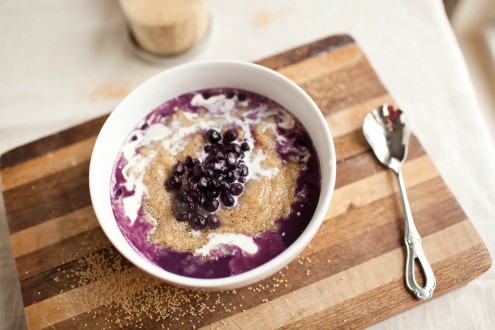 I had high hopes.  The little power packed seed came from such a beautiful herb plant-how could it not be wonderful?  I had a whole meal planned out for it but it flopped.  Before I knew it, I had a pot full of mush and tiny amaranth seeds all over my kitchen.
One chance and I was done.  I had been happy I had tackled so much out of the bulk bin that one "failure" wasn't going to hurt.  I moved on and shoved my amaranth to the back of the cupboard.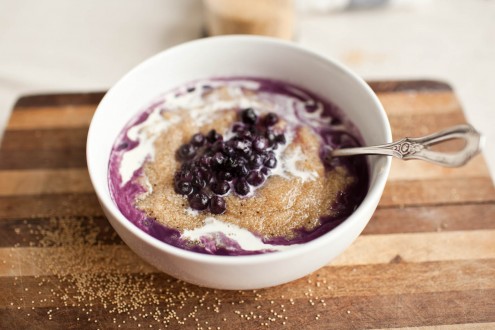 Then I ran across this pumpkin pie porridge on Sarah's blog (My New Roots).  Was I ready to give amaranth a second chance?
I followed Sarah's recipe fairly closely.  She recommends you soak the amaranth at least 8 hours (up to 24) to unlock the nutrients and to help it aid in digestion.  I simply measured out the amaranth and stuck it in water the night before (I found a small pan with a tight fitting lid worked well to drain and rinse it the next morning.)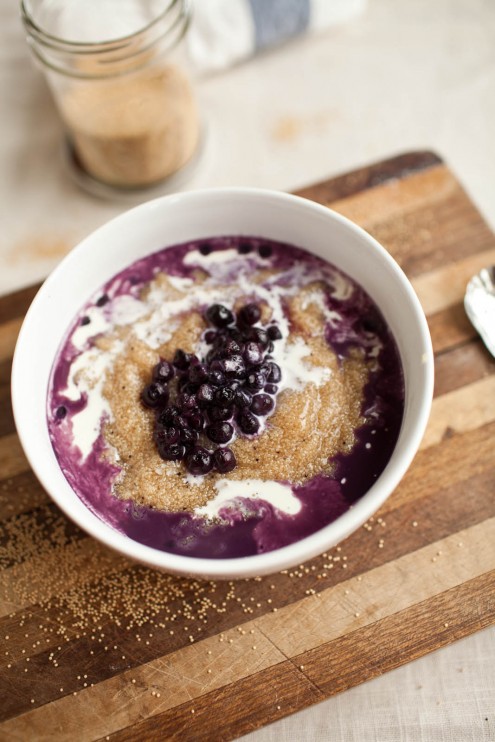 With spring just around the corner I'm working on finishing the last of my harvest that I had frozen.  I'd been saving these blueberries for something special and sure enough, this worked perfect.
I cooked the amaranth, stirred the blueberries, and snapped away photos.  It looked delicious but I still wasn't sold.  I needed a taste.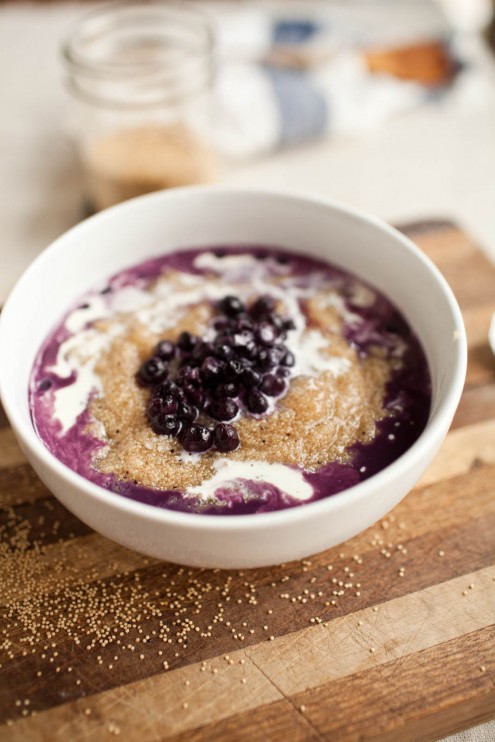 Sure enough, the result was a delicious and extremely healthy breakfast that was truly soul satisfying.  I gave amaranth a second chance and I'm glad I did.
Sometimes it pays to be an optimist.
(For more information on Amaranth, I suggest you hop over to Sarah's wonderful blog post!)
Print
Blueberries 'n' Cream Amaranth Porridge
Author:
Prep Time:

5 mins

Cook Time:

25 mins

Total Time:

30 minutes

Yield:

2

1

x
½ cup

amaranth, uncooked

1 cup

water (or coconut milk)

1 cup

blueberries, frozen or fresh

1 tablespoon

maple syrup

½

vanilla bean

1

-

2

tablespoons heavy cream (or coconut milk)
pinch of salt
Instructions
Soak Amaranth over night (if possible.)
Drain and rinse amaranth. Combine with one cup water and pinch of salt. Bring amaranth to a boil, and reduce to a simmer (all the way to low.) Cover and let simmer for 15 minutes. Remove from heat and let sit for 10 more minutes to thicken amaranth.
In a separate pot add blueberries, maple syrup, and 1 tablespoon of heavy cream. Scrap out vanilla bean and toss both the seeds and the pod into the blueberries. Heat over low until blueberries are heated through (making sure not to boil the heavy cream.)
Serve by pouring blueberry liquid in the bottom, followed by amaranth, then top with blueberries.
Notes
I have to imagine this would work well with any type of berry!
For a couple more great ways to use Amaranth I highly suggest you check out Maria's blog (Scandi Foodie) for a recipe using fresh Amaranth and Ashley's blog (edible perspective) for puffing amaranth and making cereal!