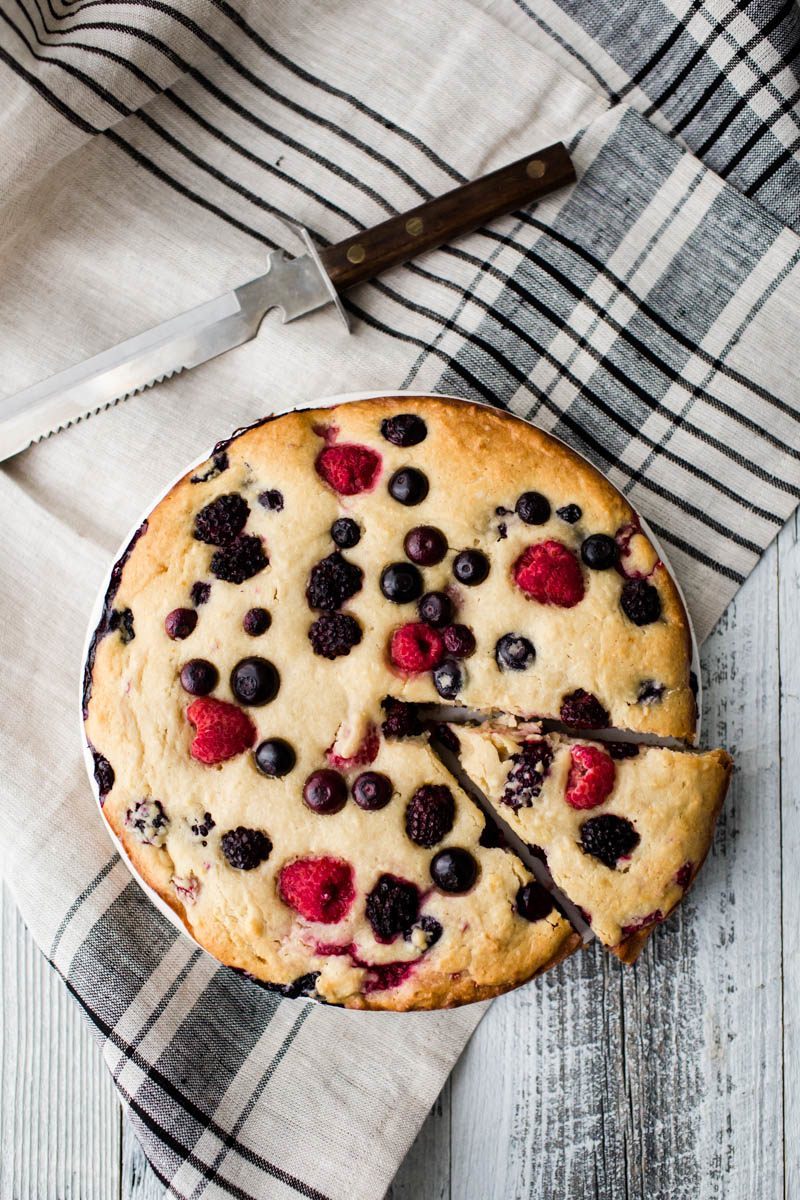 A rather short post as we head into the holiday weekend. I ended up staying Illinois for a week longer than I intended, but we're on our way back to California today. Mack has been such a trooper through the whole process and I've taken away one thing: this little boy loves to be out and about. This time away has also helped me bring focus to what comes next in terms of work and this site. I have a few personal projects I'm excited to focus on and hopefully in the not-to-distant future, I'll be sharing with you what they are. In the meantime, there's ricotta cake.
I stumbled upon this cake in one of the recent issues on Bon Appetit. The thought of ricotta cake sounded amazing and akin to my favorite beet cake- rich and moist. They call for frozen berries but as you can probably tell from the image, I used fresh. And then a few days after testing this cake, I made a fresh peach version (also good, I just thought the berries made for a nicer looking cake). I worked this recipe a few times and after a few trials with trying to account for the maple syrup, I went back to their recipe and just upped the flour slightly and it worked wonderfully.

Print
Mixed Berry Ricotta Cake
Author:
Prep Time:

20 mins

Cook Time:

60 mins

Total Time:

1 hour 20 mins

Yield:

8

to

10

servings

1

x
½ cup

unsalted butter

¾ cup

maple syrup

1 ¾ cups

all-purpose unbleached flour (see note)

2 teaspoons

baking powder

¾ teaspoon

salt

1½ cups

whole-milk ricotta (see note)

3

large eggs

½ teaspoon

vanilla extract

1 ½ cups

mixed berries: raspberries, blackberries, blueberries (see note)
Instructions
Preheat oven to 350˚ and line a 9" cake pan with parchment paper then spray with nonstick oil (I prefer coconut oil).
In a small sauce pan,melt the butter and maple syrup together, set aside to cool.
In a bowl, combine flour, baking powder and salt. In a separate bowl, whisk together the ricotta, eggs, and vanilla extract. Fold into the dry ingredients until just combined.
Repeat the folding process with the butter/maple syrup mixture, being careful to not over work the batter. Finally, fold in 1 cup of the fresh berries. Pour batter into prepared pan and sprinkle with remaining ½ cup berries. Take a spatula or spoon and lightly press the berries into the top of the cake.
Bake the cake for 50 to 60 minutes. The cake should be golden and have a knife come out clean when inserted into the middle. Let the cake rest for at least 20 minutes before removing from the pan.
Notes
+Flour: While I got the best results using the unbleached all-purpose flour, I did also enjoy using whole wheat pastry flour and even a sprouted spelt flour. If you're feeling adventurous, play around with the flour combination.
+Ricotta: If buying store-brand ricotta, you most likely won't need to drain it. However, if you're using fresh or homemade ricotta, drain the excess liquid from the ricotta my placing it in cheese cloth over the sink in a strainer and allowing to drain for 30 minutes.
+Berries: The original recipe called for frozen berries, which creates a slightly nicer swirl pattern on the top. You can always freeze fresh berries (or just use frozen) but I usually forget.