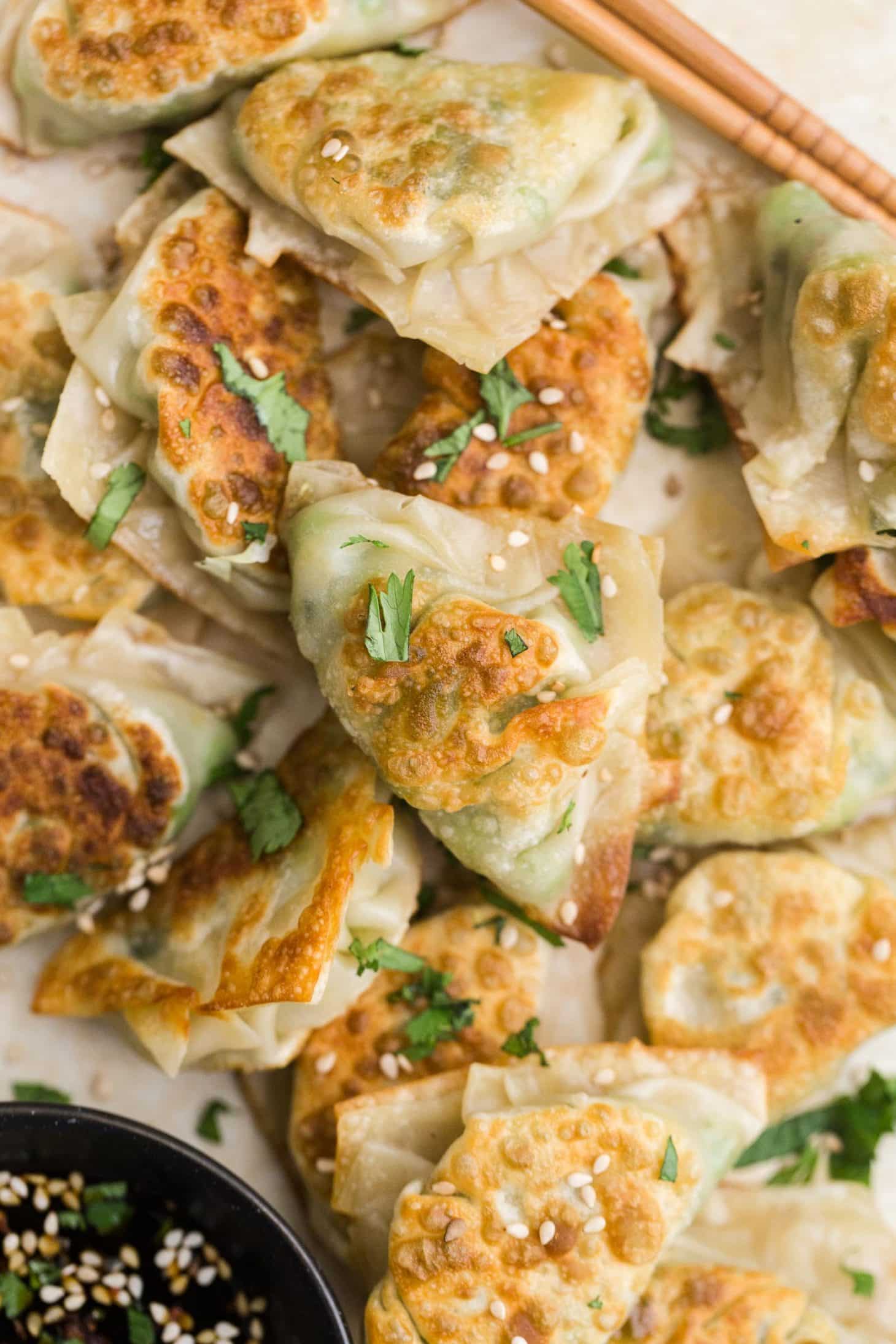 Post sponsored by Cascadian Farm. See below for more details.
When I was writing the Easy Vegetarian Kitchen, it took me a bit to solidify the 50 base recipes because there were so many choices. I tried to keep things easy (since it's in the title), but one of the recipes I knew I wanted to include: potstickers. They look hard but it's all about the pleating and once you do it a few times, it becomes muscle memory. These pea potstickers are a favorite of mine because I almost always have a bag of frozen peas in the freezer (just as healthy, easy to use, and baby friendly!) These potstickers are great for dinner or a great movie snack.
Print
Pea Potstickers with Cabbage and Ginger
Author:
Prep Time:

30 mins

Cook Time:

10 mins

Total Time:

40 mins

Yield:

1 ½

dozen potstickers

1

x
Ingredients
2 teaspoons

olive oil

1 cup

shredded savoy cabbage

2 teaspoons

minced ginger

1

clove garlic, minced

2 tablespoons

fresh minced cilantro

18

wonton wrappers (store bought or homemade)
Oil, for frying
Dipping Sauce
2 tablespoons

soy sauce

2 tablespoons

rice vinegar

1 teaspoon

sesame oil

1 teaspoon

sesame seeds

½ teaspoon

chili flakes.
Instructions
Preheat a large skillet over medium-low heat. Add in the cabbage and cook for 2 minutes, just to soften. Stir in the ginger, garlic, and peas. Continue to cook, stirring occasionally, until the peas are warm and starting to char. Remove from heat and stir in the cilantro.
Set up an assembling station with a small bowl of water, filling, and wrappers. Working with one skin at a time, place about 1 tablespoon of filling in the middle. Dip your finger in the water and run it along the entire edge of the wrapper. Fold both ends up (or corners if you are using square wrappers) and lightly pinch. Working with one side, pleat and pinch together making sure that once pleated, the potsticker is sealed. Repeat with remaining filling and wrappers.
Wipe out the skillet you used for the filling, return to medium-low heat, and add enough oil to cover the bottom of the pan (you only need a thin layer). Working in batches if necessary, place potstickers, flat-side down, into the oil without crowding the pan. Cook for 2 minutes or so, until the side is crisp and golden. Flip, cook for another 2 minutes or so and transfer to a plate.
Whisk together ingredients for the sauce and serve along side the potstickers.
Notes
+ If you have extra time, I recommend doubling/tripling the batch and freeze the extra. To freeze, after pleating, place on a tray so that no potsticker is touching another and freeze. Once frozen you may then transfer to a container. When ready to eat, you can cook them frozen- just allow for a little extra time.
Pea Potstickers
variations
Before diving into the variations, I want to say a bit about the cooking method. For the longest time, I'd fry the bottom of the potsticker then add water, cover, and steam. This is perfectly acceptable but I've found over time that I love the crunch of the fried-only. If you're looking to use less oil, try the steaming method (can be found here).
Cabbage: Don't want to buy a big head of cabbage just to use 1 cup of it? Spinach, kale, bok choy, or chard works well in place of the cabbage.
Spiciness: I sometimes like to up the heat of these pea potstickers by adding a pinch of chili flakes or sambal oelek to the pea filling.
Gluten-Free: Most of the wrappers you find in stores are not gluten-free. However, wrappers are easy to make at home- here's a recipe.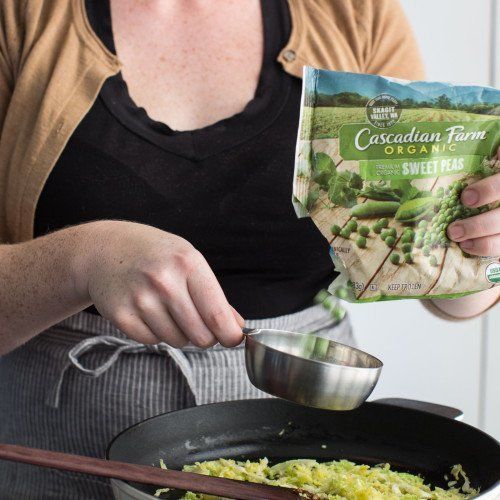 As mentioned above, I keep a bag of frozen peas in the refrigerator year-round (especially now that I'm feeding a baby that loves peas). These peas work just as well as fresh and are easy to use (no removing from the pods!) Frozen peas are also great if you're not sure you can use them all up in a week's time. A few of my favorite ways to use peas:
Farro Salad with Peas
Polenta with Peas and Fennel
Fried Rice with Peas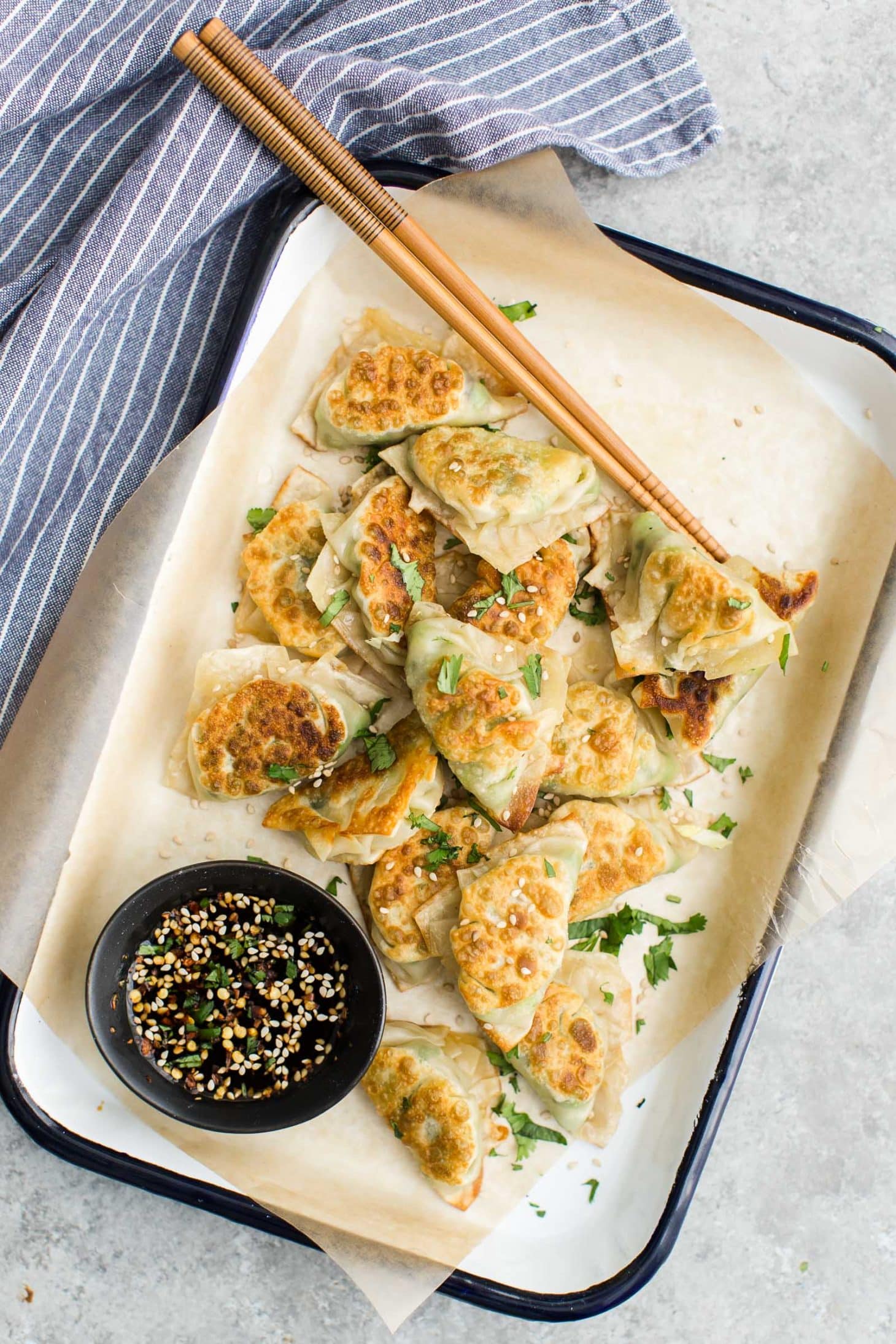 Disclosure: This recipe was created in partnership with Cascadian Farm. All thoughts and opinions are my own. It's content like this that helps me keep this site running to provide the vegetarian recipes you see every week. |