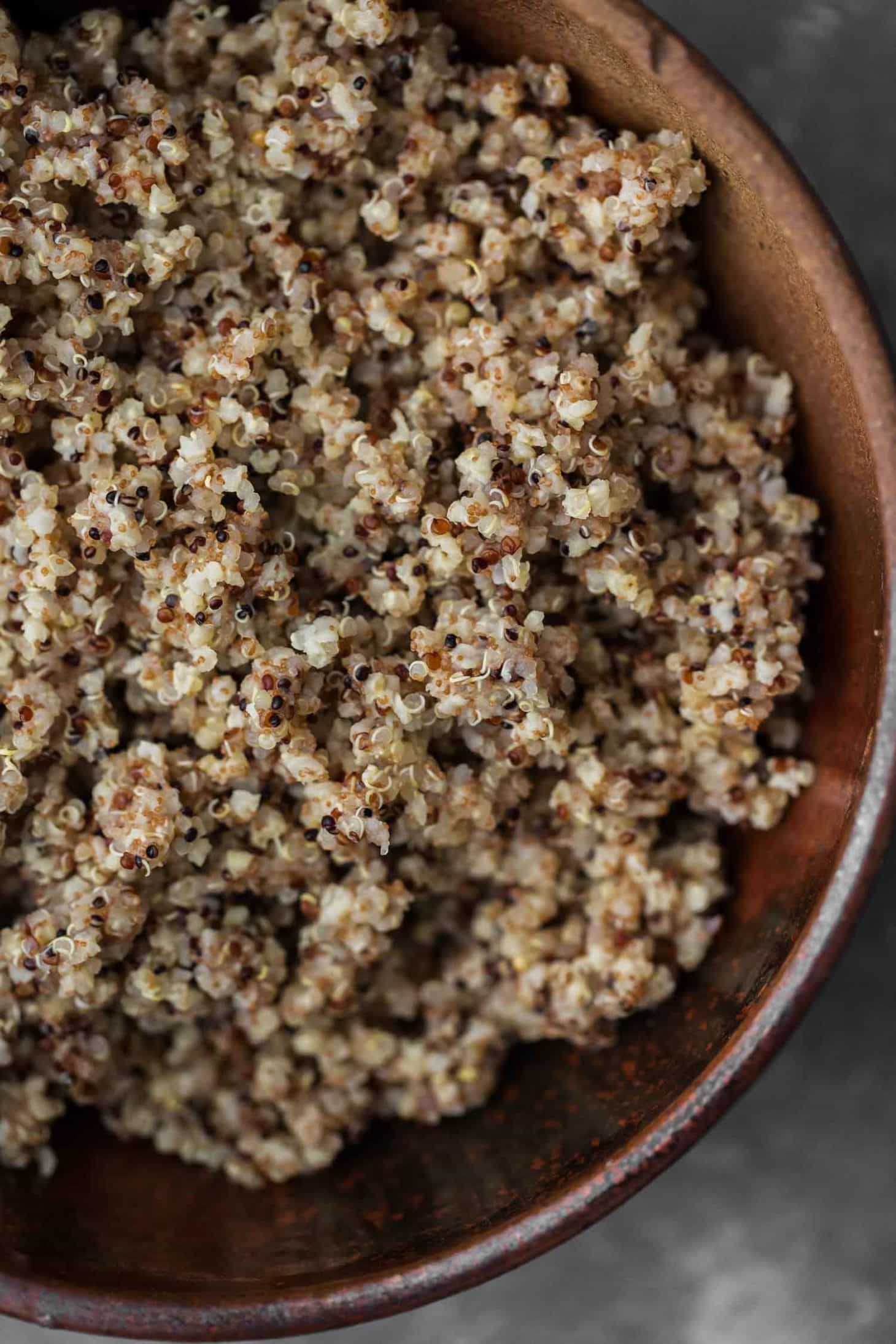 Have you ever watched a toddler try to eat whole grains? Or better put, cleaned 90% of those grains from the floor? This is, essentially, how I came to this component. I typically toss my son's grains with a bit of sauce to make them stick together but I wanted a mixture that was the perfect amount clump, with or without sauce. This multigrain pilaf has quickly become a favorite in our house. It uses three quick cooking gluten-free grains and the end result is a wonder pilaf perfect for grain bowls, salads, and curries. Teff has creamy properties but when used in smaller proportions, helps other grains stick together.
A note about sourcing these grains: If you've followed the news in the past years, you know that grains like quinoa and teff are important sources of nutrition for the countries that grow these grains. As these grains become more popular, the price is going up and causing these staple grains to become unaffordable for those who rely on them. Because of this, I like to try and source grains grown in the United States. I like this teff or this brown teff, this quinoa , and this millet.
Print
Multigrain Pilaf
An easy, three-grain pilaf that is the perfect base for grain bowls, egg dishes, and porridges.
Author:
Prep Time:

5 minutes

Cook Time:

20 minutes

Total Time:

25 minutes

Yield:

4

1

x
Cuisine:

component
½ cup

uncooked millet

½ cup

uncooked quinoa, white or multi-colored

3 tablespoons

uncooked brown teff

2 ½ cups

low-sodium vegetable broth or water
Salt, to taste
Instructions
Heat a medium pot over medium-low heat. Add the millet and toast for a minute or two, shaking the pan occasionally. The millet should be fragrant. Add the quinoa and teff, followed by the broth or water. Bring to a boil, reduce to a simmer, cover, and let cook for 20 minutes. Most of the liquid should be absorbed. Remove from heat, and let sit for 5 minutes. Taste and stir in salt as desired.
At this point, you could use the multigrain pilaf but I like to take another step. Cover a tray with waxed paper. Spread the grain onto the tray and let cool before using/serving. (see note)
Notes
Tips & Tricks: I picked up the trick of cooling the grains from Bon Appetit where they recommend refrigerating the grains before serving. However, I found just letting the cooked grains sit until slightly cool helped the gumminess. Feel free to try either method.
Stock up: get the pantry ingredients you will need: teff, quinoa, millet
Nutrition: see the information.
Nutrition
Calories:

207

Sugar:

.2

Sodium:

25.9

Fat:

2.6

Saturated Fat:

.4

Carbohydrates:

38.8

Fiber:

4.4

Protein:

7

Cholesterol:

0
Multigrain Pilaf
variations
Sorghum: If you're unsure of the teff in this recipe, I have another variation that uses sorghum. It takes longer to cook but the sorghum adds a lovely, chewy texture to the overall multigrain pilaf.
Aromatics: If you know what you will use this pilaf for, you can toss a few herbs into the pot while the grains cook. I like the heartier herbs like rosemary, thyme, and bay leaf.
Sweet: This multigrain mix also works well in a sweet capacity, topped with a few berries. I like to add cinnamon and/or maple syrup into the cooking grains. You could also add a few splashes of milk and make this into a wonderful breakfast porridge.
How to use the Multigrain Pilaf
Grain Bowl Base: Probably my most-used application, this pilaf works as the perfect base for many grain bowls. Load it up with roasted/grilled vegetables, legumes, and a sauce- the combinations are endless!
Eggs: I love adding grains to scrambled eggs and omelettes. This multigrain mix is also wonderful topped with a fried egg.
Grain Cakes: Use this mixture as a base for grain cakes. My favorite is to swap the rice in these cauliflower cakes.
Curries: Use this pilaf in place of the rice as a bed for creamy curries.
Porridge: If you have a batch of this pilaf already made, reheat the grains in a bit of milk for an easy breakfast porridge.
Stir Fry: Use as a bed for any type or stir-fry or use the fried rice method, like in this recipe.
Recipes you could use with this pilaf